Abstract
We performed the factor analysis of the Polish version of the Hypomania Check List (HCL-32) scale and assessed the utility of HCL-32 in discriminating patients with treatment-resistant and treatment non-resistant depression. The study included 1,051 patients with single or recurrent depressive episode among which 569 met the criteria for treatment-resistant depression. The Polish version of HCL-32 was employed to all patients. The Cronbach's alpha for entire scale was 0.93 which indicates high degree of consistency. The factor analysis of the scale yielded three factors with item loadings of 0.4 or more. Factor 1, comprising ten items connected with elevated mood and increased activity explained more than half of total variance, Factor 2 (two items) was connected with sexual activity, and factor 3 (three items) with irritability. The mean score of HCL-32 was significantly higher in treatment-resistant versus non-resistant depression (11.9 ± 8.3 vs. 8.5 ± 7.7, respectively, P < 0.001). Also, the percentage of patients having positive response to 14 or more items of the scale was significantly higher in treatment-resistant than in non-resistant depression (43.9 vs. 30.0%, respectively, P < 0.001). Therefore, using Polish version of HCL-32 we have confirmed the association between bipolarity and worse response to antidepressant drugs in patients with mood disorders.
This is a preview of subscription content, log in to check access.
Access options
Buy single article
Instant access to the full article PDF.
US$ 39.95
Price includes VAT for USA
Subscribe to journal
Immediate online access to all issues from 2019. Subscription will auto renew annually.
US$ 199
This is the net price. Taxes to be calculated in checkout.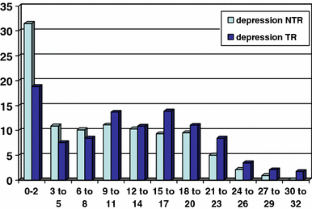 References
1.

Alciati A, D'Ambrosio A, Foschi D, Corsi F, Mellado C, Angst J (2007) Bipolar spectrum disorders in severely obese patients seeking surgical treatment. J Affect Disord 101:131–138

2.

Allilaire JF, Hantouche EG, Sechter D, Bourgeois ML, Azorin JM, Lancrenon S, Chatenet-Duchene L, Akiskal H (2001) Fréquence et aspects cliniques du trouble bipolaire II dans une étude multicentrique française: EPIDEP. L'Encéphale 27:149–158

3.

Angst J, Adolfsson R, Benazzi F, Gamma A, Hantouche E, Meyer TD, Skeppar P, Vieta E, Scott J (2005) The HCL-32: towards a self-assessment tool for hypomanic symptoms in outpatients. J Affect Disord 88:217–233

4.

Calabrese JR, Muzina DJ, Kemp DE, Sachs GS, Frye MA, Thomson TR, Klingman D, Reed ML, Hirschfeld RMA (2006) Predictors of bipolar disorder risk among patients currently treated for major depression. MedGenMed 8:38

5.

Carta MG, Hardoy MC, Cadeddu M, Murru A, Campus A, Morosini PL, Gamma A, Angst J (2006) The accuracy of the Italian version of the Hypomania Checklist (HCL-32) for the screening of bipolar disorders and comparison with the Mood Disorder Questionnaire (MDQ) in a clinical sample. Clin Pract Epidemiol Ment Health 2:2

6.

Cronbach LJ (1951) Coefficient alpha and the internal structure of tests. Psychometrika 16:297–334

7.

Forty L, Smith D, Jones L, Jones I, Caesar S, Fraser C, Gordon-Smith K, Craddock N (2008) Identifying hypomanic features in major depressive disorder using the Hypomania Checklist (HCL-32). J Affect Disord, 28 Aug [Epub ahead of print]

8.

Ghaemi SR, Rosenquist KJ, Ko JY, Baldassano CF, Kontos NJ, Baldessarini RJ (2004) Antidepressant treatment in bipolar versus unipolar depression. Am J Psychiatry 161:163–165

9.

Hantouche E, Angst J (2007) Rate and risk factors of hypomania in recurrent and treatment resistant depression. 3rd International Congress on Brain and Behaviour, 28.11.-02.12.2007, Theassaloniki, Greece. Annals Gen Psychiatry 7(Suppl 1):S211

10.

Hirschfeld RMA, Williams JBW, Spitzer RL, Calabrese JR, Flynn L, Keck PE, Lewis L, McElroy SL, Post RM, Rapport DJ, Russel JM, Sachs GS, Zajecka J (2008) Development and validation of a screening instrument for bipolar spectrum disorder: The Mood Disorder Questionnaire. Am J Psychiatry 157:1873–1875

11.

Inoue T, Nakagawa S, Kitaichi Y, Izumi T, Tanaka T, Masui T, Kusumi I, Denda K, Koyama T (2006) Long-term outcome of antidepressant-refractory depression: the relevance of unrecognized bipolarity. J Affect Disord 95:61–67

12.

Kiejna A, Rymaszewska J, Hadrys T, Suwalska A, Lojko D, Rybakowski JK (2006) Bipolar or unipolar? The question for clinicians and researchers. J Affect Disord 93:177–183

13.

Meyer TD, Hammelstein P, Nilsson GP, Skeppar P, Adolfsson R, Angst J (2007) The Hypomania Checklist (HCL-32): its factorial structure and association to indices of impairment in German and Swedish nonclinical samples. Compr Psychiatry 48:79–87

14.

Rybakowski JK, Suwalska A, Lojko D, Rymaszewska J, Kiejna A (2005) Bipolar mood disorders among Polish psychiatric outpatients treated for major depression. J Affect Disord 84:141–147

15.

Rybakowski JK, Suwalska A, Lojko D, Rymaszewska J, Kiejna A (2007) Types of depression more frequent in bipolar than in unipolar affective illness: results of the Polish DEP-BI study. Psychopathology 40:153–158

16.

Rybakowski JR (2007) Two generations of mood stabilizers. Int J Neuropsychopharmacol 10:709–711

17.

Sachs GS, Nierenberg AA, Calabrese JR, Marangell LB, Wisniewski SR, Gyulai L, Friedman ES, Bowden CL, Fossey MD, Ostacher MJ, Ketter TA, Patel J, Hauser P, Rapport D, Martinez JM, Allen MH, Miklowitz DJ, Otto MW, Dennehy EB, Thase ME (2007) Effectiveness of adjunctive antidepressant treatment for bipolar depression. N Eng J Med 356:1711–1722

18.

Sharma V, Khan M, Snith A (2005) A closer look at treatment resistant depression: is it due to a bipolar diathesis? J Affect Disord 84:251–257

19.

Vieta E, Sanchez-Moreno J, Hulbena A, Chamorro L, Ramos JL, Artal J, Perez F, Oliveras MA, Valle J, Lahuerta J, Angst J, for the EDHIPO (hypomania detection study) group (2007) Cross validation with the mood disorder questionnaire (MDQ) of an instrument for the detection of hypomania in Spanish: The 32 item hypomania symptom check list (HCL-32). J Affect Disord 101:43–55

20.

World Health Organization (1992) The ICD-10 Classification of Mental and Behavioural Disorders, Clinical Descriptions and Diagnostic Guidelines. World Health Organization, Geneva

21.

Wu Y-S, Angst J, Ou C-S, Chen H-C, Lu R-B (2008) Validation of the Chinese version of the Hypomania Checklist (HCL-32) as an instrument for detecting hypo(mania) in patients with mood disorders. J Affect Disord 106:133–143
Acknowledgments
The study was supported by scientific grant provided by Sanofi-Aventis Poland. The authors thank Ewa Kraszewska from Statmed, Poland, for excellent statistical work, and Dr Alex Gamma from Zurich University, for statistical consultation.
About this article
Cite this article
Rybakowski, J.K., Angst, J., Dudek, D. et al. Polish version of the Hypomania Checklist (HCL-32) scale: the results in treatment-resistant depression. Eur Arch Psychiatry Clin Neurosci 260, 139–144 (2010). https://doi.org/10.1007/s00406-009-0030-4
Received:

Accepted:

Published:

Issue Date:
Keywords
Hypomania Checklist -32

Polish version

Treatment-resistant depression

Bipolarity