Abstract
Purpose
Examination of contributions of Otolaryngologists to head and neck reconstructive surgery.
Methods
Historical Evaluation.
Results
Otolaryngology–Head and Neck Surgery as a surgical specialty has come to dominate the related fields of head and neck cancer ablative surgery as well as reconstruction as a result of those leaders who established our profession. While some otolaryngologists have always been at the forefront of head and neck surgery and reconstruction; as surgery has become more specialized in the past century, that expertise has been increasingly consolidated within specific academic institutions and training programs.
Conclusion
An examination of the various academic trends, world events, and scientific breakthroughs which allowed the advancement of head and neck reconstruction reveals a fascinating history of our specialty.
This is a preview of subscription content, log in to check access.
Access options
Buy single article
Instant access to the full article PDF.
US$ 39.95
Price includes VAT for USA
Subscribe to journal
Immediate online access to all issues from 2019. Subscription will auto renew annually.
US$ 199
This is the net price. Taxes to be calculated in checkout.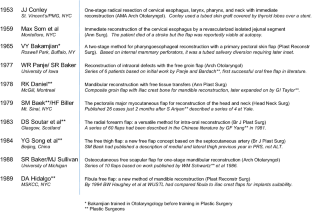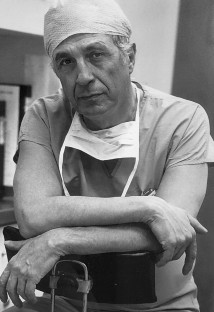 References
1.

Champaneria MC, Workman AD, Gupta SC (2014) Sushruta: father of plastic surgery. Ann Plast Surg 73(1):2–7

2.

Myers EN (1996) The evolution of head and neck surgery. Laryngoscope 106(8):929–934

3.

Baek SM, Biller HF, Krespi YP, Lawson W (1979) The pectoralis major myocutaneous island flap for reconstruction of the head and neck. Head Neck Surg 1(4):293–300

4.

Triana RJ Jr (1999) Sir Harold Gillies. Arch Facial Plast Surg 1(2):142–143

5.

Bakamjian VY (1968) Total reconstruction of pharynx with medially based deltopectoral skin flap. NY State J Med 68(21):2771–2778

6.

Conley JJ (1953) One-stage radical resection of cervical esophagus, larynx, pharynx, and neck, with immediate reconstruction. AMA Arch Otolaryngol 58(6):645–654

7.

Rickard RF, Hudson DA (2014) A history of vascular and microvascular surgery. Ann Plast Surg 73(4):465–472

8.

Jacobson JH (2006) Founder's lecture in plastic surgery. Ann Plast Surg 56(5):471–474

9.

Seidenberg B, Rosenak SS, Hurwitt ES, Som ML (1959) Immediate reconstruction of the cervical esophagus by a revascularized isolated jejunal segment. Ann Surg 149(2):162–171

10.

Panje WR, Krause CJ, Bardach J, Baker SR (1977) Reconstruction of intraoral defects with the free groin flap. Arch Otolaryngol 103(2):78–83
Ethics declarations
Conflict of interest
The authors declare that they have no conflict of interest.
Ethical approval
This article does not contain any studies with human participants or animals performed by any of the authors.
Additional information
Publisher's Note
Springer Nature remains neutral with regard to jurisdictional claims in published maps and institutional affiliations.
About this article
Cite this article
Goodman, J., Teixeira, J. Early contributions by Otolaryngologists in head and neck reconstructive surgery. Eur Arch Otorhinolaryngol (2020). https://doi.org/10.1007/s00405-020-05845-8
Received:

Accepted:

Published:
Keywords
Otolaryngology

History

Reconstruction

Head

Neck

Conley

Microvascular