Abstract
Purpose
To evaluate if and how post-traumatic brain injury (TBI) olfactory dysfunction affects the quality of life (QoL).
Methods
In this case–control observational study, 32 adults with post-TBI olfactory dysfunction (cases) were matched with 32 TBI patients with intact olfactory function (controls). All subjects self-rated their olfactory function using the Visual Analogue Scale (VAS). Cases also underwent objective olfactory function assessment with the Sniffin' Sticks test, which generated a Threshold, Discrimination, and Identification (TDI) score. QoL was assessed with the Questionnaire for Olfactory Disorders (QOD). Factors evaluated included age, gender, smoking, TBI severity and duration, lesion localisation, and Disability Rating Scale (DRS) score.
Results
Cases had a higher mean QOD score than controls at 26.31 ± 14.37 and 9.44 ± 8.30, respectively (F = 16.426, p < 0.001, η2 = 0.224). The effect size was large (d = 1.07) with an odds ratio of 7.02. The features of QoL most affected were perception of smell changes, adapting to smell changes, and fear of hazardous substance exposure. DRS score and severity of olfactory dysfunction significantly affected QoL (p < 0.05).
Conclusion
Post-TBI olfactory dysfunction significantly lowered QoL and increased the likelihood of having a low QoL relative to TBI alone.
This is a preview of subscription content, log in to check access.
Access options
Buy single article
Instant access to the full article PDF.
US$ 39.95
Price includes VAT for USA
Subscribe to journal
Immediate online access to all issues from 2019. Subscription will auto renew annually.
US$ 199
This is the net price. Taxes to be calculated in checkout.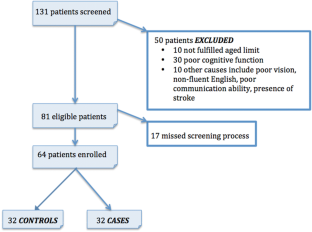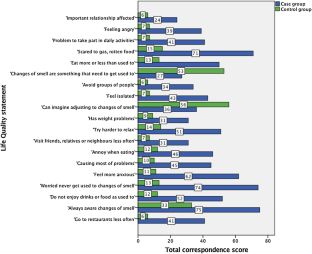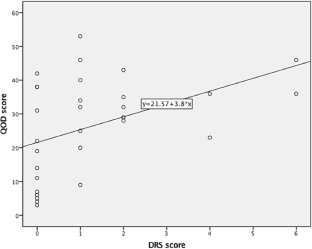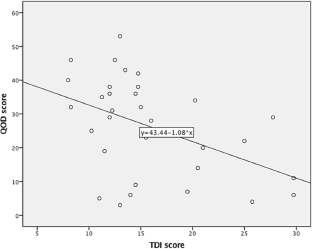 References
1.

Haxel BR, Grant L, Mackay-Sim A (2008) Olfactory dysfunction after head injury. J Head Trauma Rehabil 23:407–413

2.

Sigurdardottir S, Jerstad T, Andelic N et al (2010) Olfactory dysfunction, gambling task performance and intracranial lesions after traumatic brain injury. Neuropsychology 24:504–513. https://doi.org/10.1037/a0018934

3.

Reden J, Mueller A, Mueller C et al (2006) Recovery of olfactory function following closed head injury or infections of the upper respiratory tract. Arch Otolaryngol Head Neck Surg 132:265–269. https://doi.org/10.1001/archotol.132.3.265

4.

Fan LY, Kuo CL, Lirng JF et al (2015) Investigation of prognostic factors for post-traumatic olfactory dysfunction. J Chin Med Assoc 78:299–303. https://doi.org/10.1016/j.jcma.2014.11.009

5.

Croy I, Nordin S, Hummel T (2014) Olfactory disorders and quality of life—an updated review. Chem Senses 39:185–194. https://doi.org/10.1093/chemse/bjt072

6.

Brämerson A, Nordin S, Bende M (2007) Clinical experience with patients with olfactory complaints, and their quality of life. Acta Otolaryngol 127:167–174. https://doi.org/10.1080/00016480600801357

7.

Keller A, Malaspina D (2013) Hidden consequences of olfactory dysfunction: a patient report series. BMC Ear Nose Throat Disord 13:8. https://doi.org/10.1186/1472-6815-13-8

8.

Dijkers MP (2004) Quality of life after traumatic brain injury: a review of research approaches and findings. Arch Phys Med Rehabil 85:21–35. https://doi.org/10.1016/j.apmr.2003.08.119

9.

Williamson ML, Elliott TR, Berry JW et al (2013) Predictors of health-related quality-of-life following traumatic brain injury. Brain Inj 27:992–999. https://doi.org/10.3109/02699052.2013.801512

10.

Emanuelson I, Anderson Holmkvist E, Björklund R et al (2003) Quality of life and post-concussion symptoms in adults after mild traumatic brain injury: a population-based study in western Sweden. Acta Neurol Scand 108:332–338. https://doi.org/10.1034/j.1600-0404.2003.00155.x

11.

Hummel T, Kobal G, Gudziol H et al (2007) Normative data for the "Sniffin'Sticks" including tests of odor identification, odor discrimination, and olfactory thresholds: an upgrade based on a group of more than 3000 subjects. Eur Arch Otorhinolaryngol 264:237–243

12.

Rappaport M, Hall KM, Hopkins K et al (1982) Disability rating scale for severe head trauma: coma to community. Arch Phys Med Rehabil 63:118–123

13.

Hummel T, Sekinger B, Wolf SR et al (1997) 'Sniffin'sticks': olfactory performance assessed by the combined testing of odor identification, odor discrimination and olfactory threshold. Chem Senses 22:39–52

14.

Frasnelli J, Hummel T (2005) Olfactory dysfunction and daily life. Eur Arch Otorhinolaryngol 262:231–235

15.

Simopoulos E, Katotomichelakis H, Tripsianis G et al (2012) Olfaction-associated quality of life in chronic rhinosinusitis: adaptation and validation of an olfaction-specific questionnaire. Laryngoscope 122:1450–1454. https://doi.org/10.1002/lary.23349

16.

Shu CH, Lee PO, Lan MY et al (2011) Factors affecting the impact of olfactory loss on the quality of life and emotional coping ability. Rhinology 49(3):337–341. https://doi.org/10.4193/Rhino10.130

17.

Drummond M, Douglas J, Olver J (2013) 'If I haven't got any smell… I'm out of work': consequences of olfactory impairment following traumatic brain injury. Brain Inj 27:332–345. https://doi.org/10.3109/02699052.2012.750743

18.

Hummel T, Nordin S (2005) Olfactory disorders and their consequences for quality of life. Acta Otolaryngol 25:116–121. https://doi.org/10.1080/00016480410022787

19.

Ali N, Abdullah MA (2012) The food consumption and eating behaviour of Malaysian urbanites: issues and concerns. Malays J Soc Sp 8(6):157–165

20.

Callahan CD, Hinkebein J (1999) Neuropsychological significance of anosmia following traumatic brain injury. J Head Trauma Rehabil 14:581–587

21.

Gudziol V, Hoenck I, Landis B et al (2014) The impact and prospect of traumatic brain injury on olfactory function: a cross-sectional and prospective study. Eur Arch Otorhinolaryngol 271:1533–1540
Acknowledgements
The authors thank Charlene Malakun for her assistance with nasal endoscopy assessment.
Funding
This work was supported by the University of Malaya Postgraduate Research Grant, Phase 2015B.
Ethics declarations
Compliance with ethical standard
This work complies with the ethical standards of the institutional and with the 1964 Helsinki Declaration and its later amendments.
Conflict of interest
The authors declared no potential conflicts of interest with respect to the research, authorship, and/or publication of this article.
Ethical approval
This work has received the ethical approval from Medical Ethics Committee, University of Malaya Medical Centre (20158-1555).
Informed consent
All participants of this study have given their written informed consent via signatures or thumbprints on a written informed consent document.
Additional information
Publisher's Note
Springer Nature remains neutral with regard to jurisdictional claims in published maps and institutional affiliations.
About this article
Cite this article
Ahmedy, F., Mazlan, M., Danaee, M. et al. Post-traumatic brain injury olfactory dysfunction: factors influencing quality of life. Eur Arch Otorhinolaryngol (2020). https://doi.org/10.1007/s00405-020-05823-0
Received:

Accepted:

Published:
Keywords
Olfactory dysfunction

Traumatic brain injury

Quality of life

Disability rating scale

Anosmia