Abstract
Background
The approach to the mandible for segmental resection in malignant pathologies entails a lip-split, angle-split or visor flap incision with extension of the incision into the neck for performing neck dissection. The modified facelift approach with robot-assisted neck dissection can be used to achieve oncologically safe resections with good cosmesis.
Methods
Three patients meeting the inclusion criteria underwent the procedure at the Robotic facility of HCG Cancer Centre, Bangalore.
Results
The patients were analyzed on the basis of bone defect length, the margin status of primary, functional and aesthetic outcomes. One patient had wound dehiscence and needed secondary suturing. At 6 months, patients were satisfied with the aesthetic outcomes and functional results
Conclusion
Modified facelift approach is a feasible procedure ensuring better cosmesis without compromising oncological outcomes
This is a preview of subscription content, log in to check access.
Access options
Buy single article
Instant unlimited access to the full article PDF.
US$ 39.95
Price includes VAT for USA
Subscribe to journal
Immediate online access to all issues from 2019. Subscription will auto renew annually.
US$ 199
This is the net price. Taxes to be calculated in checkout.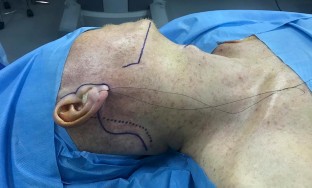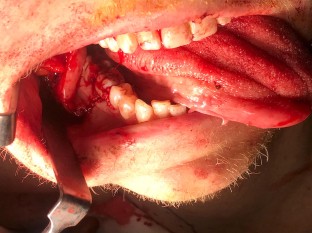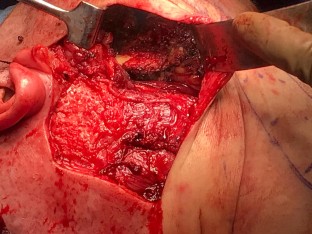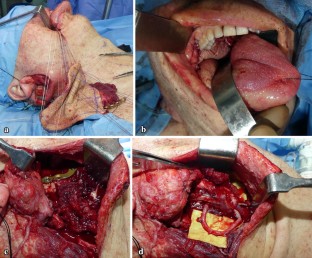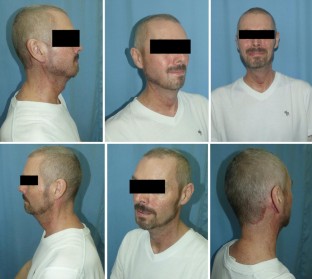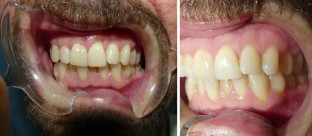 References
1.

Shah JP (2007) Surgical approaches to the oral cavity primary and neck. Int J Radiat Oncol Biol Phys 69(2 Suppl):S15–S18. https://doi.org/10.1016/j.ijrobp.2007.03.069

2.

Gupta N, Gupta R, Acharya AK et al (2016) Changing trends in oral cancer—a global scenario. Nepal J Epidemiol 6(4):613–619. https://doi.org/10.3126/nje.v6i4.17255

3.

National Comprehensive Cancer Network (NCCN) (2019) NCCN clinical practice guidelines in oncology. NCCN Guidelines Version 1.201 Head and Neck Cancers

4.

Rao V, Prasad R, Subash A, Sinha P, Majumdar K (2019) Technique of flap elevation for robot assisted selective neck dissection via retroauricular approach: a surgeon's guide. J Robot Surg. https://doi.org/10.1007/s11701-019-00992-5

5.

Fingeret MC, Hutcheson KA, Jensen K, Yuan Y, Urbauer D, Lewin JS (2013) Associations among speech, eating, and body image concerns for surgical patients with head and neck cancer. Head Neck 35(3):354–360

6.

Bianchi B, Copelli C, Ferrari S, Ferri A, Sesenna E (2010) Facial animation in patients with Moebius and Moebius-like syndromes. Int J Oral Maxillofac Surg 39(11):1066–1073

7.

Bianchi B, Ferri A, Ferrari S, Copelli C, Sesenna E (2011) Improving esthetic results in benign parotid surgery: statistical evaluation of facelift approach, sternocleidomastoid flap, and superficial musculoaponeurotic system flap application. J Oral Maxillofac Surg 69(4):1235–1241

8.

Terris DJ, Singer MC, Seybt MW (2011) Robotic facelift thyroidectomy: II Clinical feasibility and safety. Laryngoscope 121(8):1636–1641

9.

Sukato DC, Ballard DP, Abramowitz JM, Rosenfeld RM, Mlot S (2018) Robotic versus conventional neck dissection: a systematic review and meta-analysis. Laryngoscope. https://doi.org/10.1002/lary.27533

10.

Brown JS, Barry C, Ho M, Shaw R (2016) A new classification for mandibular defects after oncological resection. Lancet Oncol 17(1):e23–e30. https://doi.org/10.1016/S1470-2045(15)00310-1

11.

Bianchi B, Ferri A, Ferrari S, Copelli C, Sesenna E (2014) Facelift approach for mandibular resection and reconstruction. Head Neck 36(10):1497–1502
Ethics declarations
Conflict of interest
No conflict of interest amongst authors and all authors have contributed towards the article.
Ethical standards
IRB approval was not obtained as the results presented here are not part of a formal study. The treatment was as per the institutional treatment guidelines and recommended global guidelines.
Informed consent
Informed consents and consent to publish were obtained from all patients.
Additional information
Publisher's Note
Springer Nature remains neutral with regard to jurisdictional claims in published maps and institutional affiliations.
About this article
Cite this article
Rao, V., Subash, A., Sinha, P. et al. Modified facelift approach for posterior segmental mandibulectomy: a blend of oncology and cosmesis. Eur Arch Otorhinolaryngol (2020). https://doi.org/10.1007/s00405-020-05793-3
Received:

Accepted:

Published:
Keywords
Modified facelift approach

Neck dissection

Minimal access surgery

Oral cancers

Mandibulectomy