Abstract
Purpose
Virtual reality (VR) training of mastoidectomy is effective in surgical training—particularly if organized as distributed practice. However, centralization of practice facilities is a barrier to implementation of distributed simulation training. Decentralized training could be a potential solution. Here, we aim to assess the feasibility, use, and barriers to decentralized VR mastoidectomy training using a freeware, high-fidelity temporal bone simulator.
Methods
In a prospective, mixed-methods study, 20 otorhinolaryngology residents were given three months of local access to a VR mastoidectomy simulator. Additionally, trainees were provided a range of learning supports for directed, self-regulated learning. Questionnaire data were collected and focus group interviews conducted. The interviews were analyzed using thematic analysis and compared with quantitative findings.
Results
Participants trained 48.5 h combined and mainly towards the end of the trial. Most participants used between two and four different learning supports. Qualitative analysis revealed five main themes regarding implementation of decentralized simulation training: convenience, time for training, ease of use, evidence for training, and testing.
Conclusions
Decentralized VR training using a freeware, high-fidelity mastoidectomy simulator is feasible but did not lead to a high training volume or truly distributed practice. Evidence for training was found motivational. Access to training, educational designs, and the role of testing are important for participant motivation and require further evaluation.
This is a preview of subscription content, log in to check access.
Access options
Buy single article
Instant access to the full article PDF.
US$ 39.95
Price includes VAT for USA
Subscribe to journal
Immediate online access to all issues from 2019. Subscription will auto renew annually.
US$ 199
This is the net price. Taxes to be calculated in checkout.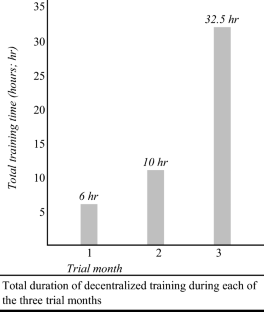 Acknowledgements
The authors want to thank computer scientist Peter Trier, The Alexandra Institute for developing the simulation software, and professor Per Cayé-Thomasen and Dr. Martin Nue Møller for their assistance with implementation of the Visible Ear Simulator.
Funding
The Oticon Foundation and Med-El supported the development of the Visible Ear Simulator software. Funding bodies were not involved in the conception, execution, interpretation, or publication of the study.
Ethics declarations
Conflict of interest
The authors have no other funding or conflicts of interest to disclose.
Additional information
Publisher's Note
Springer Nature remains neutral with regard to jurisdictional claims in published maps and institutional affiliations.
About this article
Cite this article
Frendø, M., Thingaard, E., Konge, L. et al. Decentralized virtual reality mastoidectomy simulation training: a prospective, mixed-methods study. Eur Arch Otorhinolaryngol 276, 2783–2789 (2019). https://doi.org/10.1007/s00405-019-05572-9
Received:

Accepted:

Published:

Issue Date:
Keywords
Decentralized training

Simulation

Temporal bone dissection

Mastoidectomy

Virtual reality

Surgical training