Abstract
Purpose
To conduct a national needs assessment using a structured approach to identify and prioritize technical skills and procedures in otorhinolaryngology (ORL) for simulation-based training.
Methods
The study was designed as a national Danish survey of key educational stakeholders in ORL. A Delphi methodology with three rounds was used: the first round constituted a brainstorming phase to identify relevant procedures; the second round was a survey of importance, frequency, number of physicians needed to train, and patient safety/discomfort of the procedures, and feasibility of simulation-based training; and a final third round for prioritization.
Results
A total of 62 key opinion leaders were identified and 50 responded in the first round, constituting our panel. Fifty technical skills and procedures were identified in the brainstorming phase and were sent out for assessment, with responses from 56.5% of still eligible panellists. Thirty-six procedures were found important in ORL residency training by the panel. After final prioritization by the panel (response rate 43.4%), there was broad consensus (> 75%) on the need for simulation-based training of 13 technical skills and procedures, with the most highly ranking procedures being emergency cricothyroidotomy, flexible fibre pharyngo-laryngoscopy, and basic surgical skills.
Conclusions
As educational decisions are increasingly required to be evidence-based, this study represents a structured approach to identifying procedures for simulation-based training in ORL. This information can be valuable in the development and implementation of simulation-based training programmes in the ORL residency training curriculum.
This is a preview of subscription content, log in to check access.
Access options
Buy single article
Instant access to the full article PDF.
US$ 39.95
Price includes VAT for USA
Subscribe to journal
Immediate online access to all issues from 2019. Subscription will auto renew annually.
US$ 199
This is the net price. Taxes to be calculated in checkout.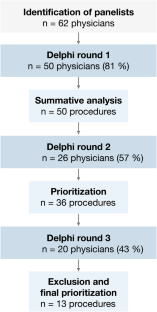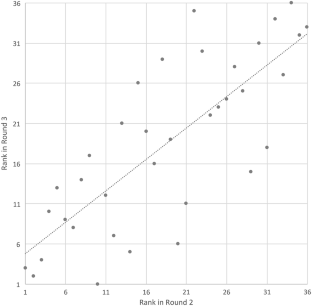 References
1.

Melchiors J, Todsen T, Nilsson P, Kohl AP, Bøttger M, Charabi B, Konge L, von Buchwald C (2016) Self-directed simulation-based training of emergency cricothyroidotomy: a route to lifesaving skills. Eur Arch Otorhinolaryngol 273(12):4623–4628

2.

Cook DA, Hatala R, Brydges R et al (2011) Technology-enhanced simulation for health professions education. A systematic review and meta-analysis. JAMA 306(9):978–988

3.

Mcgaghie WC, Issenberg SB, Barsuk JH, Wayne DB (2014) A critical review of simulation-based mastery learning with translational outcomes. Med Educ 48(4):375–385

4.

Dawe SR, Pena GN, Windsor JA et al (2014) Systematic review of skills transfer after surgical simulation-based training. Br J Surg 101(9):1063–1076

5.

Abou-Elhamd KE, Al-Sultan AI, Rashad UM (2010) Simulation in ENT medical education. J Laryngol Otol 124(3):237–241

6.

Clifton N, Klingmann C, Khalil H (2011) Teaching Otolaryngology skills through simulation. Eur Arch Otorhinolaryngol 268(7):949–953

7.

Deutsch ES (2011) Simulation in otolaryngology: smart dummies and more. Otolaryngol Head Neck Surg 145(6):899–903

8.

Wiet GJ, Stredney D, Wan D (2011) Training and simulation in otolaryngology. Otolaryngol Clin N Am 44(6):1333–1350

9.

Javia L, Deutsch ES (2012) A systematic review of simulators in otolaryngology. Otolaryngol Head Neck Surg 147(6):999–1011

10.

Arora A, Lau LY, Awad Z, Darzi A, Singh A, Tolley N (2014) Virtual reality simulation training in otolaryngology. Int J Surg 12(2):87–94

11.

Piromchai P, Avery A, Laopaiboon M, Kennedy G, O'Leary S (2015) Virtual reality training for improving the skills needed for performing surgery of the ear, nose or throat. Cochrane Database Syst Rev 9(9):CD010198

12.

Musbahi O, Aydin A, Al Omran Y, Skilbeck CJ, Ahmed K (2017) Current status of simulation in otolaryngology: a systematic review. J Surg Educ 74(2):203–215

13.

Malekzadeh S (2017) Simulation in otolaryngology. Otolaryngol Clin N Am 50(5):875–1036

14.

Kern DE, Thomas PA, Hughes MT (2009) Curriculum development for medical education: a six-step approach. Johns Hopkins University Press, Baltimore

15.

Deutsch ES, Wiet GJ, Seidman M, Hussey HM, Malekzadeh S, Fried MP (2015) Simulation activity in otolaryngology residencies. Otolaryngol Head Neck Surg 153(2):193–201

16.

Frithioff A, Sørensen MS, Andersen SAW (2018) European status on temporal bone training: a questionnaire study. Eur Arch Otorhinolaryngol 275(2):357–363

17.

Hsu C-C, Sandford BA (2007) The Delphi technique: making sense of consensus. Pract Assess Res Eval 12:1–8

18.

Palter VN, Graafland M, Schijven MP, Grantcharov TP (2012) Designing a proficiency-based, content validated virtual reality curriculum for laparoscopic colorectal surgery: a Delphi approach. Surgery 151:391–397

19.

Nayahangan LJ, Konge L, Schroeder T, Paltved C, Lindorff-Larsen K, Nielsen B, Eiberg J (2017) A national needs assessment to identify technical procedures in vascular surgery for simulation based training. Eur J Vasc Endovasc Surg 53:591–599

20.

Danish Society for Otorhinolaryngology—Head and Neck Surgery website. http://dsohh.dk/publikationer/beretninger/. Accessed 7 Jan 2019

21.

Nayahangan LJ, Clementsen PF, Paltved C, Lindorff-Larsen KG, Nielsen BU, Konge L (2016) Identifying technical procedures in pulmonary medicine that should be integrated in a simulation-based curriculum: a national general needs assessment. Respiration 91:517–522

22.

Smith ME, Leung BC, Sharma R, Nazeer S, McFerran DJ (2014) A randomized controlled trial of nasolaryngoscopy training techniques. Laryngoscope 124(9):2034–2038

23.

Davis JR, Hale AL, Ewing JA, Lokey JS (2018) Instituting ultrasound-guided FNA for thyroid nodules into a general surgery residency program: what we learned. J Surg Educ 75(3):594–600

24.

Naur TMH, Nilsson PM, Pietersen PI, Clementsen PF, Konge L (2017) Simulation-based training in flexible bronchoscopy and endobronchial ultrasound-guided transbronchial needle aspiration (EBUS-TBNA): a systematic review. Respiration 93(5):355–362

25.

Vanderbilt AA, Mayglothling J, Pastis NJ, Franzen D (2014) A review of the literature: direct and video laryngoscopy with simulation as educational intervention. AMEP 5:15–23

26.

Malekzadeh S, Pfisterer MJ, Wilson B, Na H, Steehler MK (2011) A novel low-cost sinus surgery task trainer. Otolaryngol Head Neck Surg 145(4):530–533

27.

Gardiner Q, Oluwole M, Tan L, White PS (1996) An animal model for training in endoscopic nasal and sinus surgery. J Laryngol Otol 110(5):425–428

28.

Touska P, Awad Z, Tolley NS (2013) Suitability of the ovine model for simulation training in rhinology. Laryngoscope 123(7):1598–1601

29.

van der Wiel SE, Küttner Magalhães R, Rocha Gonçalves CR, Dinis-Ribeiro M, Bruno MJ, Koch AD (2016) Simulator training in gastrointestinal endoscopy—from basic training to advanced endoscopic procedures. Best Pract Res Clin Gastroenterol 30(3):375–387

30.

Allak A, Liu YE, Oliynyk MS, Weng KH, Jameson MJ, Shonka DC Jr (2015) Development and evaluation of a rigid esophagoscopy simulator for residency training. Laryngoscope 126(3):616–619

31.

Pascoto G, Stamm A, Lyra M (2017) Sialendoscopy training: presentation of a realistic model. Int Arch Otorhinolaryngol 21(01):17–20

32.

Nayahangan LJ, Stefanidis D, Kern DE, Konge L (2018) How to identify and prioritize procedures suitable for simulation-based training: experiences from general needs assessments using a modified Delphi method and a needs assessment formula. Med Teach 40(7):676–683

33.

Keeney S, Hasson F, McKenna HP (2001) A critical review of the Delphi technique as a research methodology for nursing. Int J Nurs Stud 38(2):195–200

34.

Andersen SA, Konge L, Caye-Thomasen P, Sørensen MS (2015) Learning curves of virtual mastoidectomy in distributed and massed practice. JAMA Otolaryngol Head Neck Surg 141(10):913–918

35.

Barsuk JH, Cohen ER, Feinglass J, Mcgaghie WC, Wayne DB (2017) Residents' procedural experience does not ensure competence: a research synthesis. J Grad Med Edu 9(2):201–208

36.

Bjerrum F, Thomsen ASS, Nayahangan LJ, Konge L (2018) Surgical simulation: current practices and future perspectives for technical skills training. Med Teach 40(7):668–675

37.

Lui JT, Compton ED, Ryu WHA, Hoy MY (2018) Assessing the role of virtual reality training in Canadian Otolaryngology-Head and Neck Residency Programs: a national survey of program directors and residents. J Otolaryngol Head Neck Surg 47(1):61
Ethics declarations
Conflict of interest
The authors declare that they have no conflict of interest.
Informed consent
Informed consent was obtained from all individual participants included in the study.
Additional information
Publisher's Note
Springer Nature remains neutral with regard to jurisdictional claims in published maps and institutional affiliations.
About this article
Cite this article
Andersen, S.A.W., Nayahangan, L.J., Konge, L. et al. Identifying and prioritizing technical procedures in otorhinolaryngology for simulation-based training: a national needs assessment in Denmark. Eur Arch Otorhinolaryngol 276, 1517–1524 (2019). https://doi.org/10.1007/s00405-019-05352-5
Received:

Accepted:

Published:

Issue Date:
Keywords
Simulation-based training

Surgical technical skills training

Curriculum development

General needs assessment

Evidence-based education