Abstract
Purpose
Epistaxis is a commonly presenting complaint. In severe cases, nosebleeds may occur despite antero-posterior nasal packing and often in the absence of identifiable sources of bleeding. In such cases, epistaxis may occur from septal branches of the anterior ethmoidal artery (sbAEA). The purposes of this study are to highlight the clinical role of the sbAEA in different fields of endoscopic endonasal surgery and to evaluate the efficacy and safety of their selective endoscopic endonasal ligation in the management of refractory epistaxis.
Methods
A retrospective review was performed of all patients presenting with epistaxis who underwent endoscopic endonasal coagulation of sbAEA in three Italian tertiary-care referral centers between October 2010 and October 2017.
Results
A total of 30 patients met the inclusion criteria. Sixteen patients had never experienced nosebleeds before, while 14 patients recalled previous epistaxes. Seventeen patients were treated under local anesthetic, while 13 required general anesthesia. No intra- or post-operative complications were observed and none of the patients received nasal packing after the procedure. In all cases the coagulation was effective in controlling the bleeding, with only two relapses in the series (2/30, 6.7%).
Conclusions
The sbAEA are of great interest in endoscopic endonasal surgery, both as surgical landmarks and as feeding vessels for a variety of pedicled nasal flaps. What is more, they can be crucial for the management of refractory epistaxis. Their selective endoscopic coagulation represents an effective and safe procedure in cases of difficult-to-control epistaxis from the upper nasal fossa, with several advantages over nasal packing.
This is a preview of subscription content, log in to check access.
Access options
Buy single article
Instant unlimited access to the full article PDF.
US$ 39.95
Price includes VAT for USA
Subscribe to journal
Immediate online access to all issues from 2019. Subscription will auto renew annually.
US$ 199
This is the net price. Taxes to be calculated in checkout.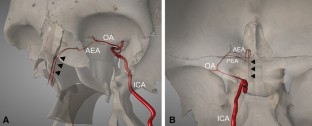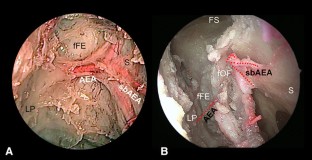 References
1.

Viehweg TL, Roberson JB, Hudson JW (2006) Epistaxis: diagnosis and treatment. J Oral Maxillofac Surg 64:511–518. https://doi.org/10.1016/j.joms.2005.11.031

2.

Sireci F, Speciale R, Sorrentino R et al (2017) Nasal packing in sphenopalatine artery bleeding: therapeutic or harmful? Eur Arch Otorhinolaryngol 274:1501–1505. https://doi.org/10.1007/s00405-016-4381-y

3.

Melia L, McGarry GW (2011) Epistaxis: update on management. Curr Opin Otolaryngol Head Neck Surg 19:30–35. https://doi.org/10.1097/MOO.0b013e328341e1e9

4.

Schlosser RJ (2009) Clinical practice. Epistaxis. N Engl J Med 360:784–789. https://doi.org/10.1056/NEJMcp0807078

5.

de Bonnecaze G, Gallois Y, Chaynes P et al (2017) Intractable epistaxis: which arteries are responsible? An angiographic study. Surg Radiol Anat 25:15–15. https://doi.org/10.1007/s00276-017-1856-5

6.

Chiu T, Dunn JS (2006) An anatomical study of the arteries of the anterior nasal septum. Otolaryngol Head Neck Surg 134:33–36. https://doi.org/10.1016/j.otohns.2005.09.005

7.

Monjas-Cánovas I, García-Garrigós E, Arenas-Jiménez JJ et al (2011) Radiological anatomy of the ethmoidal arteries: CT cadaver study. Acta Otorrinolaringol Esp 62:367–374. https://doi.org/10.1016/j.otorri.2011.04.006

8.

Gras-Cabrerizo JR, García-Garrigós E, Ademá-Alcover JM et al (2016) A unilateral septal flap based on the anterior ethmoidal artery (Castelnuovo's flap): CT cadaver study. Surg Radiol Anat 38:723–728. https://doi.org/10.1007/s00276-015-1610-9

9.

Upadhyay S, Buohliqah L, Vieira Junior G et al (2016) First olfactory fiber as an anatomical landmark for frontal sinus surgery. Laryngoscope 126:1039–1045. https://doi.org/10.1002/lary.25696

10.

Scott N (2003) Endoscopic modified Lothrop procedure for the treatment of chronic frontal sinusitis: a systematic review. Otolaryngol Head Neck Surg 129:427–438

11.

Shirazi MA, Silver AL, Stankiewicz JA (2007) Surgical outcomes following the endoscopic modified Lothrop procedure. Laryngoscope 117:765–769. https://doi.org/10.1097/MLG.0b013e3180337d7b

12.

Tran KN, Beule AG, Singal D, Wormald P-J (2007) Frontal ostium restenosis after the endoscopic modified Lothrop procedure. Laryngoscope 117:1457–1462. https://doi.org/10.1097/MLG.0b013e31806865be

13.

Khoueir N, Verillaud B, Castelnuovo P, Herman P (2017) Value of double mucoperiosteal flaps to prevent restenosis in Draf IIb/III: first clinical report. Clin Otolaryngol. https://doi.org/10.1111/coa.13044

14.

Seyedhadi S, Mojtaba MA, Shahin B, Hoseinali K (2013) The Draf III septal flap technique: a preliminary report. Am J Otolaryngol 34:399–402. https://doi.org/10.1016/j.amjoto.2013.01.019

15.

AlQahtani A, Bignami M, Terranova P et al (2014) Newly designed double-vascularized nasoseptal flap to prevent restenosis after endoscopic modified Lothrop procedure (Draf III): laboratory investigation. Eur Arch Otorhinolaryngol 271:2951–2955. https://doi.org/10.1007/s00405-014-2961-2

16.

Castelnuovo P, Ferreli F, Khodaei I, Palma P (2011) Anterior ethmoidal artery septal flap for the management of septal perforation. Arch Facial Plast Surg 13:411–414. https://doi.org/10.1001/archfacial.2011.44

17.

Battaglia P, Turri-Zanoni M, De Bernardi F et al (2016) Septal flip flap for anterior skull base reconstruction after endoscopic resection of sinonasal cancers: preliminary outcomes. Acta Otorhinolaryngol Ital 36:194–198. https://doi.org/10.14639/0392-100X-748

18.

Mathiasen RA, Cruz RM (2005) Prospective, randomized, controlled clinical trial of a novel matrix hemostatic sealant in patients with acute anterior epistaxis. Laryngoscope 115:899–902. https://doi.org/10.1097/01.MLG.0000160528.50017.3C

19.

Badran K, Malik TH, Belloso A, Timms MS (2005) Randomized controlled trial comparing Merocel and RapidRhino packing in the management of anterior epistaxis. Clin Otolaryngol 30:333–337. https://doi.org/10.1111/j.1365-2273.2005.01019.x

20.

Moshaver A, Harris JR, Liu R et al (2004) Early operative intervention versus conventional treatment in epistaxis: randomized prospective trial. J Otolaryngol 33:185–188

21.

Rockey JG, Anand R (2002) A critical audit of the surgical management of intractable epistaxis using sphenopalatine artery ligation/diathermy. Rhinology 40:147–149

22.

Koh E, Frazzini VI, Kagetsu NJ (2000) Epistaxis: vascular anatomy, origins, and endovascular treatment. AJR 174:845–851. https://doi.org/10.2214/ajr.174.3.1740845

23.

Osborn AG (1978) The nasal arteries. AJR 130:89–97. https://doi.org/10.2214/ajr.130.1.89

24.

Weddell G, Macbeth RG, Sharp HS, Calvert CA (1946) The surgical treatment of severe epistaxis in relation to the ethmoidal arteries. Br J Surg 33:387–392. https://doi.org/10.1002/bjs.18003313219

25.

Isaacson G, Monge JM (2003) Arterial ligation for pediatric epistaxis: developmental anatomy. Am J Rhinol 17(2):75–81
Ethics declarations
Conflict of interest
All authors declare no conflict of interest and no financial relationship to disclose.
Ethical approval
All procedures performed in studies involving human participants were in accordance with the ethical standards of the institutional and national research committee and with the 1964 Helsinki declaration and its later amendments or comparable ethical standards.
Informed consent
Informed consent was obtained from all individual participants included in the study.
Electronic supplementary material
Below is the link to the electronic supplementary material.
Clinical case of a 47-year-old man with refractory epistaxis (right side). His medical history was significant for hypertension (blood pressure was 180/100 mmHg). He had received multiple nasal packing in the previous months. The endoscopic endonasal examination excluded bleeding from the classical sites, namely the Little's area anteriorly, and the sphenopalatine region posteriorly. After removing some blood clots form the olfactory groove, the source of bleeding was identified on the upper part of the nasal septum in the region supplied by the septal branches of the anterior ethmoidal artery. The endoscopic endonasal ligation of such vessels under local anesthesia was able to successfully control the epistaxis. No nasal packing was placed after the surgical procedure. No recurrences of nosebleeds have been observed after 24 months of follow-up (MOV 43503 KB)
About this article
Cite this article
Turri-Zanoni, M., Arosio, A.D., Stamm, A.C. et al. Septal branches of the anterior ethmoidal artery: anatomical considerations and clinical implications in the management of refractory epistaxis. Eur Arch Otorhinolaryngol 275, 1449–1456 (2018). https://doi.org/10.1007/s00405-018-4964-x
Received:

Accepted:

Published:

Issue Date:
Keywords
Anterior ethmoidal artery

Anterior skull base

Endoscopic sinus surgery

Epistaxis

Extended frontal sinusotomy

Nosebleed

Sinus anatomy