Abstract
Purpose
In otorhinolaryngology training, introduction to temporal bone surgery through hands-on practice on cadaveric human temporal bones is the gold-standard training method before commencing supervised surgery. During the recent decades, the availability of such specimens and the necessary laboratory facilities for training seems to be decreasing. Alternatives to traditional training can consist of drilling artificial models made of plaster or plastic but also virtual reality (VR) simulation. Nevertheless, the integration and availability of these alternatives into specialist training programs remain unknown.
Methods
We conducted a questionnaire study mapping current status on temporal bone training and included responses from 113 departments from 23 countries throughout Europe.
Results
In general, temporal bone training during residency in ORL is organized as in-house training, or as participation in national or international temporal bone courses or some combination hereof. There are considerable differences in the availability of training facilities for temporal bone surgery and the number of drillings each ORL trainee can perform. Cadaveric dissection is still the most commonly used training modality.
Conclusions
VR simulation and artificial models are reported to be used at many leading training departments already. Decreasing availability of cadavers, lower costs of VR simulation and artificial models, in addition to established evidence for a positive effect on the trainees' competency, were reported as the main reasons. Most remaining departments expect to implement VR simulation and artificial models for temporal bone training into their residency programs in the near future.
This is a preview of subscription content, log in to check access.
Access options
Buy single article
Instant access to the full article PDF.
US$ 39.95
Price includes VAT for USA
Subscribe to journal
Immediate online access to all issues from 2019. Subscription will auto renew annually.
US$ 199
This is the net price. Taxes to be calculated in checkout.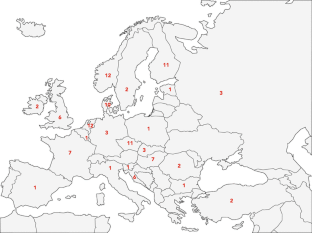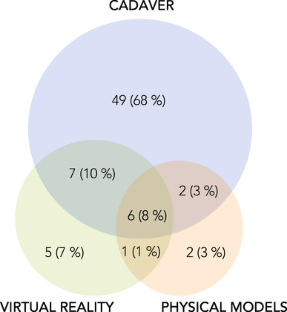 References
1.

FrancisHW, MasoodH, LaeeqK, BhattiNI (2010) Defining milestones toward competency in mastoidectomy using a skills assessment paradigm. Laryngoscope120(7):1417–1421. https://doi.org/10.1002/lary.20953

2.

GeorgeAP, DeR (2010) Review of temporal bone dissection teaching: how it was, is and will be. J Laryngol Otol124(2):119–125. https://doi.org/10.1017/S0022215109991617

3.

JaviaL, DeutschES (2012) A systematic review of simulators in otolaryngology. Otolaryngol Head Neck Surg147(6):999–1011. https://doi.org/10.1177/0194599812462007

4.

AndersenSA, FoghsgaardS, KongeL, Caye-ThomasenP, SørensenMS (2016) The Effect of Self-Directed Virtual Reality Simulation on Dissection Training Performance in Mastoidectomy. Laryngoscope126(8):1883–1888. https://doi.org/10.1002/lary.25710

5.

ZhaoYC, KennedyG, YukawaK, PymanB, O'LearyS (2011) Improving temporal bone dissection using self-directed virtual reality simulation: results of a randomized blinded control trial. Otolaryngol Head Neck Surg144(3):357–364. https://doi.org/10.1177/0194599810391624

6.

StefanidisD, ScerboMW, MonteroPN, AckerCE, SmithWD. Simulator training to automaticity leads to improved skill transfer compared with traditional proficiency-based training: a randomized controlled trial. Ann Surg. 2012; 255(1):30–47. https://doi.org/10.1097/SLA.0b013e318220ef3

7.

EricssonKA (2004) Deliberate practice and the acquisition and maintenance of expert performance in medicine and related domains. Acad Med79(10 Suppl):S70–S81

8.

WanibuchiM, NoshiroS, SuginoT, AkiyamaY, MikamiT, IihoshiS et al (2016) Training for skull base surgery with a colored temporal bone model created by three-dimensional printing technology. World Neurosurg91:66–72. https://doi.org/10.1016/j.wneu.2016.03.084

9.

Drake-LeeA (2002) Structured training of ENT specialist registrars in the out-patient clinic and theatre. Clin Otolaryngol Allied Sci27(5):396–402

10.

SimoR, HartleyC, SaeedSR, ZarodAP, TaylorPH (1997) Otorhinolaryngological training in Europe—a comparative study. Clin Otolaryngol Allied Sci22(4):332–342

11.

AndersenS, KongeL, Caye-ThomassenP, SørensenMS (2015) Learning curves of virtual mastoidectomy in distributed and massed practice. JAMA Otolaryngol Head Neck Surg141(10):913–918. https://doi.org/10.1001/jamaoto.2015.1563

12.

BhattiNI, AhmedA (2015) Improving skills development in residency using a deliberate-practice and learner-centered model. Laryngoscope125(Suppl 8):S1–S14. https://doi.org/10.1002/lary.25434

13.

AndersenSA, KongeL, MikkelsenPT, Cayé-ThomasenP, SørensenMS. Mapping the plateau of novices in virtual reality simulation training of mastoidectomy. Laryngoscope 2017127(4):907–914. https://doi.org/10.1002/lary.26000
Acknowledgements
We would like to thank Dr. Ulrik Pedersen, President of the UEMS ORL section, and all the board members of the UEMS-ORL and EAONO for their assistance with distributing the questionnaire.
Ethics declarations
Funding
This study did not receive any funding.
Conflict of interest
The authors declare that they have no conflict of interest.
Research involving human participants and/or animals
None.
Informed consent
Informed consent was obtained from all individual participants included in the study.
About this article
Cite this article
Frithioff, A., Sørensen, M.S. & Andersen, S.A.W. European status on temporal bone training: a questionnaire study. Eur Arch Otorhinolaryngol 275, 357–363 (2018). https://doi.org/10.1007/s00405-017-4824-0
Received:

Accepted:

Published:

Issue Date:
Keywords
Temporal bone surgery

Mastoidectomy

Surgical education

Cadaveric dissection

Simulation-based training