Abstract
Surgical morbidity from open reduction and internal fixation (ORIF) of maxillary sinus wall fracture often surpasses the benefits of ORIF. Hence, the authors devised transnasal endoscopic-assisted reduction of maxillary sinus wall fracture (TERM) without internal fixation as a minimally invasive surgery for maxillary sinus wall fracture. The purpose of this study was to investigate the feasibility of TERM in cadavers and patients. Six cadavers were dissected to evaluate the feasibility of TERM. In addition, 20 patients with maxillary sinus wall fractures who underwent TERM in a tertiary hospital from August of 2013 to December of 2015 were enrolled in this study. Demographic factors, type of anesthesia, computed tomography (CT) scans, clinical characteristics of patients, and patient satisfaction with surgery were analyzed. Cadaveric study showed that endoscopic inferior meatus antrostomy is a feasible method of approaching the maxillary sinus wall in cadavers. In addition, counterforce could be applied to the maxillary sinus wall by pushing packed Vaseline-soaked gauze or using a zygomatic process approach via a Gillies incision. Clinical experience revealed that patients experienced good facial contour restoration postoperatively. The extent of fractured bony segments was reduced on postoperative CT without complications. Patient satisfaction with TERM was greater than that with ORIF (p = 0.031). TERM showed its feasibility in both cadaveric study and clinical study. TERM can be a good alternative to ORIF, especially in patients who are reluctant to undergo a facial incision.
This is a preview of subscription content, log in to check access.
Access options
Buy single article
Instant unlimited access to the full article PDF.
US$ 39.95
Price includes VAT for USA
Subscribe to journal
Immediate online access to all issues from 2019. Subscription will auto renew annually.
US$ 199
This is the net price. Taxes to be calculated in checkout.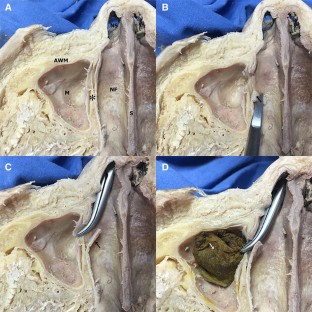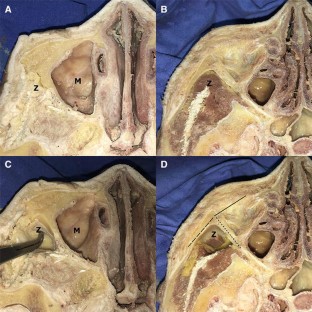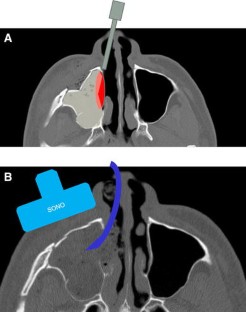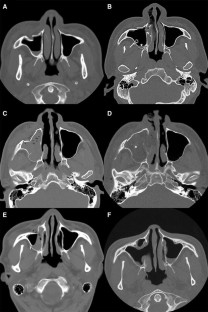 References
1.

Tomich G, Baigorria P, Orlando N, Mejico M, Costamagna C, Villavicencio R (2011) Frequency and types of fractures in maxillofacial traumas assessment using MDCT with multiplanar and 3D reconstructions. Revista Argentina de Radiologia (Online) 75(4):305–317

2.

Majewski WT, Yu JC, Ewart C, Aguillon A (2002) Posttraumatic craniofacial reconstruction using combined resorbable and nonresorbable fixation systems. Ann Plast Surg 48(5):471–476

3.

Ballon A, Landes CA, Zeilhofer HF, Herzog M, Klein C, Sader R (2008) The importance of the primary reconstruction of the traumatized anterior maxillary sinus wall. J Craniofac Surg 19(2):505–509. doi:10.1097/SCS.0b013e318163f2ea

4.

Thomas R, Bothwell NE (2015) Delayed management of paranasal sinus fractures. Otolaryngology/Head and Neck Surgery Combat Casualty Care in Operation Enduring Freedom Fort Sam Houston, Borden Institute, TX

5.

Blondel JH, Legros M (1980) Post-traumatic maxillary sinusitis. J Fr Otorhinolaryngol Audiophonol Chir Maxillofac 29(10):633–634 (637–638)

6.

Song SH, Kyung H, Oh SH, Kang N (2014) Fixation of fractured anterior wall of maxillary sinus using fibrin glue in a zygomaticomaxillary complex fracture. J Craniofac Surg 25(3):919–921. doi:10.1097/SCS.0000000000000663

7.

Gasparini G, Brunelli A, Rivaroli A, Lattanzi A, De Ponte FS (2002) Maxillofacial traumas. J Craniofac Surg 13(5):645–649

8.

Penttila MA, Rautiainen ME, Pukander JS, Karma PH (1994) Endoscopic versus Caldwell–Luc approach in chronic maxillary sinusitis: comparison of symptoms at 1-year follow-up. Rhinology 32(4):161–165

9.

Kuttenberger JJ, Hardt N, Treumann TC (2004) Long-term results following reconstruction of maxillary sinus wall defects with titanium micro-mesh: a CT-based study. Mund Kiefer Gesichtschir 8(6):330–336. doi:10.1007/s10006-004-0579-z

10.

Lund VJ (1988) Inferior meatal antrostomy. Fundamental considerations of design and function. J Laryngol Otol Suppl 15:1–18

11.

Kenned DW, Zinreich SJ, Kuhn F, Shaalan H, Naclerio R, Loch E (1987) Endoscopic middle meatal antrostomy: theory, technique, and patency. Laryngosc 97(S43):1–9

12.

Ellis E, Kittidumkerng W (1996) Analysis of treatment for isolated zygomaticomaxillary complex fractures. J Oral Maxillofac Surg 54(4):386–400

13.

Al-Kayat A, Bramley P (1979) A modified pre-auricular approach to the temporomandibular joint and malar arch. Br J Oral Surg 17(2):91–103

14.

Ogden G (1991) The Gillies method for fractured zygomas: an analysis of 105 cases. J Oral Maxillofac Surg 49(1):23–25

15.

Troedhan A (2015) Treatment-assessment of zygoma-tripod, -quadripod, -arch and orbital floor fractures in the elderly patient: results of a longitudinal clinical study of 20 years (1995–2015) with 1318 patients in a general traumatology-department and Evidence-based T. Int J Oral Craniofac Sci 1(1):006–016

16.

Saklad M (1941) Grading of patients for surgical procedures. Anesthesiology 2:281–284

17.

Kessler P, Hardt N (1996) The use of micro-titanium mesh for maxillary sinus wall reconstruction. J Craniomaxillofac Surg 24(6):317–321

18.

Rosbe KW, Meredith SD, Holmes DK (1997) Complication of maxillary sinus Foley balloon placement for orbital floor support. Otolaryngol Head Neck Surg 117(6):S148–S150

19.

Lee C, Czerwinski M (2008) Applications of the endoscope in facial fracture management. Semin Plast Surg 22(1):29–36. doi:10.1055/s-2007-1019140
Ethics declarations
Conflict of interest
All authors declare that they have no conflict of interest.
Funding
This study was funded by Chonnam National University Hospital Biomedical Research Institute (Grant Number CRI 17008-1).
Ethical approval
All procedures performed in studies involving human participants were in accordance with the ethical standards of the institutional and/or national research committee and with the 1964 Helsinki Declaration and its later amendments or comparable ethical standard (IRB Number: CNUH-2016-223).
Informed consent
Informed consent was obtained from all individual participants included in the study.
Electronic supplementary material
Below is the link to the electronic supplementary material.
Supplementary material 3 (WMV 18094 kb)
Supplementary material 5 (WMV 2971 kb)
About this article
Cite this article
Yang, H.C., Kim, Y.Y., Jin, S.M. et al. Transnasal endoscopic ultrasound-guided reduction of maxillary sinus wall fracture. Eur Arch Otorhinolaryngol 274, 3383–3390 (2017). https://doi.org/10.1007/s00405-017-4637-1
Received:

Accepted:

Published:

Issue Date:
Keywords
Trauma

Maxillofacial injury

Maxillary fracture

Endoscopic surgical procedure

Ultrasonography