Abstract
Due to the high risk of vascular and nerve damage during surgery, precise pre-operative evaluation of carotid body tumor (CBT) is important. We aim to apply intra-operative contrast-enhanced cone-beam CT (CBCT) with multi-volume technique in CBT evaluation, where the tumor, patent carotid arteries, and skull are demonstrated in three different colors, and to compare this novel technique with traditional computed tomography angiography (CTA). Seven CBT patients scheduled for traditional surgical removal were enrolled in this study between October 2013 and March 2016. For each patient, two CBCT scans were performed on the carotid region both pre- and post-operatively, with contrast injected into the common carotid artery directly. CT-like cross-sectional slices were then reconstructed with a dedicated workstation, and a novel multi-volume technique was further applied for advanced image post-processing. For all seven patients, the anatomic relationship between tumor and surrounding vessels was clearly demonstrated by reconstructed CBCT images with multiple fused volumes. Carotid was either completely or partially incarcerated by tumors. Interestingly, two sets of draining vein systems of CBT were found feeding into the internal jugular vein and the anterior vertebral venous plexus, respectively, which have not been revealed in pre-operative CTA. Post-operative CBCT confirmed the thorough removal of the tumor with an intact preservation of the internal carotid artery. CBCT with multi-volume technique outperforms CTA in discovering fine structures and revealing tumor–vessel relationship for CBT. This emerging imaging technique would offer more accurate diagnosis of CBT and assist in the decision of surgical plan.
This is a preview of subscription content, log in to check access.
Access options
Buy single article
Instant unlimited access to the full article PDF.
US$ 39.95
Price includes VAT for USA
Subscribe to journal
Immediate online access to all issues from 2019. Subscription will auto renew annually.
US$ 199
This is the net price. Taxes to be calculated in checkout.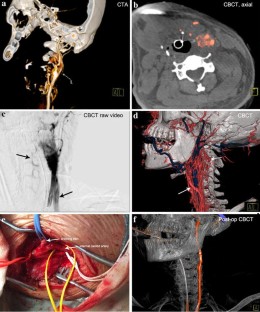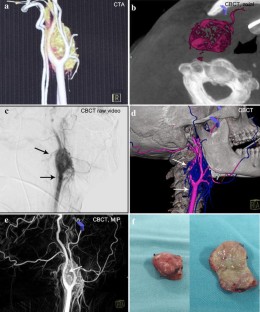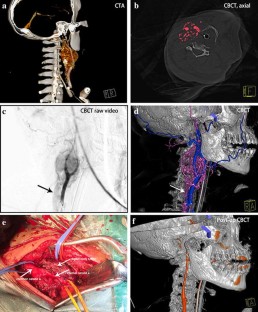 References
1.

Kaygusuz I, Karlidag T, Keles E, Yalcin S, Yuksel K (2015) Carotid body tumor: clinical features. J Craniofac Surg 26:e586–e589

2.

Metheetrairut C, Chotikavanich C, Keskool P, Suphaphongs N (2016) Carotid body tumor: a 25-year experience. Eur Arch Otorhinolaryngol 273:2171–2179

3.

Suarez C, Fernandez-Alvarez V, Neumann HP, Boedeker CC, Offergeld C, Rinaldo A, Strojan P, Ferlito A (2015) Modern trends in the management of head and neck paragangliomas. Eur Arch Otorhinolaryngol 272:3595–3599

4.

Sajid MS, Hamilton G, Baker DM, Joint Vascular Research Group (2007) A multicenter review of carotid body tumour management. Eur J Vasc Endovasc Surg 34:127–130

5.

Gad A, Sayed A, Elwan H, Fouad FM, Kamal Eldin H, Khairy H, Elhindawy K, Taha A, Hefnawy E (2014) Carotid body tumors: a review of 25 years experience in diagnosis and management of 56 tumors. Ann Vasc Dis 7:292–299

6.

Economopoulos KP, Tzani A, Reifsnyder T (2015) Adjunct endovascular interventions in carotid body tumors. J Vasc Surg 61:1081–1091

7.

Power AH, Bower TC, Kasperbauer J, Link MJ, Oderich G, Cloft H, Young WF Jr, Gloviczki P (2012) Impact of preoperative embolization on outcomes of carotid body tumor resections. J Vasc Surg 56:979–989

8.

Srinivasan K, Mohammadi M, Shepherd J (2014) Applications of linac-mounted kilovoltage cone-beam computed tomography in modern radiation therapy: a review. Pol J Radiol 79:181–193

9.

Li ZF, Hong B, Xv Y, Huang QH, Zhao WY, Liu JM (2015) Using DynaCT rotational angiography for angioarchitecture evaluation and complication detection in spinal vascular diseases. Clin Neurol Neurosurg 128:56–59

10.

Li FD, Gao ZQ, Ren HL, Liu CW, Song XJ, Li YF, Zheng YH (2016) Pre-reconstruction of cervical-topetrous internal carotid artery: an improved technique for treatment of vascular lesions involving internal carotid artery at the lateral skull base. Head Neck 38:E1562–E1567

11.

Ding D, Starke RM, Durst CR, Gaughen JR Jr, Evans AJ, Jensen ME, Liu KC (2014) DynaCT imaging for intraprocedural evaluation of flow-diverting stent apposition during endovascular treatment of intracranial aneurysms. J Clin Neurosci 21:1981–1983

12.

Nozaki T, Fujiuchi Y, Komiya A, Fuse H (2013) Efficacy of DynaCT for surgical navigation during complex laparoscopic surgery: an initial experience. Surg Endosc 27:903–909

13.

Le Heron JC (1992) Estimation of effective dose to the patient during medical X-ray examinations from measurements of the dose-area product. Phys Med Biol 37:2117–2126

14.

Mountford PJ, Temperton DH (1992) Recommendations of the International Commission on Radiological Protection (ICRP) 1990. Eur J Nucl Med 19:77–79
Ethics declarations
Funding
This study was funded by the Natural Science Foundation of China (81270390 and 81025001) and 973 Program, also known as National Basic Research Program (2012CB517802).
Ethical approval
All procedures performed in studies involving human participants were in accordance with the ethical standards of the institutional and national research committee and with the 1964 Helsinki declaration and its later amendments or comparable ethical standards.
Informed consent
Informed consent was obtained from all individual participants included in the study.
Conflict of interest
Authors have declared that no competing interests exist.
Additional information
L Cui and G Gu contributed equally to this work.
Electronic supplementary material
Below is the link to the electronic supplementary material.
Video 1: Raw video collected by CBCT in Patient 4, showing two sets of draining veins from the tumor feed into internal jugular vein and anterior vertebral venous plexus, respectively. (MPG 8418 kb)
Video 2: Raw video collected by CBCT in Patient 5, showing two sets of draining veins from the tumor feed into internal jugular vein and anterior vertebral venous plexus, respectively. (MPG 7336 kb)
About this article
Cite this article
Cui, L., Gu, G., Ye, L. et al. An evaluation on novel application of cone-beam CT imaging with multi-volume technique in carotid body tumor. Eur Arch Otorhinolaryngol 274, 1713–1720 (2017). https://doi.org/10.1007/s00405-016-4405-7
Received:

Accepted:

Published:

Issue Date:
Keywords
Cone-beam CT

DynaCT

Carotid body tumor

Angiography

Three-dimensional

Dual-volume technique