Abstract
Endoscopic endonasal approach has been successfully used for the management of pituitary tumors; however, the loss of septal mucosa especially around sphenoethmoidal recess and posterior nasal septum might be a disadvantage of this technique. The aim of this study is to describe a variation of the endonasal approach, "double nasoseptal flap" technique in endoscopic transsphenoidal pituitary surgery, and to evaluate its outcomes. The technique depends on fully harvested bigger nasoseptal flap on one side and smaller on the other. Thirty patients were included. Functional results were assessed by preoperative and postoperative first month visual analogue scale (VAS), and morphology was evaluated by achieving intact septum from the sphenoid ostium to the columella. Sphenoid sinusitis, the presence of synechia and crusting in the sphenoethmoidal recess was also assessed. Mean VAS was 71 and 67 mm preoperatively and postoperatively, respectively (p > 0.01). There were no septal perforations, synechia, and sphenoid sinusitis postoperatively. Three patients had (10 %) crusts on sphenoethmoidal recess on first month postoperatively. Double nasoseptal flap technique has advantages, such as wider exposure during surgery; prepared flaps could be used if needed, better morphological and functional outcomes postoperatively. The technique is safe without any perforations and minimal crusting.
This is a preview of subscription content, log in to check access.
Access options
Buy single article
Instant unlimited access to the full article PDF.
US$ 39.95
Price includes VAT for USA
Subscribe to journal
Immediate online access to all issues from 2019. Subscription will auto renew annually.
US$ 199
This is the net price. Taxes to be calculated in checkout.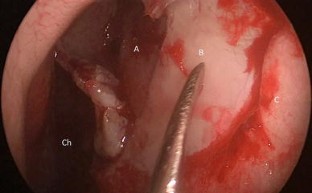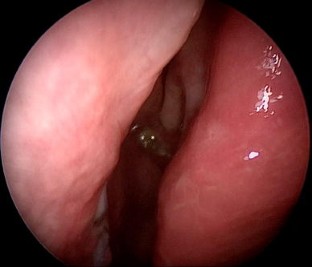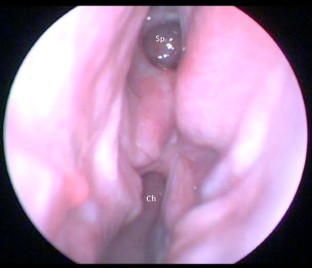 References
1.

Constantino ER, Leal R, Ferreira CC, Acioly MA, Landeiro JA (2016) Surgical outcomes of the endoscopic endonasal transsphenoidal approach for large and giant pituitary adenomas: institutional experience with special attention to approach-related complications. Arq Neuropsiquiatr 74(5):388–395

2.

Singh H, Essayed WI, Cohen-Gadol A, Zada G, Schwartz TH (2016) Resection of pituitary tumors: endoscopic versus microscopic. J Neurooncol. doi:10.1007/s11060-016-2124-y

3.

Dolci RL, Miyake MM, Tateno DA, Cançado NA, Campos CA, Dos Santos AR, Lazarini PR (2016) Postoperative otorhinolaryngologic complications in transnasal endoscopic surgery to access the skull base. Braz J Otorhinolaryngol. doi:10.1016/j.bjorl.2016.04.020

4.

Elhadi AM, Hardesty DA, Zaidi HA, Kalani MY, Nakaji P, White WL, Preul MC, Little AS (2015) Evaluation of surgical freedom for microscopic and endoscopic transsphenoidal approaches to the sella. Neurosurgery 11(Suppl 2):69–78

5.

Hadad G, Bassagasteguy L, Carrau RL, Mataza JC, Kassam A, Snyderman CH, Mintz A (2006) A novel reconstructive technique after endoscopic expanded endonasal approaches: vascular pedicle nasoseptal flap. Laryngoscope. 116(10):1882–1886

6.

Kassam AB, Thomas A, Carrau RL, Snyderman CH, Vescan A, Prevedello D, Mintz A, Gardner P (2008) Endoscopic reconstruction of the cranial base using a pedicled nasoseptal flap. Neurosurgery 63(1 Suppl 1):ONS44–ONS52 (discussion ONS52–53)

7.

Chaaban MR, Chaudhry AL, Riley KO, Woodworth BA (2015) Objective assessment of olfaction after transsphenoidal pituitary surgery. Am J Rhinol Allergy 29(5):365–368

8.

Charalampaki P, Ayyad A, Kockro RA, Perneczky A (2009) Surgical complications after endoscopic transsphenoidal pituitary surgery. J Clin Neurosci 16(6):786–789

9.

Greig SR, Cooper TJ, Sommer DD, Nair S, Wright ED (2016) Objective sinonasal functional outcomes in endoscopic anterior skull-base surgery: an evidence-based review with recommendations. Int Forum Allergy Rhinol. doi:10.1002/alr.21760

10.

Rowan NR, Wang EW, Gardner PA, Fernandez-Miranda JC, Snyderman CH (2016) Nasal deformities following nasoseptal flap reconstruction of skull base defects. J Neurol Surg B Skull Base 77(1):14–18

11.

Rivera-Serrano CM, Snyderman CH, Gardner P, Prevedello D, Wheless S, Kassam AB, Carrau RL, Germanwala A, Zanation A (2011) Nasoseptal, "rescue" flap: a novel modification of the nasoseptal flap technique for pituitary surgery. Laryngoscope 121(5):990–993

12.

Eloy JA, Vazquez A, Mady LJ, Patel CR, Goldstein IM, Liu JK (2015) Mucosal-sparing posterior septectomy for endoscopic endonasal approach to the craniocervical junction. Am J Otolaryngol 36(3):342–346

13.

Eloy JA, Vazquez A, Marchiano E, Baredes S, Liu JK (2016) Variations of mucosal-sparing septectomy for endonasal approach to the craniocervical junction. Laryngoscope 126(10):2220-2225
Ethics declarations
Conflict of interest
None of the authors has declared any conflict of interest (financial or non-financial) from being named as an author on the manuscript.
Informed consent
Informed consent was obtained from all individual participants included in the study.
Electronic supplementary material
Below is the link to the electronic supplementary material.
Video 1: Nasoseptal flap incisions are followed by en bloc removal of the cartilaginous septum. Three layered appearance is shown with an elevator. The right nasoseptal flap is sutured to the remaining cartilage. The septum is total reconstructed, and the left nasoseptal flap is sutured in position. The left and right nasal cavities are shown after suturing (MP4 53963 kb)
Video 2: Postoperative first month view of the left nasal cavity. Little crusting is present in the left sphenoethmoidal recess (MP4 19851 kb)
About this article
Cite this article
Gode, S., Biceroglu, H., Turhal, G. et al. Double nasoseptal flap technique for endonasal pituitary surgery. Eur Arch Otorhinolaryngol 274, 897–900 (2017) doi:10.1007/s00405-016-4314-9
Received:

Accepted:

Published:

Issue Date:
Keywords
Endoscopic endonasal approach

Nasoseptal flap

Cranial base

Skull base