Abstract
With the development of endonasal flaps, an understanding of the arterial anatomy of the nasal cavity has become increasingly important for clinicians. Despite this, there is a lack of current, accurate overviews in the literature. We have used both endoscopic and gross dissection of six fresh frozen cadaveric heads, alongside a literature review, to produce a comprehensive description of the anatomy. Four heads had their arterial systems injected with red latex. Three injected and two uninjected heads were dissected endoscopically, to provide a total of seven sides. The fourth injected head was hemisected for gross examination. The arterial systems were dissected and examined. The posterior septal artery was found to enter the nasal cavity from the sphenopalatine foramen in five sides. It bifurcated on the sphenoid rostrum in seven sides with a bifurcation lateral to the sphenoid ostium occurring in five sides and a medial bifurcation in two sides. The posterior septal artery supplied Kiesselbach's plexus on the nasal septum along with the greater palatine artery and septal branches of the superior labial and anterior ethmoidal arteries. The posterior lateral nasal artery arose from the sphenopalatine foramen in five sides to supply the lateral wall. The lateral wall branch of the anterior ethmoidal and the anterior lateral nasal artery anastomosed at the head of the inferior turbinate. These findings were mostly consistent with the current literature. We have produced a detailed and up-to-date description and diagram of the arterial supply to the nasal cavity, which may be of use to clinicians, anatomists and students.
This is a preview of subscription content, log in to check access.
Access options
Buy single article
Instant unlimited access to the full article PDF.
US$ 39.95
Price includes VAT for USA
Subscribe to journal
Immediate online access to all issues from 2019. Subscription will auto renew annually.
US$ 199
This is the net price. Taxes to be calculated in checkout.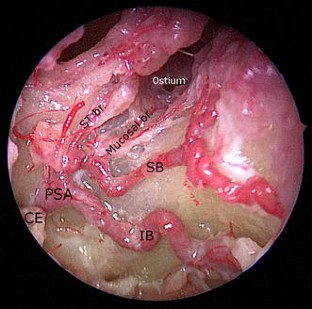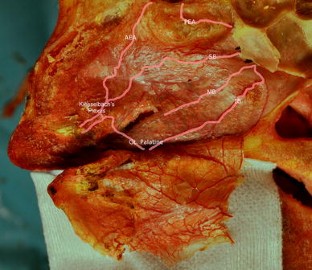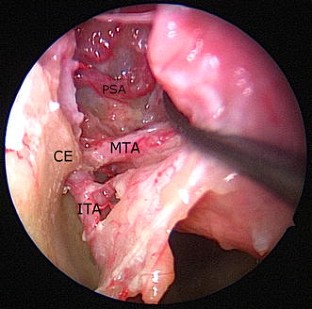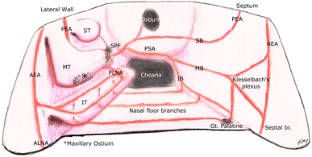 References
1.

Brunworth J, Lin T, Keschner DB, Garg R, Lee JT (2013) Use of the Hadad-Bassagasteguy flap for repair of recurrent cerebrospinal fluid leak after prior transsphenoidal surgery. Allergy Rhinol 4:e155

2.

Patel M, Stadler M, Snyderman C, Carrau R, Kassam A, Germanwala A, Gardner P, Zanation A (2010) How to choose? Endoscopic skull base reconstructive options and limitations. Skull Base 20:397–404. doi:10.1055/s-0030-1253573

3.

Rawal RB, Ambrose EC, Patel MR, Zanation AM (2013) Advances in reconstruction of the skull base. Curr Otorhinolaryngol Rep 1:191–196. doi:10.1007/s40136-013-0029-2

4.

Reyes C, Mason E, Solares CA (2014) Panorama of reconstruction of skull base defects: from traditional open to endonasal endoscopic approaches, from free grafts to microvascular flaps. Int Arch Otorhinolaryngol 18:S179–S186. doi:10.1055/s-0034-1390016

5.

Bleier BS, Randolph G (2013) Comprehensive techniques in CSF leak repair and skull base reconstruction. Karger, Boston

6.

Bleier BS, Curry WT, Wang EW, Schlosser RJ (2011) The bipedicled anterior septal flap: a radioanatomic and cadaveric study. Laryngoscope 121:1367–1371. doi:10.1002/lary.21824

7.

Hadad G, Rivera-Serrano CM, Bassagasteguy L, Carrau RL, Fernandez-Miranda J, Prevedello DM, Kassam AB (2011) Anterior pedicle lateral nasal wall flap: a novel technique for the reconstruction of anterior skull base defects. Laryngoscope 121:1606–1610. doi:10.1002/lary.21889

8.

Fortes FSG, Carrau RL, Snyderman CH, Prevedello D, Vescan A, Mintz A, Gardner P, Kassam AB (2007) The posterior pedicle inferior turbinate flap: a new vascularized flap for skull base reconstruction. Laryngoscope 117:1329–1332. doi:10.1097/mlg.0b013e318062111f

9.

Gil Z, Margalit N (2012) Anteriorly based inferior turbinate flap for endoscopic skull base reconstruction. Otolaryngol Head Neck Surg 146:842–847. doi:10.1177/0194599811434516

10.

Chen M-Y, Hua Y-J, Wan X-B, Sun R, Huang P-Y, Xiang Y-Q, Guo L, Mo H-Y, Yang Y, Hong M-H (2012) A posteriorly pedicled middle turbinate mucoperiosteal flap resurfacing nasopharynx after endoscopic nasopharyngectomy for recurrent nasopharyngeal carcinoma. Otolaryngol Head Neck Surg 146:409–411. doi:10.1177/0194599811430918

11.

Hadad G, Bassagasteguy L, Carrau RL, Mataza JC, Kassam A, Snyderman CH, Mintz A (2006) A novel reconstructive technique after endoscopic expanded endonasal approaches: vascular pedicle nasoseptal flap. Laryngoscope 116:1882–1886. doi:10.1097/01.mlg.0000234933.37779.e4

12.

Cherekaev VA, Golbin DA, Belov AI (2012) Translocated pedicled buccal fat pad: closure of anterior and middle skull base defects after tumor resection. J Craniofac Surg 23:98–104. doi:10.1097/SCS.0b013e318240fae9

13.

Rivera-Serrano CM, Oliver C, Prevedello D, Gardner P, Snyderman C, Kassam A, Carrau RL, Sok J (2010) Pedicled facial buccinator (FAB) flap: a new flap for reconstruction of skull base defects. Laryngoscope 120:1922–1930. doi:10.1002/lary.21701

14.

Gun R, Oyama K, Kapucu B, Wang L, Al Qahtani AA, Otto BA, Prevedello DM, Carrau RL (2014) Salpingopharyngeus myomucosal flap. J Craniofac Surg 25:1967–1970. doi:10.1097/SCS.0000000000000977

15.

Oliver CL, Hackman TG, Carrau RL, Snyderman CH, Kassam AB, Prevedello DM, Gardner P (2008) Palatal flap modifications allow pedicled reconstruction of the skull base. Laryngoscope 118:2102–2106. doi:10.1097/MLG.0b013e318184e719

16.

Babin E, Moreau S, Goullet de Rugy M, Delmas P, Valdazo A, Bequignon A (2003) Anatomic variations of the arteries of the nasal fossa. Otolaryngol Head Neck Surg 128:236–239. doi:10.1067/mhn.2003.84

17.

Simmen DB, Raghavan U, Briner HR, Manestar M, Groscurth P, Jones NS (2006) The anatomy of the sphenopalatine artery for the endoscopic sinus surgeon. Am J Rhinol 20:502–505

18.

Prades JM, Asanau A, Timoshenko AP, Faye MB, Martin C (2008) Surgical anatomy of the sphenopalatine foramen and its arterial content. Surg Radiol Anat 30:583–587. doi:10.1007/s00276-008-0390-x

19.

Midilli R, Orhan M, Saylam CY, Akyildiz S, Gode S, Karci B (2009) Anatomic variations of sphenopalatine artery and minimally invasive surgical cauterization procedure. Am J Rhinol Allergy 23:e38–e41

20.

Zhang X, Wang EW, Wei H, Shi J, Snyderman CH, Gardner PA, Fernandez-Miranda JC (2014) Anatomy of the posterior septal artery with surgical implications on the vascularized pedicled nasoseptal flap: posterior septal artery. Head Neck Online Publication. doi:10.1002/hed.23775

21.

Chiu T, Shaw-Dunn J (2006) An anatomical study of the arteries of the anterior nasal septum. Otolaryngol Head Neck Surg 134:33–36. doi:10.1016/j.otohns.2005.09.005

22.

Lee HY, Kim H-U, Kim S-S, Son EJ, Kim JW, Cho NH, Kim K-S, Lee J-G, Chung IH, Yoon J-H (2002) Surgical anatomy of the sphenopalatine artery in lateral nasal wall. Laryngoscope 112:1813–1818

23.

Hadoura L, Douglas C, McGarry GW, Young D (2009) Mapping surgical coordinates of the sphenopalatine foramen: surgical navigation study. J Laryngol Otol 123:742–745. doi:10.1017/S0022215109004344

24.

Wareing MJ, Padgham ND (1998) Osteologic classification of the sphenopalatine foramen. Laryngoscope 108:125–127

25.

Bolger WE, Borgie RG, Melder P (1999) The role of the crista ethmoidalis in endoscopic sphenopalatine artery ligation. Am J Rhinol 13:81–86

26.

Pádua FGM, Voegels RL (2008) Severe posterior epistaxis—endoscopic surgical anatomy. Laryngoscope 118:156–161. doi:10.1097/MLG.0b013e31815708d0

27.

Schwartzbauer HR, Shete M, Tami TA (2003) Endoscopic anatomy of the sphenopalatine and posterior nasal arteries: implications for the endoscopic management of epistaxis. Am J Rhinol 17:63–66

28.

Standring S, Gray H (2009) Gray's anatomy: the anatomical basis of clinical practice, 40th edn., reprinted. Churchill Livingstone Elsevier, Edinburgh

29.

McMinn RMH (1994) Last's anatomy: regional and applied, 9th edn. Churchill Livingstone, London

30.

Padgham N, Vaughan-Jones R (1991) Cadaver studies of the anatomy of arterial supply to the inferior turbinates. J R Soc Med 84:728–730

31.

Oneal RM, Beil RJ (2010) Surgical anatomy of the nose. Clin Plast Surg 37:191–211. doi:10.1016/j.cps.2009.12.011

32.

Wu P, Li Z, Liu C, Ouyang J, Zhong S (2015) The posterior pedicled inferior turbinate–nasoseptal flap: a potential combined flap for skull base reconstruction. Surg Radiol Anat. doi:10.1007/s00276-015-1516-6

33.

Orhan M, Midilli R, Gode S, Saylam CY, Karci B (2010) Blood supply of the inferior turbinate and its clinical applications. Clin Anat 23:770–776. doi:10.1002/ca.21019

34.

Kazak Z, Celik S, Ozer MA, Govsa F (2015) Three-dimensional evaluation of the danger zone of ethmoidal foramens on the frontoethmoidal suture line on the medial orbital wall. Surg Radiol Anat 37:935–940. doi:10.1007/s00276-015-1429-4

35.

Lander MI, Terry O (1992) The posterior ethmoid artery in severe epistaxis. Otolaryngol Head Neck Surg 106:101–103

36.

Erdogmus S, Govsa F (2006) The anatomic landmarks of ethmoidal arteries for the surgical approaches. J Craniofac Surg 17:280–285

37.

Han JK, Becker SS, Bomeli SR, Gross CW (2008) Endoscopic localisation of the anterior and posterior ethmoid arteries. Ann Otol Rhinol Laryngol 117:931–935

38.

Wang L, Youseef A, Al Qahtani AA, Gun R, Prevedello DM, Otto BA, Ditzel L, Carrau RL (2014) Endoscopic anatomy of the middle ethmoidal artery: anatomy of the middle ethmoidal artery. Int Forum Allergy Rhinol 4:164–168. doi:10.1002/alr.21255

39.

Yang Y, Lu Q, Liao J, Dang R (2009) Morphological characteristics of the anterior ethmoidal artery in ethmoid roof and endoscopic localization. Skull Base 19:311–317. doi:10.1055/s-0028-1115323

40.

Souza SA, de Souza MMA, Gregório LC, Ajzen S (2009) Anterior ethmoidal artery evaluation on coronal CT scans. Braz J Otorhinolaryngol 75:101–106

41.

Lee WC, Ku PKM, van Hasselt CA (2000) New guidelines for endoscopic localization of the anterior ethmoidal artery: a cadaveric study. Laryngoscope 110:1173–1178

42.

White DV, Sincoff EH, Abdulrauf SI (2005) Anterior ethmoidal artery: microsurgical anatomy and technical considerations. Neurosurgery 56:406–410. doi:10.1227/01.NEU.0000156550.83880.D0

43.

Chiu TW, Shaw-Dunn J, McGarry GW (2008) Woodruff's plexus. J Laryngol Otol 122:1074–1077. doi:10.1017/S002221510800176X
Acknowledgments
The authors would like to acknowledge the staff of the Surgical Skills Laboratory at the Royal College of Surgeons of Edinburgh, Professor Anshul Sama at Nottingham University Hospital, Professor Christian von Buchwald at Copenhagen University Hospital and Professor Jørgen Tranum-Jensen at Copenhagen University.
Ethics declarations
This study was funded by the University of Edinburgh via course fees for the Masters in Human Anatomy degree program.
Ethical approval
All procedures performed were in accordance with the ethical standards of the University of Edinburgh and the Royal College of Surgeons of Edinburgh and with the 1964 Helsinki declaration and its later amendments.
Informed consent
Informed consent was obtained from all cadaveric tissue donors.
Conflict of interest
Neither author has any conflict of interest to declare.
Electronic supplementary material
Below is the link to the electronic supplementary material.
Supplementary material 1 (MP4 26018 kb)
About this article
Cite this article
MacArthur, F.J.D., McGarry, G.W. The arterial supply of the nasal cavity. Eur Arch Otorhinolaryngol 274, 809–815 (2017) doi:10.1007/s00405-016-4281-1
Received:

Accepted:

Published:

Issue Date:
Keywords
Nasal cavity

Rhinology

Vasculature

Arterial anatomy

Endonasal flap

Nasoseptal flap