Abstract
Our objective was to devise and assess a multidisciplinary simulated course in training junior doctors for possible difficult airway scenarios. The authors have run a multi-disciplinary difficult airway simulation that was designed to simulate the stresses and complications of a live situation. The course comprised of six to eight difficult airway simulations (using a Laerdal SimMan2 mannequin remote controlled by a "driver") with two teams moving through the simulations over half a day. The simulation lasted 20 min and was followed by 40 min of in-depth structured facilitated debrief. The course was set in the anaesthetic room of a district general hospital theatre. Seventy-eight candidates (28 anaesthetic trainees, 18 ENT trainees, 19 theatre nurses and 13 operating theatre practitioners) attended this course over 6 training days set over 2 years. The main outcome measures of candidate feedback scored for eight questions on a 1–6 Likert scale. From the results, Audit of Trust inpatient airway fatalities revealed three deaths in 2 years leading up to the introduction of the simulation course. Re-audit of the subsequent 2 years, during which time the course was running, has shown no airway fatalities. A 100 % candidate feedback response rate was obtained. Delegates gave an average score of 4.8 to the simulator replicating the stress of 'live' situations; 5.5 to the simulator addressing training needs; 5.6 to the course improving clinical knowledge, teamwork, leadership and non-technical skills. In our conclusions, successful management of a difficult airway situation requires rapid evaluation, effective communication, strong leadership and teamwork, as well as knowledge of local environment and equipment. The results show that candidates felt an improvement in clinical knowledge, teamwork, leadership and non-technical skills, as well as the mutual understanding and respect between related medical and non-medical team members. In addition, audit of airway mortality showed a Trust-wide reduction in inpatient airway related mortality following the course. The results emphatically demonstrate the universal success of this multi-disciplinary training method for all team members, regardless of hierarchical position or background.
This is a preview of subscription content, log in to check access.
Access options
Buy single article
Instant unlimited access to the full article PDF.
US$ 39.95
Price includes VAT for USA
Subscribe to journal
Immediate online access to all issues from 2019. Subscription will auto renew annually.
US$ 199
This is the net price. Taxes to be calculated in checkout.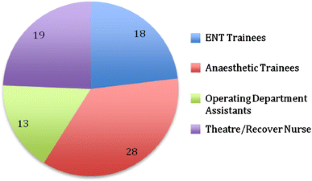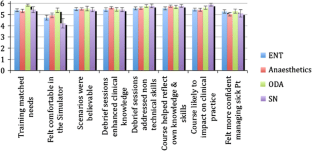 References
1.

Temple J (2010) Time for training. A review of the impact of the European working time directive on the quality of training. http://www.mee.nhs.uk/PDF/14274%20Bookmark%20Web%20Version.pdf. Accessed May 2010

2.

Spencer F (1978) Teaching and measuring surgical techniques—the technical evaluation of competence. Bull Am Coll Surg 63(3):9–12

3.

Holzman RS, Cooper JB, Gaba DM, Philip JH, Small SD, Feinstein DJ (1995) Anesthesia crisis resource management: real-life simulation training in operating room crises. Clin Anesth 7(8):675–687

4.

Reznek M, Smith-Coggins R, Howard S, Kiran K, Harter P, Sowb Y, Gaba D, Krummel T (2003) Emergency medicine crisis resource management (EMCRM): pilot study of a simulation-based crisis management course for emergency medicine. Acad Emerg Med 10(4):386–389

5.

Cook TM, Woodall N, Frerk C (2011) Major complications of airway management in the UK (NAP4). Br J Anaesth 106(5):617–631

6.

Krummel T (1998) Surgical simulation and virtual reality: the coming revolution. Ann Surg 5:635–637

7.

Bromiley M (2008) Have you ever made a mistake? Bulletin of the Royal College of Anaesthetists 48:2442–2445

8.

Gaba DM (2001) Simulation-based training in Anesthesia crisis resource management (ACRM): a decade of experience. Simulation and Gaming 32(2):175–193

9.

Helmreich R (2003) On error management: lessons from aviation. Br Med J 320:781–785

10.

Reader T, Flin R, Lauche K, Cuthbertson BH (2006) Non-technical skills in the intensive care unit. Br J Anaesth 96:551–559

11.

Dieckmann P, Gaba D, Rall M (2007) Deepening the theoretical foundations of patient simulation as social practice. Simul Healthc 2(3):183–193

12.

Kirk R (1998) Surgical excellence-threats and opportunities. Ann R Coll Surg Engl Suppl 80:256–259

13.

Boss JML, Morris H, Tatla T (2010) Teaching difficult airway management to a multidisciplinary team using workplace-based simulation and a crisis resource strategy. Poster presentation at the Difficult Airway Society AGM

14.

Boynton C, Boss J, Mehta N, Tatla T, Morris H (2011) The tools, the process and the training—a three pronged approach to improving the management of the difficult airway. Poster presentation at the Difficult Airway Society AGM
Conflict of interest
There are no conflict of interest.
About this article
Cite this article
Mehta, N., Boynton, C., Boss, L. et al. Multidisciplinary difficult airway simulation training: two year evaluation and validation of a novel training approach at a District General Hospital based in the UK. Eur Arch Otorhinolaryngol 270, 211–217 (2013) doi:10.1007/s00405-012-2131-3
Received:

Accepted:

Published:

Issue Date:
Keywords
Simulation training

Airway emergency

Shared airway