Abstract
There is debate concerning the mechanism of Eustachian tube (ET) ventilation. While a mechanism of complete opening has been advocated previously, sequential contraction of the levator veli palatini and medial pterygoid muscles followed by the tensor veli palatini and lateral pterygoid muscles may produce a transient sequential opening mechanism, allowing an air bolus to traverse the ET. This may explain confusion surrounding sonotubometry reports that not every swallow leads to sound passage in normal subjects. We hypothesize that the ET may not need to open completely when ventilating the middle ear; rather, a discrete air bolus can pass through it. Five normal and five disordered subjects underwent low-radiation dose cine computed tomography (CT) scans of the ET. Sixteen contiguous 2.5 mm slice locations were chosen through a 4 cm area in the nasopharynx that were parallel to and encompassed the entire ET. Twelve images were acquired at each slice over 4.8 s during swallowing and other tasks. Serial images were analyzed. An air bolus was observed passing through the ET in the normal subjects, but not the subject with ET dysfunction. Medial and lateral pterygoid contractions were also observed. A new hypothetical mechanism of transient sequential ET ventilation is presented. This is not a definitive conclusion, as the number of scans taken and maneuvers used was limited. Improved understanding of ET ventilation may facilitate management of middle ear disease as treatment evolves from ventilatory tube placement to ET manipulation.
This is a preview of subscription content, log in to check access.
Access options
Buy single article
Instant unlimited access to the full article PDF.
US$ 39.95
Price includes VAT for USA
Subscribe to journal
Immediate online access to all issues from 2019. Subscription will auto renew annually.
US$ 199
This is the net price. Taxes to be calculated in checkout.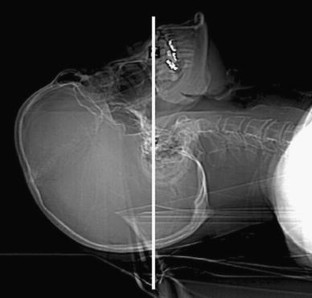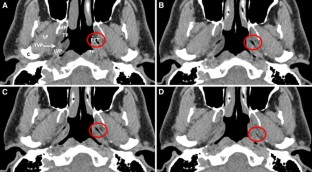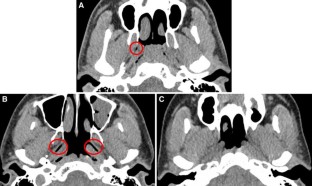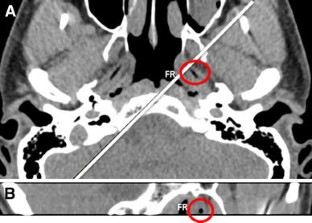 References
1.

Poe D, Kujawski O (2002) Endoscopic diagnosis and surgery of eustachian tube dysfunction. In: Silverstein H, Rosenberg S, Poe D, Lackson LE (eds) Minimally invasive otological surgery. Thomson Delmar Learning Publications, New York, pp 51–69

2.

van der Avoort SJ, van Heerbeek N, Zielhuis GA et al (2005) Sonotubometry: Eustachian tube ventilatory function test: a state-of-the-art review. Otol Neurotol 26:538–543 (discussion 43)

3.

Maroldi R, Farina D, Palvarini L et al (2001) Computed tomography and magnetic resonance imaging of pathologic conditions of the middle ear. Eur J Radiol 40:78–93

4.

Su CY (1995) Valve section of the eustachian tube. J Laryngol Otol 109:486–490

5.

Bernstein JM (2002) Immunologic aspects of otitis media. Curr Allergy Asthma Rep 2:309–315

6.

Bluestone CD (2008) Impact of evolution on the eustachian tube. Laryngoscope 118:522–527

7.

Metson R, Pletcher SD, Poe DS (2007) Microdebrider eustachian tuboplasty: a preliminary report. Otolaryngol Head Neck Surg 136:422–427

8.

Linstrom CJ, Silverman CA, Rosen A et al (2000) Eustachian tube endoscopy in patients with chronic ear disease. Laryngoscope 110:1884–1889

9.

Doherty JK, Slattery WH 3rd (2003) Autologous fat grafting for the refractory patulous eustachian tube. Otolaryngol Head Neck Surg 128:88–91

10.

O'Connor AF, Shea JJ (1981) Autophony and the patulous eustachian tube. Laryngoscope 91:1427–1435

11.

Ogawa S, Satoh I, Tanaka H (1976) Patulous Eustachian tube. A new treatment with infusion of absorbable gelatin sponge solution. Arch Otolaryngol 102:276–280

12.

Poe DS, Metson RB, Kujawski O (2003) Laser eustachian tuboplasty: a preliminary report. Laryngoscope 113:583–591

13.

Poe DS (2007) Diagnosis and management of the patulous eustachian tube. Otol Neurotol 28:668–677

14.

Hecht CS, Gannon PJ, Eden AR (1993) Motor innervation of the Eustachian tube muscles in the guinea pig. Laryngoscope 103:1218–1226

15.

Graves GO, Edwards LF (1944) The eustachian tube: review of its descriptive, microscopic, topographic, and clinical anatomy. Arch Otolaryngol 39:359–397

16.

Sudo M, Sando I, Suzuki C (1998) Three-dimensional reconstruction and measurement study of human Eustachian tube structures: a hypothesis of Eustachian tube function. Ann Otol Rhinol Laryngol 107:547–554

17.

Finkelstein Y, Talmi YP, Nachmani A et al (1990) Levator veli palatini muscle and Eustachian tube function. Plast Reconstr Surg 85:684–692 (discussion 93–7)

18.

Honjo I (1988) Pharyngeal orifice of Eustachian tube in cleft palate. Springer, Tokyo

19.

Honjo I, Okazaki N, Kumazawa T (1980) Opening mechanism of the Eustachian tube A clinical and experimental study. Ann Otol Rhinol Laryngol Suppl 89:25–27

20.

Leuwer R, Schubert R, Kucinski T et al (2002) The muscular compliance of the auditory tube: a model-based survey. Laryngoscope 112:1791–1795

21.

Doyle WJ, Rood SR (1980) Comparison of the anatomy of the Eustachian tube in the rhesus monkey (Macaca mulatta) and man, implications for physiologic modeling. Ann Otol Rhinol Laryngol 89:49–57

22.

Cantekin EI, Doyle WJ, Reichert TJ et al (1979) Dilation of the Eustachian tube by electrical stimulation of the mandibular nerve. Ann Otol Rhinol Laryngol 88:40–51

23.

Holmquist J, Björkman G, Olén L (1989) Measurement of Eustachian tube function using sonotubometry. Scand Audiol 10:33–35

24.

Okubo J, Watanabe I (1990) Aeration of the tympanomastoid cavity and the eustachian tube. Acta Otolaryngol Suppl 471:13–24

25.

Falk B (1982) Sniff-induced negative middle ear pressure: study of a consecutive series of children with otitis media with effusion. Am J Otolaryngol 3:155–162

26.

Kikuchi T, Oshima T, Ogura M et al (2007) Three-dimensional computed tomography imaging in the sitting position for the diagnosis of patulous eustachian tube. Otol Neurotol 28:199–203

27.

Ingelstedt S, Ivarsson, Jonson B (1967) Mechanics of the human middle ear. Pressure regulation in aviation and diving. A non-traumatic method. Acta Otolaryngol (Suppl 228):1–58

28.

Van Heerbeek N, Ingels KJ, Snik AF et al (2001) Reliability of manometric Eustachian tube function tests in children. Otol Neurotol 22:183–187

29.

Bylander A, Tjernstrom O, Ivarsson A (1983) Pressure opening and closing functions of the Eustachian tube by inflation and deflation in children and adults with normal ears. Acta Otolaryngol 96:255–268

30.

Falk B, Magnuson B (1984) Test-retest variability of Eustachian tube responses in children with persistent middle ear effusion. Arch Otorhinolaryngol 240:145–152

31.

Groth P, Ivarsson A, Tjernstrom O (1982) Reliability in tests of the Eustachian tube function. Acta Otolaryngol 93:261–267
Acknowledgments
This study was funded in part by NIH grant number R01 DC008153 from the National Institute on Deafness and other Communicative Disorders.
Conflict of interest
The authors have no conflicts of interests to declare.
Electronic supplementary material
Below is the link to the electronic supplementary material.
Supplementary material 1 (MPG 453 kb)
Supplementary material 2 (MPG 512 kb)
Supplementary material 3 (MPG 453 kb)
Supplementary material 4 (MPG 454 kb)
Supplementary material 5 (MPG 714 kb)
Supplementary material 6 (MPG 487 kb)
About this article
Cite this article
McDonald, M.H., Hoffman, M.R., Gentry, L.R. et al. New insights into mechanism of Eustachian tube ventilation based on cine computed tomography images. Eur Arch Otorhinolaryngol 269, 1901–1907 (2012) doi:10.1007/s00405-011-1829-y
Received:

Accepted:

Published:

Issue Date:
Keywords
Eustachian tube ventilation

Eustachian tube dysfunction

Patulous Eustachian tube