Abstract
To clarify whether positional nystagmus of horizontal cupulolithiasis contains vertical and torsional components, and to quantify the asymmetry, we analyzed nystagmus in four positions (healthy-ear-down, affected-ear-down, supine, nose-down), using 3-dimensional video-oculography. Subjects were 20 patients with direction-changing apogeotropic positional nystagmus, 11 females and 9 males, with a mean age of 58.1 years. Nystagmus was recorded using an infrared camera and the findings were converted to digital data. Using ImageJ, we performed 3-dimensional video-oculography and measured maximum slow-phase velocity (MSV) of three components. Positional nystagmus was not purely horizontal. Eleven (55%) patients revealed a vertical component, and 14 (70%) patients had a torsional component in the healthy-ear-down position. The mean value of MSV of the horizontal component in the healthy-ear-down position was 18°/s and that in the affected-ear-down position was 7.8°/s. For the horizontal component, MSV in the healthy-ear-down position was significantly greater than that in the affected-ear-down position (p < 0.01). These results suggest that vertical and torsional components occur from the horizontal semicircular canal, and the response to ampullopetal bending is more than two times as strong as that to ampullofugal bending.
This is a preview of subscription content, log in to check access.
Access options
Buy single article
Instant unlimited access to the full article PDF.
US$ 39.95
Price includes VAT for USA
Subscribe to journal
Immediate online access to all issues from 2019. Subscription will auto renew annually.
US$ 199
This is the net price. Taxes to be calculated in checkout.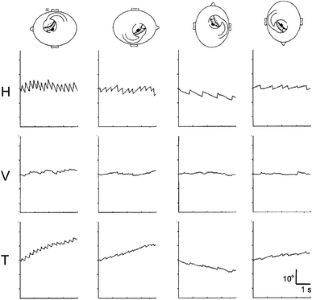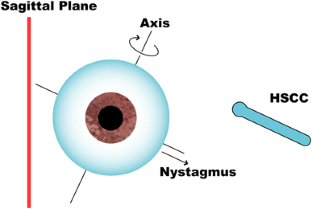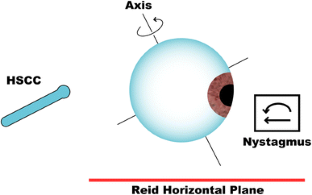 References
1.

Hiruma K, Numata T (2004) Positional nystagmus showing neutral points. ORL J Otorhinolaryngol Relat Spec 66:46–50

2.

Baloh RW, Jacobson K, Honrubia V (1993) Horizontal semicircular canal variant of benign positional vertigo. Neurology 43:2542–2549

3.

Bisdorff AR, Debatisse D (2001) Localizing signs in positional vertigo due to lateral canal cupulolithiasis. Neurology 57:1085–1088

4.

Imai T, Sekine K, Hattori K et al (2005) Comparing the accuracy of video-oculography and the scleral search coil system in human eye movement analysis. Auris Nasus Larynx 32:3–9

5.

Ikeda T, Hashimoto M, Horiike O, Yamashita H (2002) Simple eye movement image analysis technique using NIH Image. Equilibrium Res 61:90–96

6.

Ichijo H (2011) Positional nystagmus of horizontal canalolithiasis. Acta Otolaryngol 131:46–51

7.

Yagi T, Kurosaki S, Yamanobe S, Morizono T (1992) Three-component analysis of caloric nystagmus in humans. Arch Otolaryngol Head Neck Surg 118:1077–1080

8.

Della Santina CC, Potyagaylo V, Migliaccio AA et al (2005) Orientation of human semicircular canals measured by three-dimensional multiplanar CT reconstruction. J Assoc Res Otolaryngol 6:191–206

9.

Ichijo H (2002) Angles between left and right vertical semicircular canals. Nippon Jibiinkoka Gakkai Kaiho 105:1138–1142

10.

Takemori S, Cohen B (1974) Visual suppression of vestibular nystagmus in rhesus monkeys. Brain Res 72:203–212

11.

Baloh RW, Honrubia V, Konrad HR (1977) Ewald's second law re-evaluated. Acta Otolaryngol 83:475–479
Acknowledgments
We thank Dr. Kazunori Futai for preparing some of the figures.
Conflict of interest
None.
Electronic supplementary material
Below is the link to the electronic supplementary material.
Positional nystagmus of right cupulolithiasis.
About this article
Cite this article
Ichijo, H. Cupulolithiasis of the horizontal semicircular canal. Eur Arch Otorhinolaryngol 269, 53–56 (2012). https://doi.org/10.1007/s00405-011-1583-1
Received:

Accepted:

Published:

Issue Date:
Keywords
3-dimensional video-oculography

Vertical component

Torsional component

Maximum slow-phase velocity

Ewald's law

Positional vertigo