Abstract
Purpose
This study aimed to assess the rates of retained products of conception (RPOC) after routine postpartum evaluation of patients who underwent post-delivery manual uterine revision due to retained placenta.
Methods
This is a retrospective cohort study of 599 consecutive women who underwent manual removal of placenta during 2010–2018. Group A comprised 465 women who underwent postpartum symptom-based evaluation (2010–2016). Group B comprised 134 women who were routinely evaluated by ultrasound and subsequently by hysteroscopic examination 6 weeks after delivery (2016–2018).
Results
The rates of abnormal postpartum bleeding were similar between groups A and B (12% and 13%, respectively, p = 0.72%). A significantly smaller proportion of women underwent hysteroscopy in group A than group B (12% vs. 37%, p < 0.05). The rate of persistent RPOC confirmed by hysteroscopy was significantly lower in group A than group B (9.7% vs. 23%, p < 0.05).
Conclusion
Among patients who underwent post-delivery manual removal of placenta, a threefold higher rate of RPOC was discovered by routine elective evaluation than by evaluating only symptomatic patients. Future studies may show whether this approach translates to an effect on fertility.
This is a preview of subscription content, log in to check access.
Access options
Buy single article
Instant unlimited access to the full article PDF.
US$ 39.95
Price includes VAT for USA
Subscribe to journal
Immediate online access to all issues from 2019. Subscription will auto renew annually.
US$ 199
This is the net price. Taxes to be calculated in checkout.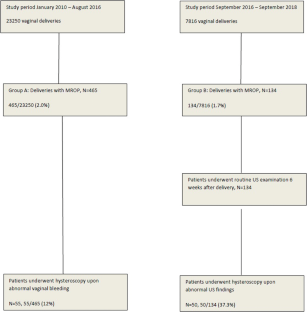 References
1.

Deneux-Tharaux C, Macfarlane A, Winter C, Zhang WH et al (2009) Policies for manual removal of placenta at vaginal delivery: variations in timing within Europe. BJOG 116:119–124

2.

Weeks AD (2008) The retained placenta. Best Pract Res Clin Obstet Gynaecol 22:1103–1117

3.

Cheung WM, Hawkes A, Ibish S, Weeks AD (2011) The retained placenta: historical and geographical rate variations. J Obstet Gynaecol 31:37–42

4.

Combs CA, Laros RK (1991) Prolonged third stage of labor: morbidity and risk factors. Obstet Gynecol 77:863–867

5.

Weeks AD (2003) Placental influences on the rate of labour progression: a pilot study. Eur J Obstet Gynecol Reprod Biol 106:158–159

6.

Hrazdirova L, Svabik K, Zizka Z, Germanova A, Kuzel D (2012) Should hysteroscopy be provided for patients who have undergone instrumental intrauterine intervention after delivery? Acta Obstet Gynecol Scand 91:514–517

7.

Rosenstein MG, Vargas JE, Drey EA (2014) Ultrasound-guided instrumental removal of the retained placenta after vaginal delivery. Am J Obstet Gynecol 211(180):e1–e3

8.

Weissbach T, Haikin-Herzberger E, Bacci-Hugger K, Shechter-Maor G, Fejgin M, Biron-Shental T (2015) Immediate postpartum ultrasound evaluation for suspected retained placental tissue in patients undergoing manual removal of placenta. Eur J Obstet Gynecol Reprod Biol 192:37–40

9.

Anteby M, Many A, Ashwal E, Yogev Y, Shinar S (2019) Risk factors and complications of manual placental removal after vaginal delivery: How common are additional invasive procedures? J Matern Fetal Neonatal Med 32:384–388

10.

Sotiriadis A, Makrydimas G, Papatheodorou S, Ioannidis JP (2005) Expectant, medical, or surgical management of first-trimester miscarriage: a meta-analysis. Obstet Gynecol 105:1104–1113

11.

Nanda K, Peloggia A, Grimes D, Lopez L, Nanda G (2006) Expectant care versus surgical treatment for miscarriage. Cochrane Database Syst Rev 2:CD003518

12.

Barel O, Krakov A, Pansky M, Vaknin Z, Halperin R, Smorgick N (2015) Intrauterine adhesions after hysteroscopic treatment for retained products of conception: what are the risk factors? Fertil Steril 103:775–779

13.

Hooker AB, Muller LT, Paternotte E, Thurkow AL (2015) Immediate and long-term complications of delayed surgical management in the postpartum period: a retrospective analysis. J Matern Fetal Neonatal Med 28(16):1884–1889

14.

Melcer Y, Smorgick N, Schneider D, Pansky M, Halperin R, Ben-Ami I (2016) Infertility Following retained products of conception: Does the timing of surgical ıntervention matter? Isr Med Assoc J 18:605–608

15.

Vitner D, Filmer S, Goldstein I, Khatib N, Weiner Z (2013) A comparison between ultrasonography and hysteroscopy in the diagnosis of uterine pathology. Eur J Obstet Gynecol Reprod Biol 171(1):143–145
Ethics declarations
Conflict of interest
The authors declare that they have no conflict of interest.
Ethical approval
This article does not contain any studies with human participants or animals performed by any of the authors.
Informed consent
The study was designed as a retrospective study. All data was collected anonymously. The Ethical board waived informed consent.
Additional information
Publisher's Note
Springer Nature remains neutral with regard to jurisdictional claims in published maps and institutional affiliations.
About this article
Cite this article
Namazov, A., Elkabetz, N., Ivshin, E. et al. Routine ultrasonographic and hysteroscopic evaluations of women undergoing postpartum manual removal of placenta: a retrospective cohort study. Arch Gynecol Obstet (2020) doi:10.1007/s00404-020-05433-5
Received:

Accepted:

Published:
Keywords
Retained products of conception (RPOC)

Manual removal

Placenta

Hysteroscopy

Ultrasound