Abstract
Background and aims
Natural orifice translumenal endoscopic surgery (NOTES) procedure describes a surgical approach using natural orifices. We describe a prospective non-comparative clinical study on transgastric salpingo-oophorectomy in humans.
Methods
Patients with indication for salpingo-oophorectomy were offered the transgastric approach. This paper presents the data of the first 6 patients, in whom the procedure was performed. After gastroscopic incision in the anterior corpus wall we advanced the flexible gastroscope into the abdominal cavity. With the help of a transvaginally introduced 10 mm trocar and, if the uterus was present, an intrauterine manipulator, the salpingo-oophorectomy was performed. The colpotomy was dilated and the specimens were extracted in a bag. The gastrotomy was closed with an over-the-scope-clip and the colpotomy with a running suture.
Results
The planned salpingo-oophorectomy was performed successfully in all patients. All patients recovered quickly and were discharged between the third and fifth day. In one patient a gastric bleeding was seen on the first postoperative day. The bleeding was clipped gastroscopically, all other follow ups were uneventful.
Conclusion
Our study demonstrates the feasibility of the transgastric access to the pelvis. The gastroscope provided excellent optical control and good tissue preparation. Therefore, we conclude that pure NOTES procedures using the transgastric access to the adnexa are feasible. An increasing role of transgastric procedures for diseases in the pelvic region can be expected in particular if new endoscopic platforms with better means of instrumentation and tissue management become available.
This is a preview of subscription content, log in to check access.
Access options
Buy single article
Instant unlimited access to the full article PDF.
US$ 39.95
Price includes VAT for USA
Subscribe to journal
Immediate online access to all issues from 2019. Subscription will auto renew annually.
US$ 199
This is the net price. Taxes to be calculated in checkout.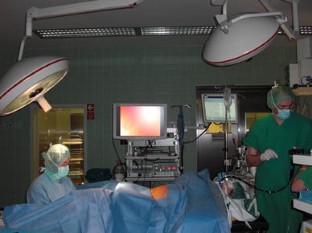 References
1.

Berlit S, Hornemann A, Sutterlin M, Weiss C, Tuschy B (2017) Laparoscopic hysterectomy in the overweight and obese: does 3D imaging make a change? Arch Gynecol Obstet 295(1):125–131

2.

Tuschy B, Berlit S, Sutterlin M, Hornemann A (2013) Duration of hospital stay after gynaecologic laparoscopic surgery: preferences of patients. Arch Gynecol Obstet 288(2):335–339

3.

Romanelli JR, Earle DB (2009) Single-port laparoscopic surgery: an overview. Surg Endosc 23(7):1419–1427

4.

Ahn KH, Song JY, Kim SH, Lee KW, Kim T (2012) Transvaginal single-port natural orifice transluminal endoscopic surgery for benign uterine adnexal pathologies. J Minim Invasive Gynecol 19(5):631–635

5.

Schoenberg MB, Strobel P, von Renteln D, Eickhoff A, Kahler GF (2011) Absorbable ligation loops for flexible endoscopy: a necessary tool for natural orifice transluminal endoscopic surgery. Gastrointest Endosc 73(4):791–797

6.

Eickhoff A, Vetter S, von Renteln D, Caca K, Kahler G, Eickhoff JC et al (2010) Effectivity of current sterility methods for transgastric NOTES procedures: results of a randomized porcine study. Endoscopy 42(9):748–752

7.

Hornemann A, Suetterlin M, Trunk MJ, Gerhardt A, Kaehler G (2014) Pure natural orifice transluminal endoscopic surgery (NOTES) involving peroral endoscopic salpingo-oophorectomy (POESY). Int J Gynaecol Obstet 125(1):86–88

8.

Tuschy B, Berlit S, Brade J, Sutterlin M, Hornemann A (2013) Gynaecological laparoscopic surgery for benign conditions: do women care about incisions? Eur J Obstet Gynecol Reprod Biol 169(1):84–87

9.

ASGE/SAGES Working Group on Natural Orifice Translumenal Endoscopic (2006) Surgery white paper October 2005. Gastrointest Endosc 63(2):199–203

10.

Lima E, Henriques-Coelho T, Rolanda C, Pego JM, Silva D, Carvalho JL et al (2007) Transvesical thoracoscopy: a natural orifice translumenal endoscopic approach for thoracic surgery. Surg Endosc 21(6):854–858

11.

Marescaux J, Dallemagne B, Perretta S, Wattiez A, Mutter D, Coumaros D (2007) Surgery without scars: report of transluminal cholecystectomy in a human being. Arch Surg 142(9):823–826 (discussion 6-7)

12.

Semm K (1983) Endoscopic appendectomy. Endoscopy 15(2):59–64

13.

Magdeburg R, Kaehler G (2016) Natural orifice transluminal endoscopic surgery in humans: feasibility and safety of transgastric closure using the OTSC system. Surg Endosc 30(1):73–77
Ethics declarations
Conflict of interest
Amadeus Hornemann and Marc Sütterlin has no conflict of interest.
Funding
Georg Kähler received research support from Karl Storz Endoskope GmbH Tuttlingen/Germany and from Erbe Elektromedizin Tübingen/Germany.
Informed consent
Informed consent was obtained from all individual participants included in the study.
Research involved in human or animal rights
All procedures performed in studies involving human participants were in accordance with the ethical standards of the institutional and/or national research committee and with the 1964 Helsinki declaration and its later amendments or comparable ethical standards.
Electronic supplementary material
Below is the link to the electronic supplementary material.
Supplementary material 1 (M4V 152854 kb)
About this article
Cite this article
Hornemann, A., Suetterlin, M. & Kaehler, G. Per-oral endoscopic salpingo-oophorectomy (POESY) in humans: a prospective clinical feasibility study. Arch Gynecol Obstet 297, 125–129 (2018) doi:10.1007/s00404-017-4567-6
Received:

Accepted:

Published:

Issue Date:
Keywords
NOTES

Transgastric

Bilateral salpingo-oophorectomy