Abstract
Aim
To describe a modified "Triple-P" procedure and evaluate its outcome in women with morbidly adherent placenta (MAP) after previous caesarean section (CS).
Methods
A retrospective cohort study of 96 women with MAP after CS was recruited with 45 women receiving the modified "Triple-P" procedure as study group and the other 51 cases receiving the conventional managements as the control. The maternal outcomes were compared.
Results
The modified "Triple-P" procedure was described in step by step. Women in study group demonstrated reduction of blood loss, transfusion blood volume and operation time, as well as less hospital days and lower hospitalization cost (P < 0.05). In addition, there was no difference in uterine healing rate, hysterectomy rate, and ICU transferring rate (P > 0.05).
Conclusion
Our modified "Triple-P" procedure for MAP after previous CS maintained the advantages of Chandraharan's "Triple-P" procedure in preservation of uterus for further fertility, less intraoperative blood loss, shorter hospital stays, and lower hospitalization cost but also advanced in feasibility and convenience during introducing into routine clinical practice.
This is a preview of subscription content, log in to check access.
Access options
Buy single article
Instant unlimited access to the full article PDF.
US$ 39.95
Price includes VAT for USA
Subscribe to journal
Immediate online access to all issues from 2019. Subscription will auto renew annually.
US$ 199
This is the net price. Taxes to be calculated in checkout.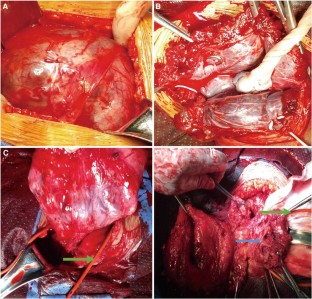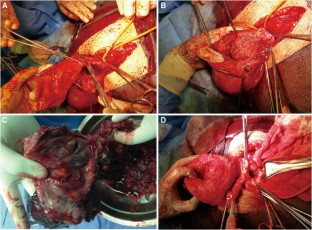 References
1.

Shabana A, Fawzy M, Refaie W (2015) Conservative management of placenta percreta: a stepwise approach. Arch Gynecol Obstet 291(5):993–998

2.

Eller AG, Porter TF, Soisson P, Silver RM (2009) Optimal management strategies for placenta accreta. BJOG 116(5):648–654

3.

Dannheim K, Shainker SA, Hecht JL (2016) Hysterectomy for placenta accreta; methods for gross and microscopic pathology examination. Arch Gynecol Obstet 293(5):951–958

4.

de la Cruz CZ, Coulter ML, O'Rourke K, Amina Alio P, Daley EM, Mahan CS (2013) Women's experiences, emotional responses, and perceptions of care after emergency peripartum hysterectomy: a qualitative survey of women from 6 months to 3 years postpartum. Birth 40(4):256–263

5.

Lin K, Qin J, Xu K, Hu W, Lin J (2015) Methotrexate management for placenta accreta: a prospective study. Arch Gynecol Obstet 291(6):1259–1264

6.

Matsubara S (2016) Bakri balloon vs. B-Lynch suture as hemostatic procedures for atonic bleeding: clarification and concerns. Arch Gynecol Obstet 293(5):1147–1148

7.

Li GT, Li XF, Liu YJ, Li W, Xu HM (2015) Symbol "&" suture to control atonic postpartum hemorrhage with placenta previa accreta. Arch Gynecol Obstet 291(2):305–310

8.

Kaya B, Guralp O, Tuten A, Unal O, Celik MO, Dogan A (2016) Which uterine sparing technique should be used for uterine atony during cesarean section? The Bakri balloon or the B-Lynch suture? Arch Gynecol Obstet 294(3):511–517

9.

Minas V, Gul N, Shaw E, Mwenenchanya S (2015) Prophylactic balloon occlusion of the common iliac arteries for the management of suspected placenta accreta/percreta: conclusions from a short case series. Arch Gynecol Obstet 291(2):461–465

10.

Chandraharan E, Rao S, Belli AM, Arulkumaran S (2012) The Triple-P procedure as a conservative surgical alternative to peripartum hysterectomy for placenta percreta. Int J Gynaecol Obstet 117(2):191–194

11.

Sentilhes L, Ambroselli C, Kayem G, Provansal M, Fernandez H, Perrotin F et al (2010) Maternal outcome after conservative treatment of placenta accreta. Obstet Gynecol 115(3):526–534

12.

Kotsuji F, Nishijima K, Kurokawa T, Yoshida Y, Sekiya T, Banzai M et al (2013) Transverse uterine fundal incision for placenta praevia with accreta, involving the entire anterior uterine wall: a case series. BJOG 120(9):1144–1149

13.

Timmermans S, van Hof AC, Duvekot JJ (2007) Conservative management of abnormally invasive placentation. Obstet Gynecol Surv 62(8):529–539

14.

Kayem G, Clement D, Goffinet F (2007) Recurrence following conservative management of placenta accreta. Int J Gynaecol Obstet 99(2):142–143

15.

Teixidor Vinas M, Belli AM, Arulkumaran S, Chandraharan E (2015) Prevention of postpartum hemorrhage and hysterectomy in patients with morbidly adherent placenta: a cohort study comparing outcomes before and after introduction of the Triple-P procedure. Ultrasound Obstet Gynecol 46(3):350–355

16.

Riteau AS, Tassin M, Chambon G, Le Vaillant C, de Laveaucoupet J, Quere MP et al (2014) Accuracy of ultrasonography and magnetic resonance imaging in the diagnosis of placenta accreta. PLoS One 9(4):e94866
Acknowledgements
We thank the pregnant women and their families who participated in our study. Also thank the support from all staffs in the Department of Obstetrics and Gynecology, Nanfang Hospital, China. This research is supported by the Presidential Foundation of Nanfang Hospital for Young Scientists (2016C043).
Ethics declarations
Conflict of interest
The authors declare that they have no conflict of interest.
Ethical approval
The study has ethical approval by the Hospital Ethics Committee of Nanfang Hospital for the use of anonymized patient data for medical research.
About this article
Cite this article
Wei, Y., Cao, Y., Yu, Y. et al. Evaluation of a modified "Triple-P" procedure in women with morbidly adherent placenta after previous caesarean section. Arch Gynecol Obstet 296, 737–743 (2017). https://doi.org/10.1007/s00404-017-4447-0
Received:

Accepted:

Published:

Issue Date:
Keywords
Morbidly adherent placenta

Conservative management

Previous caesarean section

Triple-P procedure

Uterine wall reconstruction