Abstract
Purpose
Both cigarette smoking and alcohol consumption are somehow implicated in sperm function, but the impact of these two lifestyle factors on sperm parameters remains controversial. The present study is focused on the impact of cigarette smoking and alcohol consumption separately and combined on sperm parameters and sperm DNA fragmentation (SDF).
Methods
The study included 207 consecutive semen samples derived from men who were seeking semen analysis for fertility purposes in our IVF Unit.
Results
Semen volume, percent of degenerated spermatozoa and SDF were significantly correlated with the various smoking status. The percent of spermatozoa with small halos significantly correlated with the alcohol status. The smoking status of the men was correlated with the alcohol status.
Conclusions
Cigarette smoking and alcohol consumption separately and combined were found to have deleterious effect on sperm parameters and SDF. It is suggested that both habits may contribute to infertility problems.
This is a preview of subscription content, log in to check access.
Access options
Buy single article
Instant unlimited access to the full article PDF.
US$ 39.95
Price includes VAT for USA
Subscribe to journal
Immediate online access to all issues from 2019. Subscription will auto renew annually.
US$ 199
This is the net price. Taxes to be calculated in checkout.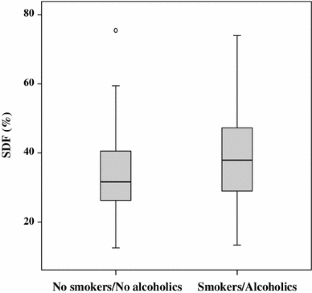 References
1.

Handelsman DJ, Cooper TG (2013) Falling sperm counts and global estrogenic pollution: what have we learned over 20 years? Asian J Androl 15(2):159–161

2.

Brugo-Olmedo S, Chillic C, Kopelman S (2001) Definition and causes of infertility. Reprod Biomed Online 2(1):41–53

3.

World Health Organization (2011) Global Status Report on Alcohol and Health Geneva, Switzerland

4.

Hassan A, Abo-Azma SM, Fayed SM, Mostafa T (2009) Seminal plasma cotinine and insulin growth factor-I in idiopathic oligoasthenoteratozoospermic smokers. BJU Int 103:108–111

5.

Calogero A, Polosa R, Perdichizzi A, Guarino F, La Vignera S, Scarfa A et al (2009) Cigarette smoking extract immobilizes human spermatozoa and induces sperm apoptosis. Reprod Biomed Online 19:564–571

6.

Anderson K, Nisenblat V, Norman R (2010) Lifestyle factors in people seeking infertility treatment: a review. Aust N Z J Obstet Gynecol 50:8–20

7.

Frey KA, Navarro SM, Kotelchuck M, Lu MC (2008) The clinical content of preconception care: preconception care of men. Am J Obstet Gynecol 199:S389–S395

8.

Soares SR, Melo MA (2008) Cigarette smoking and reproductive function. Curr Opin Obstet Gynecol 20:281–291

9.

El-Melegy NT, Ali MM (2011) Apoptotic markers in semen of infertile men: association with cigarette smoking. Int Braz J Urol 4:495–506

10.

Tawadrous GA, Aziz AA, Mostafa T (2011) Effect of smoking status on seminal parameters and apoptotic markers in infertile men. J Urol 186:1986–1990

11.

Taha EA, Ez-Aldin AM, Sayed SK, Ghandour NM, Mostafa T (2012) Effect of smoking on sperm vitality, DNA integrity, seminal oxidative stress, zinc in fertile men. Urol 80(4):822–825

12.

Ozgur K, Isikoglou M, Seleker M, Donmez L (2005) Semen quality of smoking and non-smoking men in infertile couples in a Turkish population. Arch Gynecol Obstet 271:109–112

13.

de Jong AME, Menkveld R, Lens JW, Nienhuis SE, Rhemrev JPT (2014) Effect of alcohol intake and cigarette smoking on sperm parameters and pregnancy. Andrologia 46(2):112–117

14.

Muthusami KR, Chinnaswamy P (2005) Effect of chronic alcoholism on male fertility hormones and semen quality. Ferti Steril 84:919–924

15.

Kucheria K, Saxena R, Mohan D (1985) Semen analysis in alcohol dependence syndrome. Andrologia 17:558–563

16.

Salonen I, Pakarinen P, Huhtaniemi I (1992) Effect of chronic ethanol diet in expression of gonadotropin genes in the male rat. J Pharmacol Exp Therapeutics 260:463–477

17.

Stutz G, Zamudio J, Santillan ME, Vincenti L, de Cuneo MF, Ruiz RD (2004) The effect of alcohol, tobacco, and aspirin consumption on seminal quality among healthy young men. Arch Environ Health 59:548–552

18.

Hansen ML, Thulstrup AM, Bonde JP, Olsen J, Hakonsen LB, Ramlau-Hansen CH (2012) Does last week's alcohol intake affect semen quality or reproductive hormones? A cross-sectional study among healthy young Danish men. Reprod Toxicol 34:457–462

19.

World Health Organization (2010) WHO laboratory manual for the examination and processing of human semen, 5th edn. Switzerland, Geneva

20.

Saleh RA, Agarwal A, Sharma RK, Nelson DR, Thomas AJ Jr (2002) Effect of cigarette smoking on levels of seminal oxidative stress in infertile men: a prospective study. Fertil Steril 78:491–499

21.

Mostafa T, Tawadrous G, Roaia MM, Amer MK, Kader RA, Aziz A (2006) Effect of smoking on seminal plasma ascorbic acid in infertile and fertile males. Andrologia 38:221–224

22.

Elshal MF, El-Sayed IH, Elsaied MA, El-Masry SA, Kumosani TA (2009) Sperm head defects and disturbances in spermatozoa chromatin and DNA integrities in idiopathic infertile subjects: association with cigarette smoking. Clin Biochem 42:589–594

23.

Paasch U, Grunewald S, Agarwal A, Glandera HJ (2004) The activation pattern of caspases in human spermatozoa. Fertil Steril 81:802–809

24.

Horak S, Polanska J, Widlak P (2003) DNA adducts in human sperm: relationship with fertility, semen quality, smoking and environmental factors. Mut Res 537:53–65

25.

Appasamy M, Muttukrishna S, Pizzey AR, Ozturk O, Groome NP, Serhal P et al (2007) Relationship between male reproductive hormones, sperm DNA damage and markers of oxidative stress in infertility. Reprod Biomed Online 14:159–165

26.

Weng SL, Taylor SL, Morshedi M, Schuffner A, Duran EH, Beebe S et al (2002) Caspase activity and apoptotic markers in ejaculated human sperm. Mol Hum Reprod 8:984–991

27.

Almeida C, Cardoso MF, Sousa M, Viana P, Goncalves A, Silva J et al (2005) Quantitative study of caspase-3 activity in semen after swim-up preparation in relation to sperm quality. Hum Reprod 20:1307–1313

28.

Lozano GM, Bejarano I, Espino J, Gonazalez D, Ortiz A, Garcia JF et al (2009) Relationship between caspase activity and apoptotic markers in human sperm in response to hydrogen peroxide and progesterone. J Reprod Dev 55:615–621

29.

Zenses MT (2006) Smoking and reproduction: gene damage to human gametes and embryos. Hum Reprod Update 6:122–131

30.

Kumosani TA, Elshal MF, Al-Jonaid AA, Abduljabar HS (2008) The influence of smoking on semen quality, seminal microelements and Ca+2-ATPase activity among infertile and fertile men. Clin Biochem 41:1199–1203

31.

La Vignera S, Condorelli RA, Balercia G, Vicari E, Calogero AE (2013) Does alcohol have any effect on male reproductive function? A review of literature. Asian J Androl 15(2):221–225

32.

Hadi HA, Hill JA, Castillo RA (1987) Alcohol and reproductive function: a review. Obstet Gynecol Surv 42:69–74

33.

Kuller LH, May SJ, Perper JA (1978) The relationship between alcohol, lever disease, and testicular pathology. Am J Epidemiol 108:192–199

34.

Goverde HJ, Dekker HS, Janssen HJ, Bastiaans BA, Rolland R, Zielhuis GA (1995) Semen quality and frequency of smoking and alcohol consumption-an explorative study. Int J Fertil Menopause Stud 40:135–138

35.

Yin D, Mufson RA, Wang R, Shi Y (1999) As-mediated cell death promoted by opioids. Nature 397:218

36.

Pajarinen J, Savolainen V, Perola M, Penttilä A, Karhunen PJ (1996) Glutathione S-transferase-M1 "null' genotype and alcohol induced disorders of human spermatogenesis. Int J Androl 19:155–163

37.

Martini AC, Molina RI, Estofan D, Senestrari D, de Fiol CM, Ruiz RD (2005) Effects of alcohol and cigarette consumption on human seminal quality. Fertil Steril 84:919–924
Conflict of interest
The authors certify that no actual or potential conflict of interest in relation to this article exists.
About this article
Cite this article
Anifandis, G., Bounartzi, T., Messini, C.I. et al. The impact of cigarette smoking and alcohol consumption on sperm parameters and sperm DNA fragmentation (SDF) measured by Halosperm® . Arch Gynecol Obstet 290, 777–782 (2014). https://doi.org/10.1007/s00404-014-3281-x
Received:

Accepted:

Published:

Issue Date:
Keywords
Alcohol consumption

Cigarette smoking

DNA fragmentation

Semen quality