Abstract
Purpose
The incidence of poor ovarian response in controlled ovarian stimulation (COH) has been reported in 9–24 % of IVF-ET cycles. Growth hormone augments the effect of gonadotropin on granulosa and theca cells, and plays an essential role in ovarian function, including follicular development, estrogen synthesis and oocyte maturation. The aim of this study was to assess IVF-ET cycle outcome after the addition of growth hormone in antagonist protocol in poor responders.
Materials and methods
Eighty-two poor responder patients selected for ART enrolled the study and were randomly divided into two groups. Group I (GH/HMG/GnRHant group, n = 40) received growth hormone/gonadotropin/GnRH antagonist protocol and group II (HMG/GnRHant group, n = 42) received gonadotropin/GnRH antagonist protocol.
Results
The number of retrieved oocytes was significantly higher in GH/HMG/GnRHant group than HMG/GnRHant group, 6.10 ± 2.90 vs. 4.80 ± 2.40 (p = 0.035) and the number of obtained embryos was also significantly higher in GH/HMG/GnRHant group than HMG/GnRHant group, 3.7 ± 2.89 as compared to 2.7 ± 1.29 (p = 0.018). There were no significant differences between groups regarding implantation, and chemical and clinical pregnancy rates.
Conclusion
Our study showed that co-treatment with growth hormone in antagonist protocol in patients with a history of poor response in previous IVF-ET cycles did not increase pregnancy rates.
This is a preview of subscription content, log in to check access.
Access options
Buy single article
Instant unlimited access to the full article PDF.
US$ 39.95
Price includes VAT for USA
Subscribe to journal
Immediate online access to all issues from 2019. Subscription will auto renew annually.
US$ 199
This is the net price. Taxes to be calculated in checkout.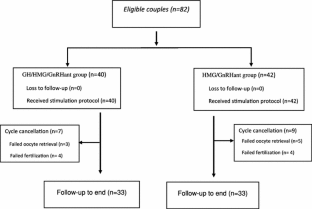 References
1.

Kyrou D, Kolibianakis EM, Venetis CA, Papanikolaou EG, Bontis J, Tarlatzis BC (2009) How to improve the probability of pregnancy in poor responders undergoing in vitro fertilization: a systematic review and meta-analysis. Fertil Steril 91(3):749–766

2.

Kolibianakis E, Venetis C, Diedrich K, Tarlatzis B, Griesinger G (2009) Addition of growth hormone to gonadotrophins in ovarian stimulation of poor responders treated by in vitro fertilization: a systematic review and meta-analysis. Human Reprod Update 15(6):613

3.

Akande V, Fleming C, Hunt L, Keay S, Jenkins J (2002) Biological versus chronological ageing of oocytes, distinguishable by raised FSH levels in relation to the success of IVF treatment. Human Reprod 17(8):2003

4.

Nargund G, Bromham D (1995) Comparison of endocrinological and clinical profiles and outcome of IVF cycles in patients with one ovary and two ovaries. J Assist Reprod Genet 12(7):458–460

5.

Ragni G, De Lauretis Yankowski L, Piloni S, Vegetti W, Guermandi E, Colombo M et al. (2000) In vitro fertilization for patients with poor response and occult ovarian failure: a randomized trial. Reprod Technol 10(2):98–102

6.

Kilic S, Yilmaz N, Zülfikaroglu E, Sar kaya E, Kose K, Topcu O et al. (2010) Obesity alters retrieved oocyte count and clinical pregnancy rates in high and poor responder women after in vitro fertilization. Arch Gynecol Obstet 282(1):89–96

7.

Kucuk T, Kozinoglu H, Kaba A (2008) Growth hormone co-treatment within a GnRH agonist long protocol in patients with poor ovarian response: a prospective, randomized, clinical trial. J Assist Reprod Genet 25(4):123–127

8.

Hellberg D, Waldenström U, Nilsson S (2004) Defining a poor responder in in vitro fertilization. Fertil Steril 82(2):488–490

9.

Tarlatzis B, Zepiridis L, Grimbizis G, Bontis J (2003) Clinical management of low ovarian response to stimulation for IVF: a systematic review. Human Reprod Update 9(1):61

10.

Wiser A, Gonen O, Ghetler Y, Shavit T, Berkovitz A, Shulman A (2010) Addition of dehydroepiandrosterone (DHEA) for poor-responder patients before and during IVF treatment improves the pregnancy rate: a randomized prospective study. Human Reprod 25(10):2496

11.

Karimzadeh MA, Mashayekhy M, Mohammadian F, Moghaddam FM (2011) Comparison of mild and microdose GnRH agonist flare protocols on IVF outcome in poor responders. Arch Gynecol Obstet 1–6

12.

Sunkara SK, Pundir J, Khalaf Y (2011) Effect of androgen supplementation or modulation on ovarian stimulation outcome in poor responders: a meta-analysis. Reprod Biomed Online

13.

Papanikolaou EG, Polyzos NP, Humaidan P, Pados G, Bosch E, Tournaye H et al (2011) Aromatase inhibitors in stimulated IVF cycles. Reprod Biol Endocrinol 9(1):85

14.

Kolibianakis E, Venetis C, Tarlatzis B (2011) DHEA administration in poor responders. Human Reprod 26(3):730

15.

Howles CM, Loumaye E, Germond M, Yates R, Brinsden P, Healy D et al (1999) Does growth hormone-releasing factor assist follicular development in poor responder patients undergoing ovarian stimulation for in vitro fertilization? Human Reprod 14(8):1939–1943

16.

Bachelot A, Monget P, Imbert-Bollore P, Coshigano K, Kopchick JJ, Kelly PA et al (2002) Growth hormone is required for ovarian follicular growth. Endocrinology 143(10):4104

17.

Mendoza C, Ruiz-Requena E, Ortega E, Cremades N, Martinez F, Bernabeu R et al (2002) Follicular fluid markers of oocyte developmental potential. Human Reprod 17(4):1017

18.

Mendoza C, Cremades N, Ruiz-Requena E, Martinez F, Ortega E, Bernabeu S et al (1999) Relationship between fertilization results after intracytoplasmic sperm injection, and intrafollicular steroid, pituitary hormone and cytokine concentrations. Human Reprod 14(3):628

19.

Spiliotis BE (2003) Growth hormone insufficiency and its impact on ovarian function. Ann NY Acad Sci 997(1):77–84

20.

Hull K, Harvey S (2001) Growth hormone: roles in female reproduction. J Endocrinol 168(1):1

21.

Yoshimura Y, Iwashita M, Karube M, Oda T, Akiba M, Shiokawa S et al (1994) Growth hormone stimulates follicular development by stimulating ovarian production of insulin-like growth factor-I. Endocrinology 135(3):887

22.

Yoshimura Y, Nakamura Y, Koyama N, Iwashita M, Adachi T, Takeda Y (1993) Effects of growth hormone on follicle growth, oocyte maturation, and ovarian steroidogenesis. Fertil Steril 59(4):917

23.

Eckery D, Moeller C, Nett T, Sawyer H (1997) Localization and quantification of binding sites for follicle-stimulating hormone, luteinizing hormone, growth hormone, and insulin-like growth factor I in sheep ovarian follicles. Biol Reprod 57(3):507

24.

Mason H, Martikainen H, Beard R, Anyaoku V, Franks S (1990) Direct gonadotrophic effect of growth hormone on oestradiol production by human granulosa cells in vitro. J Endocrinol 126(3):R1

25.

Davis S, Smith J, Gluckman P (1990) Effects of growth hormone injections on ovulation rate in ewes. Reprod Fertil Develop 2(2):173–178

26.

Danilovich NA, Bartke A, Winters TA (2000) Ovarian follicle apoptosis in bovine growth hormone transgenic mice. Biol Reprod 62(1):103

27.

Harper K, Proctor M, Hughes E (2003) Growth hormone for in vitro fertilization. Cochrane Database Syst Rev (Online) (3):CD000099

28.

Dor J, Seidman D, Amudai E, Bider D, Levran D, Mashiach S (1995) Adjuvant growth hormone therapy in poor responders to in vitro fertilization: a prospective randomized placebo-controlled double-blind study. Human Reprod 10(1):40

29.

Sugaya S, Suzuki M, Fujita K, Kurabayashi T, Tanaka K (2003) Effect of cotreatment with growth hormone on ovarian stimulation in poor responders to in vitro fertilization. Fertil Steril 79(5):1251–1253. doi:10.1016/S0015-0282(02)04959-2

30.

Tesarik J, Hazout A, Mendoza C (2005) Improvement of delivery and live birth rates after ICSI in women aged > 40 years by ovarian co-stimulation with growth hormone. Human Reprod 20(9):2536
Conflict of interest
All of authors have any financial relationship with the organization that sponsored the research. We have had full control of all primary data and we agree to allow the Journal to review their data if requested.
About this article
Cite this article
Eftekhar, M., Aflatoonian, A., Mohammadian, F. et al. Adjuvant growth hormone therapy in antagonist protocol in poor responders undergoing assisted reproductive technology. Arch Gynecol Obstet 287, 1017–1021 (2013) doi:10.1007/s00404-012-2655-1
Received:

Accepted:

Published:

Issue Date:
Keywords
Assisted reproductive technology

Poor responder

Growth hormone

Antagonist protocol