Abstract
We present an extreme case of Gigantomastia in pregnancy in a 24-year old woman, gravida 2, in a 28 weeks' of gestation, with a total breast weight of 33 kg, complicated by infection, ulcerations and subsequent hemorrhage. Thorough laboratory analyses did not reveal any hint as to the cause of this enormous breast enlargement. Gynecological examinations and ultrasound revealed a viable, progressive normal fetus. The severity of the problem is further emphasized by the patients' breathing problems and even big difficulty in standing and walking. We performed bilateral simple mastectomy as a life-saving procedure to prevent fatal complications. The procedure finished without any complications or large amount of blood loss. There are less than 100 cases of gravid gigantomastia reported, but never to such extreme breast weight. Etiology remains uncertain, and controversy exists in therapeutic modality. According to the literature the most reliable conservative treatment is bromocriptine therapy, but if the condition progresses surgical intervention, in the form of reduction mammoplasty or simple mastectomy, is the treatment of choice.
This is a preview of subscription content, log in to check access.
Access options
Buy single article
Instant access to the full article PDF.
US$ 39.95
Price includes VAT for USA
Subscribe to journal
Immediate online access to all issues from 2019. Subscription will auto renew annually.
US$ 199
This is the net price. Taxes to be calculated in checkout.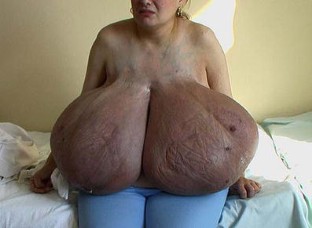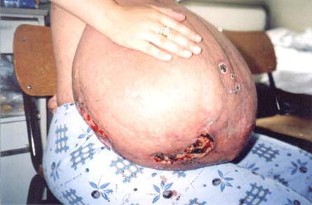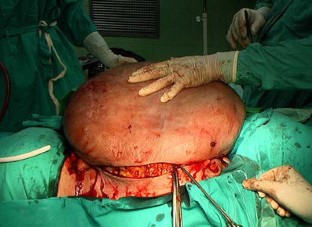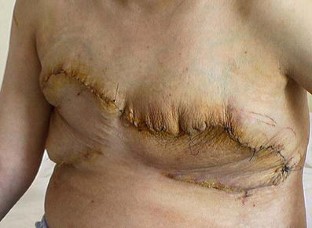 References
1.

Agarwal N, Kriplani A, Gupta A, Bhatla N (2002) Management of gigantomastia complicating pregnancy. A case report. J Reprod Med 47:871–874

2.

Ahcan U, Solinc M, Meglic L (2003) Gestational gigantomastia after reduction mammaplasty: complication or coincidence? Plast Reconstr Surg 111:956–958

3.

Blaydes RM, Kinnebrew CA (1958) Massive breast hyperplasia complicating pregnancy; report of a case. Obstet Gynecol 12:601–602

4.

Beischer NA, Hueston JH, Pepperell RJ (1989) Massive hypertrophy of the breasts in pregnancy: report of 3 cases and review of the literature, 'never think you have seen everything'. Obstet Gynecol Surv 44:234–243

5.

Boeke HE (1951) Gigantomastia during pregnancy. Arch Chir Neerl 3:76–79

6.

El Boghdadly S, Pitkanen J, Hassonah M, Al Saghier M (1997) Emergency mastectomy in gigantomastia during pregnancy: a case report and literature review. Ann Saudi Med 17:220–222

7.

Boyce SW, Hoffman PG Jr, Mathes SJ (1984) Recurrent macromastia after subcutaneous mastectomy. Ann Plast Surg 13:511–518

8.

Deaver JB, McFarland J (1917) The breast: anomalies, disease and treatment. P. Blallistons and Sons Co, Philadelphia, pp 45–101

9.

Desai SN (1973) Sudden gigantism of breasts: drug induced? Br J Plast Surg 26:371–372

10.

Engelbard I, Samuelov MR, Zuckerman H (1983) Gravid macromastia. Harefuah 105:71–72

11.

Gargan TJ, Goldwyn RM (1987) Gigantomastia complicating pregnancy. Plast Reconstr Surg 80:121–124

12.

Greeley PW, Robertson LE, Curtin JW (1965) Mastoplasty for massive bilateral benign breast hypertrophy associated with pregnancy: case report, Ann Surg 162:1081–1083

13.

Hedberg K, Karlsson K, Lindstedt G (1979) Gigantomastia during pregnancy: effect of a dopamine agonist. Am J Obstet Gynecol 133:928–931

14.

Hollingsworth DR, Archer R (1973) Massive virginal breast hypertrophy at puberty. Am J Dis Child 125:293–295

15.

Jessing A (1960) Excessive mammary hypertrophy in pregnancy treated with androgenic hormones. Nord Med 63:237–239

16.

Kullander S (1976) Effect of 2 br-alpha-ergocryptin (CB 154) on serum prolactin and the clinical picture in a case of progressive gigantomastia in pregnancy. Ann Chir Gynaecol 65:227–233

17.

Lafreniere R, Temple W, Ketcham A (1984) Gestational macromastia. Am J Surg 148:413–418

18.

Leis SN, Palmer B, Ostberg G (1974) Gravid macromastia. Case report. Scand J Plast Reconstr Surg 8:247–249

19.

Lewison EF, Jones GS, Trimble FH, da Lima LC (1960) Gigantomastia complicating pregnancy. Surg Gynecol Obstet 110:215–223

20.

Miller CJ, Becker DW Jr (1979) Management of first trimester breast enlargement with necrosis. Plast Reconstr Surg 63:383–386

21.

Moss WM (1968) Gigantomastia with pregnancy. A case report with review of the literature. Arch Surg 96:27–32

22.

Nolan JJ (1962) Gigantomastia:report of a case. Obstet Gynecol 19:526–529

23.

Parham KJ (1961) Gigantomastia. Report of a case. Obstet Gynecol 18:375–379

24.

Palmuth T (1648) Observations medicarum centre tres posthumae. Braunschwieg 1648; centII, obstet 89

25.

Ramsden CH (1963) An intersting case of mammary gigantism. Br J Plast Surg 16:177–179

26.

Sakai Y, Wakamatsu S, Ono K, Kumagai N (2002) Gigantomastia induced by bucillamine. Ann Plast Surg 49:193–195

27.

Sharma K, Nigam S, Khurana N, Chaturvedi KU (2004) Unilateral gestational macromastia—a rare disorder. Malays J Pathol 26:125–128

28.

Ship AG (2000) Gigantomastia during pregnancy: a case report. Ann Plast Surg 44:232

29.

Simpson BS (1920) Notes on case of diffuse hypertrophy of the breasts. Edinburgh Med J 24:176–179

30.

Stavrides S, Hacking A, Tiltman A, Dent DM (1987) Gigantomastia in pregnancy. Br J Surg 74:585–586

31.

Strombeck JO (1964) Macromastia in women and its surgical treatment. A clinical study based on 1,042 cases. Acta Chir Scand Suppl 341:1

32.

Taylor PJ, Cumming DC, Corenblum B (1981) Successful treatment of d-penicillamine-induced breast gigantism with danazol. Br Med J (Clin Res Ed) 282(6261):362–363

33.

Tchabo JG, Stay EJ (1989) Gravidic macromastia: case report. Am J Obstet Gynecol 160:88–89

34.

Vandenberghe G, Claerhout F, Amant F (2005) Lymphoblastic lymphoma presenting as bilateral gigantomastia in pregnancy. Int J Gynaecol Obstet 91:252–253

35.

Van Heerden JA, Gharib H, Jackson IT (1988) Pseudo hyperparathyroidism secondary to gigantic mammary hypertrophy. Arch Surg 123:80–82

36.

Vidaeff AC, Ross PJ, Livingston CK, Parks DH (2003) Gigantomastia complicating mirror syndrome in pregnancy. Obstet Gynecol 101(5 Pt 2):1139–1142

37.

Williams PC (1957) Massive hypertrophy of the breasts and axillary breasts in successive pregnancies. Am J Obstet Gynecol 74:1326–1329

38.

Wolf Y, Pauzner D, Groutz A, Walman I, David MP (1995) Gigantomastia complicating pregnancy. Case report and review of the literature. Acta Obstet Gynecol Scand 74:159–163

39.

Wolner-Hanssen P, Palmer B, Sjoberg NO, Astedt B (1981) Gigantomastia. Acta Obstet Gynecol Scand 60:525–527
About this article
Cite this article
Antevski, B.M., Smilevski, D.A., Stojovski, M.Z. et al. Extreme gigantomastia in pregnancy: case report and review of literature. Arch Gynecol Obstet 275, 149–153 (2007). https://doi.org/10.1007/s00404-006-0190-7
Received:

Accepted:

Published:

Issue Date:
Keywords
Gigantomastia

Pregnancy

Simple mastectomy