Abstract
Basal cell carcinoma (BCC) is one of the most common skin cancers worldwide and contributes substantially to global morbidity, but its tumorigenesis and pathogenesis remain largely unknown. To investigate the crosstalk between microRNAs (miRNAs), mRNAs and transcription factors (TFs) and the regulatory processes underlying BCC, we have constructed an integrative miRNA-mRNA-TFs network based on RNA-sequencing datasets. In this study, two RNA-sequencing datasets and matched miRNA expression datasets of selected differentially-expressed genes (DEGs) were used to infer potential miRNA regulatory and TFs activities in BCC. A total of 1247 DEGs were identified by combining two BCC RNA-sequencing profiles. Furthermore, by integrating network interaction construction, we found 37 important dysregulated genes (ING3, VEGFA, TP63, MMP11, NRP1, HIF1A, APC, PTCH1, etc.) that are significantly associated with BCC, as well as a few novel potential miRNAs (miR-203, miR-29b, miR-141, miR-7b, miR-9, miR-200a, miR-7c and miR-132) and TFs (MYB, MYC, STAT3, ARNT, PAX5, CUX1, E2F1 and CEBPA). These identified potential genes and miRNA/TFs candidates may play direct/indirect roles in the molecular pathogenesis of BCC.
This is a preview of subscription content, log in to check access.
Access options
Buy single article
Instant access to the full article PDF.
US$ 39.95
Price includes VAT for USA
Subscribe to journal
Immediate online access to all issues from 2019. Subscription will auto renew annually.
US$ 199
This is the net price. Taxes to be calculated in checkout.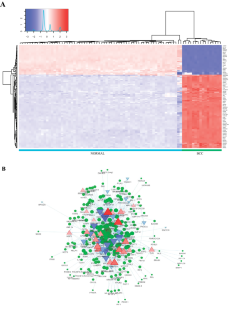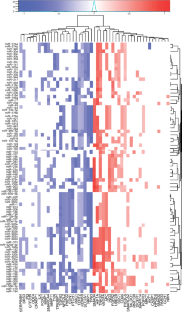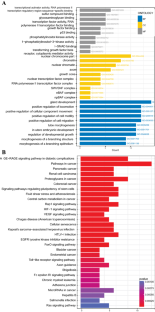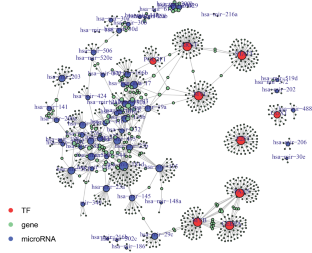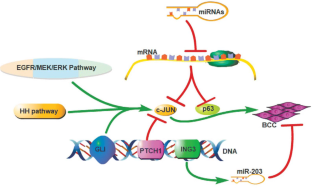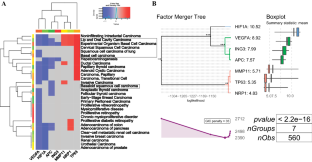 Abbreviations
BCC:

Basal cell carcinoma

GEO:

Gene expression omnibus

PCA:

Principal component analysis

DGN:

DisGeNET v5.0

NCG:

Network of Cancer Genes 5.0

GO:

Gene Ontology

KEGG:

Kyoto Encyclopedia of Genes and Genomes

ING3:

Inhibitor of growth protein 3

PTCH1:

Protein patched homolog 1.

NRP1:

Neuropilin-1

TP63:

Transformation-related protein 63

MMP11:

Matrix metalloproteinase-11

HIF1A:

Hypoxia-inducible factor 1-alpha

APC:

Adenomatous polyposis coli

VEGFA:

Vascular endothelial growth factor A
References
1.

An O, Dall'Olio GM, Mourikis TP, Ciccarelli FD (2016) NCG 50: updates of a manually curated repository of cancer genes and associated properties from cancer mutational screenings. Nucleic Acids Res 44:D992–D999

2.

Bartel DP (2004) MicroRNAs: genomics, biogenesis, mechanism, and function. Cell 2:281–297

3.

Bostjancic E, Glavac D (2008) Importance of microRNAs in skin morphogenesis and diseases. Acta Dermatovenerol Alp Pannonica Adriat 3:95–102

4.

Candi E, Dinsdale D, Rufini A et al (2007) TAp63 and DeltaNp63 in cancer and epidermal development. Cell Cycle 3:274–285

5.

Carraro G, El-Hashash A, Guidolin D et al (2009) miR-17 family of microRNAs controls FGF10-mediated embryonic lung epithelial branching morphogenesis through MAPK14 and STAT3 regulation of E-Cadherin distribution. Dev Biol 2:238–250

6.

Dweep H, Gretz N (2015) miRWalk2.0: a comprehensive atlas of microRNA-target interactions. Nat Methods 8:697

7.

Eferl R, Wagner EF (2003) AP-1: a double-edged sword in tumorigenesis. Nat Rev Cancer 11:859–868

8.

Goppner D, Leverkus M (2011) Basal cell carcinoma: from the molecular understanding of the pathogenesis to targeted therapy of progressive disease. J Skin Cancer:650258.

9.

Gunduz M, Ouchida M, Fukushima K et al (2002) Allelic loss and reduced expression of the ING3, a candidate tumor suppressor gene at 7q31, in human head and neck cancers. Oncogene 28:4462–4470

10.

Harms PW, Patel RM, Verhaegen ME et al (2013) Distinct gene expression profiles of viral- and non-viral associated Merkel cell carcinoma revealed by transcriptome analysis. J Invest Dermatol 4:936–945

11.

Ikenaga N, Ohuchida K, Mizumoto K et al (2010) MicroRNA-203 expression as a new prognostic marker of pancreatic adenocarcinoma. Ann Surg Oncol 12:3120–3128

12.

Jee BA, Lim H, Kwon SM et al (2015) Molecular classification of basal cell carcinoma of skin by gene expression profiling. Mol Carcinogen 12:1605–1612

13.

Johnson RL, Rothman AL, Xie J et al (1996) Human homolog of patched, a candidate gene for the basal cell nevus syndrome. Science 5268:1668–1671

14.

Kasper M, Jaks V, Hohl D, Toftgard R (2012) Basal cell carcinoma - molecular biology and potential new therapies. J Clin Invest 2:455–463

15.

Love MI, Huber W, Anders S (2014) Moderated estimation of fold change and dispersion for RNA-seq data with DESeq2. Genome Biol 12:550

16.

Monkkonen T, Landua JD, Visbal AP, Lewis MT (2017) Epithelial and non-epithelial Patched-1 (Ptch1) play opposing roles to regulate proliferation and morphogenesis of the mouse mammary gland. Development 7:1317–1327

17.

Papakostas D, Stockfleth E (2015) Basal cell carcinoma. Springer, Berlin

18.

Piñero J, Bravo À, Queralt-Rosinach N, et al. (2017) DisGeNET: a comprehensive platform integrating information on human disease-associated genes and variants. Nucleic Acids Res Database issue:D833-D839.

19.

Reifenberger J, Wolter M, Knobbe CB et al (2015) Somatic mutations in the PTCH, SMOH, SUFUH and TP53 genes in sporadic basal cell carcinomas. Brit J Dermatol 1:43–51

20.

Roitbak T, Li L, Cunningham LA (2008) Neural stem/progenitor cells promote endothelial cell morphogenesis and protect endothelial cells against ischemia via HIF-1α-regulated VEGF signaling. J Cereb Blood Flow Metab 9:1530–1542

21.

Sand M, Hessam S, Amur S et al (2017) Expression of oncogenic miR-17-92 and tumor suppressive miR-143-145 clusters in basal cell carcinoma and cutaneous squamous cell carcinoma. J Dermatol Sci 2:142–148

22.

Sand M, Skrygan M, Sand D et al (2012) Expression of microRNAs in basal cell carcinoma. Brit J Dermatol 4:847–855

23.

Schnidar H, Eberl M, Klingler S et al (2009) Epidermal growth factor receptor signaling synergizes with hedgehog/GLI in oncogenic transformation via activation of the MEK/ERK/JUN pathway. Cancer Res 4:1284–1292

24.

Shao Y, Zhang J, Zhang R, Wan J, Zhang W, Yu B (2012) Examination of Smad2 and Smad4 copy-number variations in skin cancers. Clin Transl Oncol 2:138–142

25.

Skipper M (2007) Dedicated protection for the female germ line. Nat Rev Genet 1:4–5

26.

Sonkoly E, Lovén J, Xu N et al (2012) MicroRNA-203 functions as a tumor suppressor in basal cell carcinoma. Oncogenesis 3:e3

27.

Wan C, Li Y (2018) mRNA-miRNA crosstalk in basal cell carcinoma. J Eur Acad Dermatol 11:e422–e424

28.

Yamamoto H, Yun EJ, Gerber HP, Ferrara N, Whitsett JA, Vu TH (2007) Epithelial-vascular cross talk mediated by VEGF-A and HGF signaling directs primary septae formation during distal lung morphogenesis. Dev Biol 1:44–53

29.

Yi R, Poy MN, Stoffel M, Fuchs E (2008) A skin microRNA promotes differentiation by repressing 'stemness'. Nature 7184:225–229

30.

Young MR, Li JJ, Rincón M et al (1999) Transgenic mice demonstrate AP-1 (activator protein-1) transactivation is required for tumor promotion. P Natl Acad Sci USA 17:9827–9832

31.

Yu G, Wang LG, Han Y, He QY (2012) clusterProfiler: an R package for comparing biological themes among gene clusters. Omics 5:284–287

32.

Zhang H, Liu J, Cagle PT, Allen TC, Laga AC, Zander DS (2005) Distinction of pulmonary small cell carcinoma from poorly differentiated squamous cell carcinoma: an immunohistochemical approach. Mod Pathol 1:111–118
Acknowledgements
This study was funded by CW from National Natural Science Foundation of China (81860484).
Ethics declarations
Conflicts of interest
The authors declare they have no competing financial interests.
Additional information
Publisher's Note
Springer Nature remains neutral with regard to jurisdictional claims in published maps and institutional affiliations.
About this article
Cite this article
Wan, C., Li, Y. Integrative analysis of mRNA-miRNA-TFs reveals the key regulatory connections involved in basal cell carcinoma. Arch Dermatol Res 312, 133–143 (2020). https://doi.org/10.1007/s00403-019-02002-y
Received:

Revised:

Accepted:

Published:

Issue Date:
Keywords
Basal cell carcinoma

microRNA expression

mRNA expression

Tumorigenesis

Transcription factors

Gene expression omnibus