Abstract
Introduction
Arthroscopy-assisted treatment of lateral clavicle fractures with coracoclavicular stabilization and an endobutton device have gained popularity over recent years. There is little evidence to support which types of lateral clavicle fractures are suitable for this treatment. The primary aim of this study was to evaluate the clinical und radiological outcomes of this treatment and to identify which fracture types are suitable. The secondary outcome was to evaluate potential risk factors for complications
Material/methods
A retrospective single center review of 20 unstable lateral clavicle fractures treated with an arthroscopy-assisted CC stabilization technique and Endobutton device between September 2012 and August 2016. The functional outcome was evaluated using Constant and DASH Scores, VAS and SSV.
Results
Between September 2012 and August 2016, 20 patients were treated using this method (average age 45 years; male: female ratio 14:6). The DASH Score was on average 2.0 (0–9.82) and the Constant Score on average 81.8 points (range 68–93) with an average difference between the affected and the unaffected side of 4.1 points (range 0–15). Six patients had nonunion fractures of which two needed revision.
Conclusions
Our study shows that arthroscopy-assisted CC stabilization using an endobutton technique delivers good functional results. Highly lateral unstable clavicle fractures seem to be especially suitable for this surgical technique. There was a high number of delayed unions. Analysis of risk factors showed that early mechanical stress, a lateral clavicular fragment larger than 3 cm and a time delay to surgery could be risk factors for nonunions.
This is a preview of subscription content, log in to check access.
Access options
Buy single article
Instant unlimited access to the full article PDF.
US$ 39.95
Price includes VAT for USA
Subscribe to journal
Immediate online access to all issues from 2019. Subscription will auto renew annually.
US$ 199
This is the net price. Taxes to be calculated in checkout.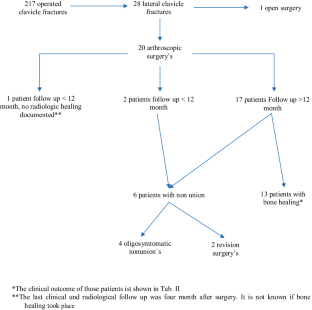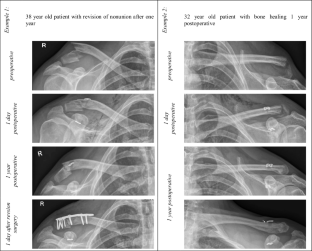 References
1.

van der Meijden OA, Gaskill TR, Millett PJ (2012) Treatment of clavicle fractures: current concepts review. J Shoulder Elbow Surg 21:423–429. https://doi.org/10.1016/j.jse.2011.08.053

2.

Koppe D, Reilmann H (2010) Die Fraktur der lateralen Klavikula. Unfallchirurg 113:45–53. https://doi.org/10.1007/s00113-009-1715-x

3.

CHARLES S NEER I (1968) 5 fractures of the distal third of the clavicle. Clin Orthop 58:43–50

4.

Ockert B, Wiedemann E, Haasters F (2015) Distal clavicle fractures. Classifications and management. Unfallchirurg 118:397–406. https://doi.org/10.1007/s00113-015-0003-1

5.

Jensen G, Katthagen C, Voigt C, Lill H (2014) Arthroskopisch assistierte Versorgung lateraler Klavikulafrakturen und akuter Instabilitäten des Schultereckgelenks. Arthroskopie 27:255–264. https://doi.org/10.1007/s00142-014-0842-8

6.

Takase K, Kono R, Yamamoto K (2012) Arthroscopic stabilization for Neer type 2 fracture of the distal clavicle fracture. Arch Orthop Trauma Surg 132:399–403

7.

Nordqvist A, Petersson C, Redlund-Johnell I (1993) The natural course of lateral clavicle fracture: 15 (11–21) year follow-up of 110 cases. Acta Orthop Scand 64:87–91

8.

Oh JH, Kim SH, Lee JH et al (2011) Treatment of distal clavicle fracture: a systematic review of treatment modalities in 425 fractures. Arch Orthop Trauma Surg 131:525–533. https://doi.org/10.1007/s00402-010-1196-y

9.

Faraj A, Ketzer B (2001) The use of a hookplate in the management of acromioclavicular injuries. Report of ten cases. Acta Orthop Belg 67:448–451

10.

Hessmann M, Kirchner R, Baumgaertel F et al (1996) Treatment of unstable distal clavicular fractures with and without lesions of the acromioclavicular joint. Injury 27:47–52

11.

Bosworth BM (1941) Acromioclavicular separation. New method of repair. Surg Gynec Obstet 73:866–871

12.

Kao F-C, Chao E-K, Chen C-H et al (2001) Treatment of distal clavicle fracture using Kirschner wires and tension-band wires. J Trauma Acute Care Surg 51:522–525

13.

Flinkkilä T, Ristiniemi J, Hyvönen P, Hämäläinen M (2002) Surgical treatment of unstable fractures of the distal clavicle: a comparative study of Kirschner wire and clavicular hook plate fixation. Acta Orthop Scand 73:50–53

14.

Levy O (2003) Simple, minimally invasive surgical technique for treatment of type 2 fractures of the distal clavicle. J Shoulder Elbow Surg 12:24–28

15.

Motta P, Bruno L, Maderni A et al (2014) Acute lateral dislocated clavicular fractures: arthroscopic stabilization with TightRope. J Shoulder Elbow Surg 23:e47–e52. https://doi.org/10.1016/j.jse.2013.05.016

16.

Loriaut P, Moreau P-E, Dallaudière B et al (2015) Outcome of arthroscopic treatment for displaced lateral clavicle fractures using a double button device. Knee Surg Sports Traumatol Arthrosc 23:1429–1433. https://doi.org/10.1007/s00167-013-2772-9

17.

Cho C-H, Jung J-H, Kim B-S (2017) Coracoclavicular stabilization using a suture button device for Neer type IIB lateral clavicle fractures. J Shoulder Elbow Surg 26:804–808. https://doi.org/10.1016/j.jse.2016.09.048

18.

Dedeoğlu SS, İmren Y, Çabuk H et al (2017) Results of minimal invasive coracoclavicular fixation by double button lift-up system in Neer type II distal clavicle fractures. J Orthop Surg 25:2309499016684722. https://doi.org/10.1177/2309499016684722

19.

Xiong J, Chen J-H, Dang Y et al (2018) Treatment of unstable distal clavicle fractures (Neer type II): a comparison of three internal fixation methods. J Int Med Res 46:4678–4683. https://doi.org/10.1177/0300060518788245

20.

Sautet P, Galland A, Airaudi S et al (2018) Arthroscopy-assisted fixation of fracture of the distal part of the clavicle by subcoracoid suture and clavicle button. Orthop Traumatol Surg Res. https://doi.org/10.1016/j.otsr.2018.07.025

21.

Blake MH, Lu MT, Shulman BS et al (2017) Arthroscopic cortical button stabilization of isolated acute neer Type II fractures of the distal clavicle. Orthopedics 40:e1050–e1054. https://doi.org/10.3928/01477447-20170925-06

22.

STROBE Statement. Home. https://www.strobe-statement.org/index.php?id=strobe-home. Accessed 21 Aug 2017

23.

Subcommittee ATLS, American College of Surgeons' Committee on Trauma, International ATLS working group (2013) Advanced trauma life support (ATLS®): the ninth edition. J Trauma Acute Care Surg 74:1363–1366. https://doi.org/10.1097/TA.0b013e31828b82f5

24.

WHO (2017) Global guidelines on the prevention of surgical site infection. In: WHO. http://www.who.int/gpsc/ssi-prevention-guidelines/en/. Accessed 28 Aug 2017

25.

Dias R, Cutts S, Massoud S (2005) Frozen shoulder. BMJ 331:1453–1456

26.

CHARLES S NEER I (1963) Fracture of the distal clavicle with detachment of the coracoclavicular ligaments in adults. J Trauma Acute Care Surg 3:99–110

27.

Grundnes O, Reikerås O (1993) The importance of the hematoma for fracture healing in rats. Acta Orthop Scand 64:340–342. https://doi.org/10.3109/17453679308993640

28.

Kolar P, Schmidt-Bleek K, Schell H et al (2010) The Early Fracture Hematoma and Its Potential Role in Fracture Healing. Tissue Eng Part B Rev 16:427–434. https://doi.org/10.1089/ten.teb.2009.0687
Ethics declarations
Conflict of interest
The authors declare that they have no conflicts of interest.
Ethical approval
This article does not contain any studies with human participants or animals performed by any of the authors.
Informed consent
Informed consent was obtained from all individual participants included in the study.
About this article
Cite this article
Kuner, E., Beeres, F.J.P., Babst, R. et al. Which lateral clavicle fractures can be treated by an arthroscopic-assisted endobutton procedure? An analysis of risk factors. Arch Orthop Trauma Surg 139, 331–337 (2019) doi:10.1007/s00402-018-3075-x
Received:

Published:

Issue Date:
Keywords
Lateral

Clavicle

Fracture

Arthroscopic

Nonunion

Risk factors