Abstract
Introduction
At the present time, it is generally recommended to use hip replacement in dislocated fractures to avoid failure after internal fixation. A problem is that previous research has demonstrated that observers have problems in discriminating between dislocated and undislocated fractures. A possible solution to this problem would be to use arthroplasty in the majority of the cases. However, this also means that many fractures with the potential for uneventful healing would be replaced.
Materials and methods
In the current investigation, the mid-term outcome was recorded for patients with intracapsular hip fractures who were treated with either internal fixation or arthroplasty. A novel treatment algorithm was employed. After careful exclusion of cases with known risk factors for failure after internal fixation, a technique called on-table decision was used to identify suitable patients for internal fixation.
Results
A total of 72 patients with intracapsular hip fractures were studied with a median follow-up time of 12 months (IQR 8–15.25 months). Nineteen (19) patients (26 %) were excluded in the selection process, leaving 53 (74 %) for on-table decision-making. Thirty patients (42 %) were identified as suitable for internal fixation and gave anatomically stable closed reductions. Two of these patients (7 %) exhibited non-unions and one (3 %) avascular necrosis.
Conclusions
The mid-term outcome after internal fixation is promising. The careful selection process may be helpful in identifying fracture patterns for which internal fixation may be considered as a safe and less invasive alternative to hip arthroplasty.
This is a preview of subscription content, log in to check access.
Access options
Buy single article
Instant unlimited access to the full article PDF.
US$ 39.95
Price includes VAT for USA
Subscribe to journal
Immediate online access to all issues from 2019. Subscription will auto renew annually.
US$ 199
This is the net price. Taxes to be calculated in checkout.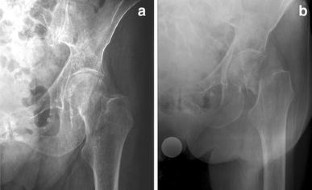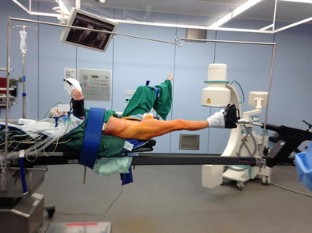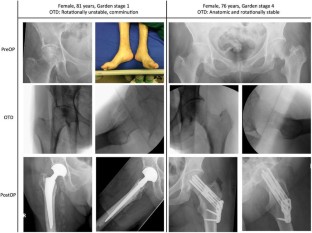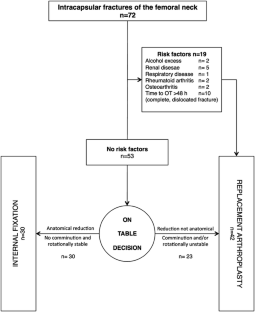 References
1.

Bhandari M, Devereaux PJ, Swiontkowski MF et al (2003) Internal fixation compared with arthroplasty for displaced fractures of the femoral neck a meta-analysis. J Bone Jt Surg 85:1673–1681

2.

Frihagen F, Nordsletten L, Madsen JE (2007) Hemiarthroplasty or internal fixation for intracapsular displaced femoral neck fractures: randomised controlled trial. BMJ 335:1251–1254. doi:10.1136/bmj.39399.456551.25

3.

National institute for health and care excellence (2011) Hip fracture: the management of hip fracture in adults. https://www.nice.org.uk/guidance/cg124

4.

Frandsen PA, Andersen E, Madsen F, Skjødt T (1988) Garden's classification of femoral neck fractures. An assessment of inter-observer variation. J Bone Joint Surg Br 70:588–590

5.

Du C, Ma X, Zhang T et al (2013) Reunderstanding of garden Type I femoral neck fractures by 3-dimensional reconstruction. Orthopedics 36:820–825. doi:10.3928/01477447-20130523-31

6.

Garden RS (1971) Malreduction and avascular necrosis in subcapital fractures of the femur. J Bone Joint Surg Br 53:183–197

7.

Yang J-J, Lin L-C, Chao K-H et al (2013) Risk factors for nonunion in patients with intracapsular femoral neck fractures treated with three cannulated screws placed in either a triangle or an inverted triangle configuration. J Bone Jt Surg Am 95:61. doi:10.2106/JBJS.K.01081

8.

Min B-W, Kim S-J (2011) Avascular necrosis of the femoral head after osteosynthesis of femoral neck fracture. Orthopedics. doi:10.3928/01477447-20110317-13

9.

Estrada LS, Volgas DA, Stannard JP, Alonso JE (2002) Fixation failure in femoral neck fractures. Clin Orthop 399:110–118

10.

Chua D, Jaglal SB, Schatzker J (1998) Predictors of early failure of fixation in the treatment of displaced subcapital hip fractures. J Orthop Trauma 12:230–234

11.

Duckworth AD, Bennet SJ, Aderinto J, Keating JF (2011) Fixation of intracapsular fractures of the femoral neck in young patients: risk factors for failure. J Bone Joint Surg Br 93:811–816. doi:10.1302/0301-620X.93B6.26432

12.

Karaeminogullari O, Demirors H, Sahin O et al (2007) Analysis of outcomes for surgically treated hip fractures in patients undergoing chronic hemodialysis. J Bone Joint Surg Am 89:324–331. doi:10.2106/JBJS.E.01320

13.

Parker M (2010) Focus On intracapsular fractures of the femoral neck. J Bone Jt Surg. http://ps.boneandjoint.org.uk/content/intracapsular-fractures-femoralneck

14.

Holmberg S, Kalén R, Thorngren KG (1987) Treatment and outcome of femoral neck fractures. An analysis of 2418 patients admitted from their own homes. Clin Orthop 218:42–52

15.

Hoelsbrekken SE, Opsahl J-H, Stiris M et al (2012) Failed internal fixation of femoral neck fractures. Tidsskr Nor Lægeforen Tidsskr Prakt Med Ny Række 132:1343–1347. doi:10.4045/tidsskr.11.0715

16.

Hueter C (1880) Grundriss der Chirurgie, Leipzig, Vogel

17.

Matta JM, Shahrdar C, Ferguson T (2005) Single-incision anterior approach for total hip arthroplasty on an orthopaedic table. Clin Orthop Relat Res 441:115–124. doi:10.1097/01.blo.0000194309.70518.cb

18.

Unger AC, Schulz AP, Paech A et al (2013) Modified direct anterior approach in minimally invasive hip hemiarthroplasty in a geriatric population: a feasibility study and description of the technique. Arch Orthop Trauma Surg 133:1509–1516. doi:10.1007/s00402-013-1831-5

19.

Brooker AF, Bowerman JW, Robinson RA, Riley LH (1973) Ectopic ossification following total hip replacement. J Bone Jt Surg Am 55:1629–1632

20.

Kannus P, Parkkari J, Sievänen H et al (1996) Epidemiology of hip fractures. Bone 18:S57–S63. doi:10.1016/8756-3282(95)00381-9

21.

Ho C-A, Li C-Y, Hsieh K-S, Chen H-F (2010) Factors determining the 1-year survival after operated hip fracture: a hospital-based analysis. J Orthop Sci 15:30–37. doi:10.1007/s00776-009-1425-9

22.

Jiang HX, Majumdar SR, Dick DA et al (2004) Development and initial validation of a risk score for predicting in-hospital and 1-year mortality in patients with hip fractures. J Bone Miner Res 20:494–500. doi:10.1359/JBMR.041133

23.

Hartel M, Arndt M, Eulenburg CZ et al (2013) Restoration of hip architecture with bipolar hemiarthroplasty in the elderly: does it affect early functional outcome? Arch Orthop Trauma Surg. doi:10.1007/s00402-013-1878-3

24.

Gorter EA, Hamdy NAT, Appelman-Dijkstra NM, Schipper IB (2014) The role of vitamin D in human fracture healing: a systematic review of the literature. Bone 64:288–297. doi:10.1016/j.bone.2014.04.026

25.

World Health Organisation Staff (2003) Prevention and management of osteoporosis: report of a WHO Scientific Group. World Health Organization Stylus Publishing, LLC [Distributor], Geneva

26.

Parker M, Cawley S, Palial V (2013) Internal fixation of intracapsular fractures of the hip using a dynamic locking plate: two-year follow-up of 320 patients. Bone Joint J 95-B:1402–1405. doi:10.1302/0301-620X.95B10.31511

27.

Steppacher SD et al (2014) Traumatic Osteonecrosis of the Femoral Head. Osteonecrosis, 2014th edn. Springer, New York, pp 101–113

28.

Damany DS, Parker MJ, Chojnowski A (2005) Complications after intracapsular hip fractures in young adults. A meta-analysis of 18 published studies involving 564 fractures. Injury 36:131–141. doi:10.1016/j.injury.2004.05.023

29.

Berkes MB, Little MT, Lazaro LE et al (2012) Catastrophic failure after open reduction internal fixation of femoral neck fractures with a novel locking plate implant. J Orthop Trauma 26:e170–e176

30.

Weitbrecht J (1752) Desmographie ou description des ligamens du corps humain, avec figures, Avec Approbation and Privilége du Roi. Chez Durand, Libraire, Rue Sait Jaques, au Griffon

31.

Biber R, Brem M, Singler K et al (2012) Dorsal versus transgluteal approach for hip hemiarthroplasty: an analysis of early complications in seven hundred and four consecutive cases. Int Orthop 36:2219–2223. doi:10.1007/s00264-012-1624-4

32.

Lazaro LE, Klinger CE, Sculco PK et al (2015) The terminal branches of the medial femoral circumflex artery the arterial supply of the femoral head. Bone Joint J 97:1204–1213

33.

Conn KS, Parker MJ (2004) Undisplaced intracapsular hip fractures: results of internal fixation in 375 patients. Clin Orthop 421:249–254. doi:10.1097/01.blo.0000119459.00792.c1
Ethics declarations
Conflict of interest
None.
Additional information
Maximilian J. Hartel and Shahab Maafi Mandani contributed equally and therefore share first authorship.
Electronic supplementary material
Below is the link to the electronic supplementary material.
Supplementary material 1 (MP4 18717 kb)
About this article
Cite this article
Hartel, M.J., Mandani, S.M., Nuechtern, J. et al. On-table decision-making in intracapsular hip fracture surgery: mid-term results of a pilot study. Arch Orthop Trauma Surg 136, 913–919 (2016). https://doi.org/10.1007/s00402-016-2469-x
Received:

Published:

Issue Date:
Keywords
Intracapsular hip fracture

Decision-making

Arthroplasty

Hemiarthroplasty

Internal fixation