Abstract
Purpose
The purpose of this study was to examine the arthroscopic anatomy of posteromedial capsule and magnetic resonance imaging (MRI) findings in internal derangement of the knee joint and to analyze the relationship between popliteal cysts and the posteromedial capsule.
Methods
From 2011 to 2012, a prospective study included 194 knees of consecutive arthroscopic surgeries for assorted knee problems. The anatomy of the posteromedial joint capsule was evaluated arthroscopically and divided into three types by the presence of capsular fold and opening: no capsular fold and no opening (type I), capsular fold without opening (type II), capsular fold with opening (type III). The presence and size of popliteal cyst were documented by MRI.
Results
Type I was observed in 160 knees (82.5 %), type II in 10 (5.1 %) and type III in 24 (12.4 %). Popliteal cysts were found in 25 knees (12.9 %) by MRI. Of these cases, symptomatic popliteal cysts were identified in 12 knees (6.9 %). On 160 knees demonstrated to be type I, only 3 knees (1.9 %) had popliteal cysts in MRI, 6 knees (60 %) in 10 knees of type II and 16 knees (66.7 %) in 24 knees of type III. Therefore, there was a statistically significant relationship between the type of anatomy in the posteromedial capsule and the popliteal cyst (p < 0.001).
Conclusion
An association between popliteal cyst and arthroscopic anatomy of posteromedial capsule was demonstrated. Comprehensive understanding and knowledge of the arthroscopic anatomy of posteromedial capsule would contribute to the arthroscopic approach in understanding the pathogenesis of popliteal cyst.
Study design
Development of diagnostic criteria on basis of consecutive patients.
Level of evidence
2.
This is a preview of subscription content, log in to check access.
Access options
Buy single article
Instant unlimited access to the full article PDF.
US$ 39.95
Price includes VAT for USA
Subscribe to journal
Immediate online access to all issues from 2019. Subscription will auto renew annually.
US$ 199
This is the net price. Taxes to be calculated in checkout.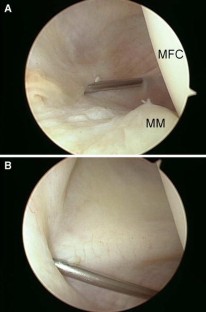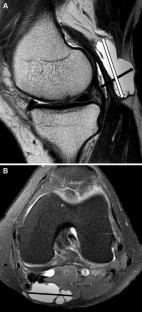 References
1.

Ahn JH, Lee SH, Yoo JC, Chang MJ, Park YS (2010) Arthroscopic treatment of popliteal cysts: clinical and magnetic resonance imaging results. Arthroscopy 26:1340–1347

2.

Ahn JH, Yoo JC, Lee SH, Lee YS (2007) Arthroscopic cystectomy for popliteal cysts through the posteromedial cystic portal. Arthroscopy 23(559):e551–e554

3.

Baker WM (1877) On the formation of the synovial cysts in the leg in connection with disease of the knee joint. vol 13. St Bartholomew's Hospital Report, London, pp 245–261

4.

Bickel WH, Burleson RJ, Dahlin DC (1956) Popliteal cyst; a clinicopathological survey. J Bone Jt Surg Am 38-A:1265–1274

5.

Calvisi V, Lupparelli S, Giuliani P (2007) Arthroscopic all-inside suture of symptomatic Baker's cysts: a technical option for surgical treatment in adults. Knee Surg Sports Traumatol Arthrosc 15:1452–1460

6.

Childress HM (1970) Popliteal cysts associated with undiagnosed posterior lesions of the medial meniscus. The significance of age in diagnosis and treatment. J Bone Jt Surg Am 52:1487–1492

7.

Dinham JM (1975) Popliteal cysts in children. The case against surgery. J Bone Jt Surg Br 57:69–71

8.

Fritschy D, Fasel J, Imbert JC, Bianchi S, Verdonk R, Wirth CJ (2006) The popliteal cyst. Knee Surg Sports Traumatol Arthrosc 14:623–628

9.

Fujikawa K (1981) Arthrographic study of the rheumatoid knee. Part 1. Synovial proliferation. Ann Rheum Dis 40:332–343

10.

Gristina AG, Wilson PD (1964) Popliteal cysts in adults and children. A review of 90 cases. Arch Surg 88:357–363

11.

Guerra J Jr, Newell JD, Resnick D, Danzig LA (1981) Pictorial essay: gastrocnemio-semimembranosus bursal region of the knee. Am J Roentgenol 136:593–596

12.

Handy JR (2001) Popliteal cysts in adults: a review. Semin Arthritis Rheum 31:108–118

13.

Hoffman BK (1963) Cystic lesions of the popliteal space. Surg Gynecol Obstet 116:551–558

14.

Hughston JC, Baker CL, Mello W (1991) Popliteal cyst: a surgical approach. Orthopedics 14:147–150

15.

Jayson MI (1968) Study of a valvular mechanism in the formation of synovial cysts. Ann Phys Med 9:243–245

16.

Johnson LL, van Dyk GE, Johnson CA, Bays BM, Gully SM (1997) The popliteal bursa (Baker's cyst): an arthroscopic perspective and the epidemiology. Arthroscopy 13:66–72

17.

Ko S, Ahn J (2004) Popliteal cystoscopic excisional debridement and removal of capsular fold of valvular mechanism of large recurrent popliteal cyst. Arthroscopy 20:37–44

18.

Lindgren PG (1978) Gastrocnemio-semimembranosus bursa and its relation to the knee joint. III. Pressure measurements in joint and bursa. Acta Radiol Diagn (Stockh) 19:377–388

19.

Moore CP, Sarti DA, Louie JS (1975) Ultrasonographic demonstration of popliteal cysts in rheumatoid arthritis. A noninvasive technique. Arthritis Rheum 18:577–580

20.

Rader L, Worsdorfer O (2000) Arthroscopic therapy of Baker's cyst. Zentralbl Chir 125:776–779

21.

Rauschning W (1980) Anatomy and function of the communication between knee joint and popliteal bursae. Ann Rheum Dis 39:354–358

22.

Rauschning W, Lindgren PG (1979) The clinical significance of the valve mechanism in communicating popliteal cysts. Arch Orthop Trauma Surg 95:251–256

23.

Sansone V, De Ponti A (1999) Arthroscopic treatment of popliteal cyst and associated intra-articular knee disorders in adults. Arthroscopy 15:368–372

24.

Sansone V, de Ponti A, Paluello GM, del Maschio A (1995) Popliteal cysts and associated disorders of the knee. Critical review with MR imaging. Int Orthop 19:275–279

25.

Shetty GM, Wang JH, Ahn JH, Lee YS, Kim BH, Kim JG (2008) Giant synovial cyst of knee treated arthroscopically through a cystic portal. Knee Surg Sports Traumatol Arthrosc 16:175–178

26.

Takahashi M, Nagano A (2005) Arthroscopic treatment of popliteal cyst and visualization of its cavity through the posterior portal of the knee. Arthroscopy 21:638

27.

Wolfe RD, Colloff B (1972) Popliteal cysts. An arthrographic study and review of the literature. J Bone Jt Surg Am 54:1057–1063
Conflict of interest
The authors report no conflict of interest/financial disclosure.
Electronic supplementary material
Below is the link to the electronic supplementary material.
Supplementary material 1 (WMV 17239 kb)
Supplementary material 2 (WMV 33075 kb)
About this article
Cite this article
Kim, K., Lee, S.H., Ahn, J.H. et al. Arthroscopic anatomic study of posteromedial joint capsule in knee joint associated with popliteal cyst. Arch Orthop Trauma Surg 134, 979–984 (2014) doi:10.1007/s00402-014-2001-0
Received:

Published:

Issue Date:
Keywords
Popliteal cyst

Posteromedial capsule

Capsular fold

Magnetic resonance imaging

Arthroscopy