Abstract
Growth arrest following physeal injury may result in severe limb deformity. We report a case of complex wrist deformity caused by injury to the distal radial physis resulting in radial shortening and abnormal inclination of the radial articular surface, which was successfully treated by gradual correction after computer simulation. The simulation enabled us to develop an appropriate operative plan by accurately calculating the axis of the three-dimensional (3D) deformity using computer bone models. In the simulative surgery with a full-size stereolithography bone model, an Ilizarov external fixator was applied to the radius such that its two hinges were located on the virtual axis of the deformity, which was reproduced in the actual surgery. This technique of 3D computer simulation is a useful alternative to plan accurate correction of complex limb deformities following growth arrest.
This is a preview of subscription content, log in to check access.
Access options
Buy single article
Instant unlimited access to the full article PDF.
US$ 39.95
Price includes VAT for USA
Subscribe to journal
Immediate online access to all issues from 2019. Subscription will auto renew annually.
US$ 199
This is the net price. Taxes to be calculated in checkout.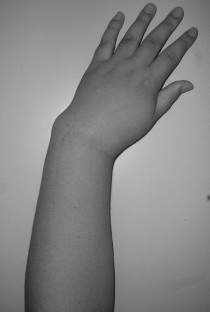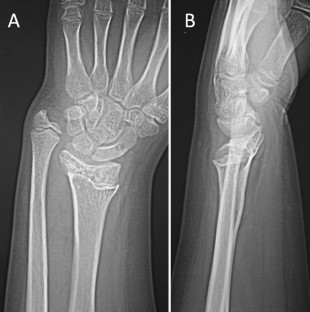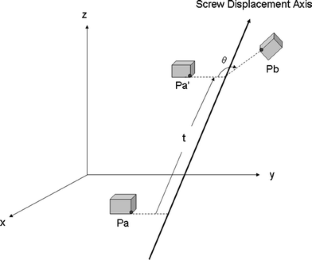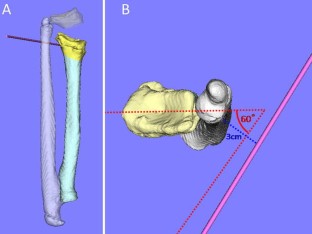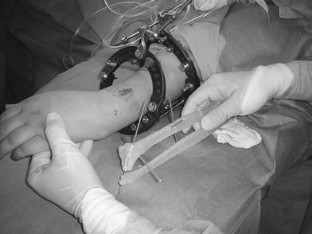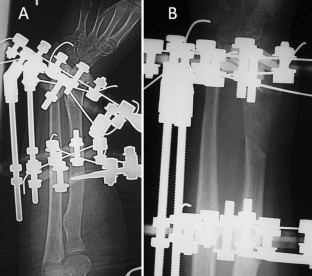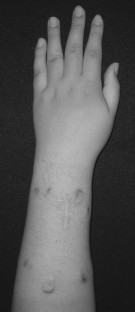 References
1.

An KN, Chao EY (1984) Kinematic analysis of human movement. Ann Biomed Eng 12:585–597. doi:10.1007/BF02371451

2.

Aston JW Jr, Henley MB (1989) Physeal growth arrest of the distal radius treated by the Ilizarov technique. Report of a case. Orthop Rev 18:813–816

3.

Athwal GS, Ellis RE, Small CF et al (2003) Computer-assisted distal radius osteotomy. J Hand Surg (Am) 28:951–958. doi:10.1016/S0363-5023(03)00375-7

4.

Cannata G, De Maio F, Mancini F et al (2003) Physeal fractures of the distal radius and ulna: long-term prognosis. J Orthop Trauma 17:172–180. doi:10.1097/00005131-200303000-00002

5.

Duck TR, Dunning CE, Armstrong AD et al (2003) Application of screw displacement axes to quantify elbow instability. Clin Biomech (Bristol, Avon) 18:303–310. doi:10.1016/S0268-0033(03)00021-4

6.

Fischer KJ, Manson TT, Pfaeffle HJ et al (2001) A method for measuring joint kinematics designed for accurate registration of kinematic data to models constructed from CT data. J Biomech 34:377–383. doi:10.1016/S0021-9290(00)00195-0

7.

Goto A, Moritomo H, Murase T et al (2004) In vivo elbow biomechanical analysis during flexion: three-dimensional motion analysis using magnetic resonance imaging. J Shoulder Elbow Surg 13:441–447

8.

Hove LM, Engesaeter LB (1997) Corrective osteotomies after injuries of the distal radial physis in children. J Hand Surg [Br] 22:699–704. doi:10.1016/S0266-7681(97)80428-7

9.

Jupiter JB, Ruder J, Roth DA (1992) Computer-generated bone models in the planning of osteotomy of multidirectional distal radius malunions. J Hand Surg [Am] 17:406–415. doi:10.1016/0363-5023(92)90340-U

10.

Kanlic EM, Delarosa F, Pirela-Cruz M (2006) Computer assisted orthopaedic surgery—CAOS. Bosn J Basic Med Sci 6:7–13

11.

Kinzel GL, Hall AS Jr, Hillberry BM (1972) Measurement of the total motion between two body segments. I. Analytical development. J Biomech 5:93–105. doi:10.1016/0021-9290(72)90022-X

12.

Langenskiold A (1981) Surgical treatment of partial closure of the growth plate. J Pediatr Orthop 1:3–11

13.

Langenskiold A, Osterman K (1979) Surgical treatment of partial closure of the epiphysial plate. Reconstr Surg Traumatol 17:48–64

14.

Lee BS, Esterhai JL Jr, Das M (1984) Fracture of the distal radial epiphysis. Characteristics and surgical treatment of premature, post-traumatic epiphyseal closure. Clin Orthop Relat Res 185:90–96

15.

Lorensen WE, Cline HE (1987) Marching cubes: a high resolution 3D surface construction algorithm. Comput Graph 21:163–169. doi:10.1145/37402.37422

16.

Matsubara H, Tsuchiya H, Kabata T et al (2008) Deformity correction for vitamin D-resistant hypophosphatemic rickets of adults. Arch Orthop Trauma Surg 128:1137–1143. doi:10.1007/s00402-007-0548-8

17.

Meier R, Prommersberger KJ, van Griensven M et al (2004) Surgical correction of deformities of the distal radius due to fractures in pediatric patients. Arch Orthop Trauma Surg 124:1–9. doi:10.1007/s00402-003-0585-x

18.

Moritomo H, Murase T, Goto A et al (2006) In vivo three-dimensional kinematics of the midcarpal joint of the wrist. J Bone Joint Surg Am 88:611–621

19.

Murase T, Moritomo H, Goto A et al (2005) Does three-dimensional computer simulation improve results of scaphoid nonunion surgery? Clin Orthop Relat Res 434:143–150

20.

Murase T, Oka K, Moritomo H et al (2008) Three-dimensional corrective osteotomy of malunited fractures of the upper extremity with use of a computer simulation system. J Bone Joint Surg Am 90:2375–2389

21.

Nakase T, Yasui N, Kawabata H et al (2007) Correction of deformity and shortening due to post traumatic epiphyseal arrest by distraction osteogenesis. Arch Orthop Trauma Surg 127:659–663. doi:10.1007/s00402-007-0339-2

22.

Paley D (2002) Oblique plane deformities. In: Paley D (ed) Principles of deformity correction. Springer, Berlin, pp 175–194

23.

Paley D, Tetsworth K (1992) Mechanical axis deviation of the lower limbs. Preoperative planning of multiapical frontal plane angular and bowing deformities of the femur and tibia. Clin Orthop Relat Res 280:65–71

24.

Rozbruch SR, Paley D, Bhave A et al (2005) Ilizarov hip reconstruction for the late sequelae of infantile hip infection. J Bone Joint Surg Am 87:1007–1018. doi:10.2106/JBJS.C.00713

25.

Sabharwal S (2004) Treatment of traumatic radial clubhand deformity with bone loss using the Ilizarov apparatus. Clin Orthop Relat Res 424:143–148. doi:10.1097/01.blo.0000128284.13331.c5

26.

Shimizu T, Fujioka F, Gomyo H et al (2003) Three-dimensional starch model for simulation of corrective osteotomy for a complex bone deformity: a case report. Foot Ankle Int 24:364–367

27.

Spoor CW, Veldpaus FE (1980) Rigid body motion calculated from spatial co-ordinates of markers. J Biomech 13:391–393. doi:10.1016/0021-9290(80)90020-2

28.

Tang CW, Kay RM, Skaggs DL (2002) Growth arrest of the distal radius following a metaphyseal fracture: case report and review of the literature. J Pediatr Orthop B 11:89–92. doi:10.1097/00009957-200201000-00015

29.

Waanders NA, Herzenberg JE (1992) The theoretical application of inclined hinges with the Ilizarov external fixator for simultaneous angulation and rotation correction. Bull Hosp Jt Dis 52:27–35

30.

Waters PM, Mih AD (2005) Distal radius and ulna fractures. In: Beaty JH, Kasser JR (eds) Fractures in children, 6th edn. Lippincott, Philadelphia, pp 337–398

31.

Zehntner MK, Jakob RP, McGanity PL (1990) Growth disturbance of the distal radial epiphysis after trauma: operative treatment by corrective radial osteotomy. J Pediatr Orthop 10:411–415
Acknowledgments
One of the authors (T.M.) has received a grant from Japan Science and Technology Agency. The authors thank Ryoji Nakao, computer programmer, Department of Orthopaedic Surgery, Osaka University Graduate School of Medicine for his contributions to this study.
Electronic supplementary material
Below is the link to the electronic supplementary material.
Supplementary video. This video shows the AP, lateral, and frontal views of the radius while its distal segment is rotating around the 3D deformity axis by 40°. Appropriate correction of the radial and dorsal inclination of the articular surface along with adequate lengthening was achieved by simple rotation (MPG 11027 kb)
About this article
Cite this article
Murase, T., Oka, K., Moritomo, H. et al. Correction of severe wrist deformity following physeal arrest of the distal radius with the aid of a three-dimensional computer simulation. Arch Orthop Trauma Surg 129, 1465–1471 (2009) doi:10.1007/s00402-008-0800-x
Received:

Published:

Issue Date:
Keywords
Computer simulation

Deformity correction

Gradual lengthening

Physeal arrest

Distal radius