Abstract
The double-layered patella (DLP) is a rare intra-articular disorder that in most cases is associated with multiple epiphyseal dysplasia (MED). The DLP usually consists of an anterior and a posterior layer with a cartilaginous interface between the two parts. In this article, we present a case of bilateral DLP of a 17-year-old female adolescent with MED, suffering clinical symptoms on her left knee. Upon clinical examination, a painful "snapping" of the patella at 30–40° flexion of the left knee was evident and two osseous layers could be identified in standard radiographs. Arthroscopic examination revealed a transient cranial displacement of the posterior osteochondral layer at 30–40° knee flexion that replaced beyond 40° knee flexion with a visible jump. Surgical management in this case of DLP comprised open debridement of the soft tissue interface and fusion of the two osseous layers using double-threaded screws leading to an excellent outcome at 12 months follow-up.
This is a preview of subscription content, log in to check access.
We're sorry, something doesn't seem to be working properly.
Please try refreshing the page. If that doesn't work, please contact support so we can address the problem.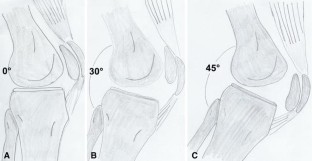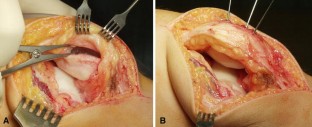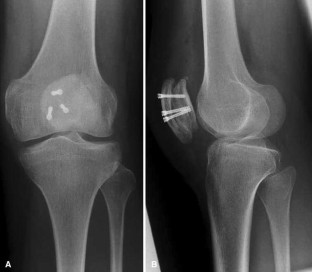 References
1.

Buttner G (1925) Zur Atiologie und Pathogenese der Perthesschen Krankheit. (Zugleich ein Fall von Patella tripartita.). Arch f Klin Chir 136:703

2.

Hodkinson HM (1962) Double patellae in multiple epiphysial dysplasia. J Bone Joint Surg Br 44-B:569–572

3.

Nakashima E, Ikegawa S, Ohashi H et al (2005) Double-layered patella in multiple epiphyseal dysplasia is not exclusive to DTDST mutation. Am J Med Genet A 133:106–107

4.

Sheffield EG (1998) Double-layered patella in multiple epiphyseal dysplasia: a valuable clue in the diagnosis. J Pediatr Orthop 18:123–128

5.

Dahners LE, Francisco WD, Halleran WJ (1982) Findings at arthrotomy in a case of double layered patellae associated with multiple epiphyseal dysplasia. J Pediatr Orthop 2:67–70

6.

Miura H, Noguchi Y, Mitsuyasu H et al (2000) Clinical features of multiple epiphyseal dysplasia expressed in the knee. Clin Orthop Relat Res 380:184–190

7.

Makitie O, Mortier GR, Czarny-Ratajczak M et al (2004) Clinical and radiographic findings in multiple epiphyseal dysplasia caused by MATN3 mutations: description of 12 patients. Am J Med Genet A 125:278–284

8.

Gardner J, Woods D, Williamson D (1999) Management of double-layered patellae by compression screw fixation. J Pediatr Orthop B 8:39–41
Electronic supplementary material
Below is the link to the electronic supplementary material.
About this article
Cite this article
Goebel, S., Steinert, A.F. & Barthel, T. Surgical management of a double-layered patella: a case report. Arch Orthop Trauma Surg 129, 1071 (2009). https://doi.org/10.1007/s00402-008-0701-z
Keywords
Double-layered patella

Surgical management

Multiple epiphyseal dysplasia

Knee

Arthroscopy