The role of de novo mutations in adult-onset neurodegenerative disorders
Abstract
The genetic underpinnings of the most common adult-onset neurodegenerative disorders (AOND) are complex in majority of the cases. In some families, however, the disease can be inherited in a Mendelian fashion as an autosomal-dominant trait. Next to that, patients carrying mutations in the same disease genes have been reported despite a negative family history. Although challenging to demonstrate due to the late onset of the disease in most cases, the occurrence of de novo mutations can explain this sporadic presentation, as demonstrated for severe neurodevelopmental disorders. Exome or genome sequencing of patient–parent trios allows a hypothesis-free study of the role of de novo mutations in AOND and the discovery of novel disease genes. Another hypothesis that may explain a proportion of sporadic AOND cases is the occurrence of a de novo mutation after the fertilization of the oocyte (post-zygotic mutation) or even as a late-somatic mutation, restricted to the brain. Such somatic mutation hypothesis, that can be tested with the use of novel sequencing technologies, is fully compatible with the seeding and spreading mechanisms of the pathological proteins identified in most of these disorders. We review here the current knowledge and future perspectives on de novo mutations in known and novel candidate genes identified in the most common AONDs such as Alzheimer's disease, Parkinson's disease, the frontotemporal lobar degeneration spectrum and Prion disorders. Also, we review the first lessons learned from recent genomic studies of control and diseased brains and the challenges which remain to be addressed.
Keywords
Alzheimer 
Parkinson 
Frontotemporal dementia 
Somatic 
Mutation 
Mosaicism 
De novo 
Introduction
The etiology of most of the adult-onset neurodegenerative disorders (AOND) is considered multifactorial, including genetic and environmental factors. In certain proportions of patients, the disease can, however, be inherited as a Mendelian trait, i.e., monogenic forms (Box 1). An autosomal-dominant pattern of inheritance is the most frequently encountered, so that family history is often positive for the same disorder. Such monogenic forms may be associated with extreme phenotypes and early ages at onset, but this is not always the case. The existence of patients with an extreme/early onset of AOND and a negative family history indicates that this disease is not always transmitted in an autosomal-dominant fashion. Autosomal recessive inheritance explaining the disease in some of these patients has been described, for example, in patients with Parkinson's disease [62], but in some patients, causal mutations were observed in autosomal-dominant genes known to cause AOND [62, 83, 116, 168]. The primary hypothesis is that these mutations appeared in the germline of these probands as de novo mutations (DNMs). To prove this, however, analysis of parental DNAs is required. As the disease onset even in these extreme cases occurs relatively late in life, one of the main practical challenges is access to parental biological samples [148].
The advent of massive parallel sequencing (also called next-generation sequencing, NGS) has allowed researchers to assess the de novo paradigm in sporadic AOND in a genome-wide manner using whole genome (WGS) or whole exome sequencing (WES). Sequencing of affected patients and their unaffected parents in a trio study design enables the identification of 1–2 DNMs per exome on average (for review see [
3
, [
175
] (Fig. 
1
a). This study design was originally applied to sporadic early-onset neurodevelopmental disorders and revealed a high genetic heterogeneity with many different genes affected by DNMs [
42
,
44
,
69
]. Although the application of the trio study design to sporadic AOND is limited by the access to parental biological samples, recent successful applications were published on Alzheimer's disease (AD), Parkinson's disease (PD), and amyotrophic lateral sclerosis (ALS) [
37
,
58
,
84
,
148
,
162
,
173
].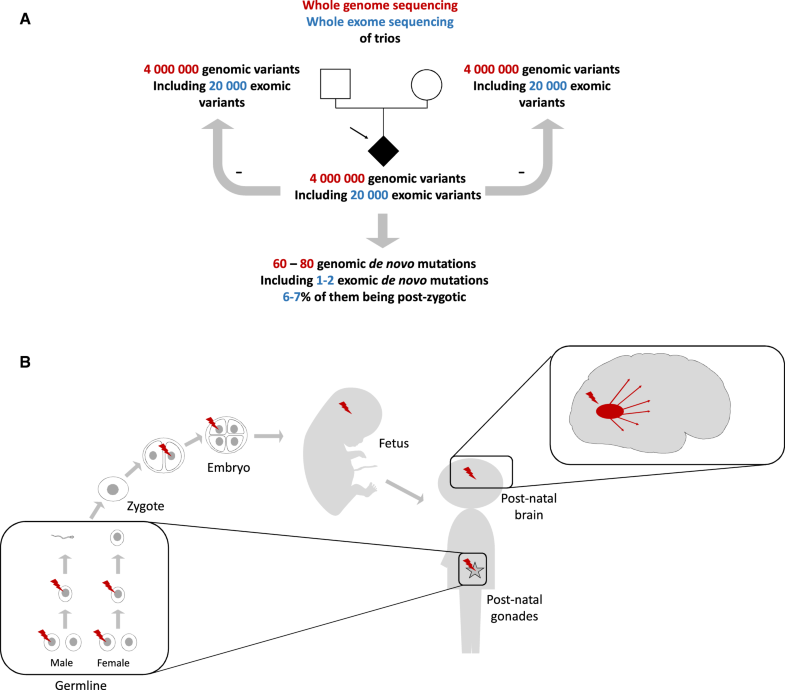 Beyond germline mutations, there is now clear evidence that the human genome is mutable at any step of the development and during the entire life (Fig. 1b). In AOND, a putative role for somatic DNMs is currently being assessed [105, 112, 152]. The mechanisms of seeding and spreading of pathologic misfolded proteins are shared by multiple AONDs. It is thought to be a key mechanism explaining the irreversible progression of neurodegeneration throughout the brain [126]. In theory, a small amount of pathologic seeds synthesized by a "colony" of neurons carrying a given somatic variant could be a source of spreading of a pathological protein throughout the brain. The hypothesis that a putatively causal DNM could have happened after the fertilization of the egg (post-zygotic mutation) or even later during the development (late-somatic mutation) has been evoked quite early in the recent history of human genetics [183]. However, it remained difficult to assess until recently, because of technological limitations. Novel sequencing technologies now enable researchers to address this question accurately.
In this review, we report and discuss the existing evidence of de novo germline mutations identified in the most common AONDs as well as the increasing interest in the search for post-zygotic variants as candidate causal mechanisms in some patients with a sporadic presentation.
Indirect arguments
The later a Mendelian disorder manifests in life, the more challenging it is to provide evidence of a de novo occurrence of causal mutations, because of reduced availability of parental samples. However, the late onset also has another effect: a significant difference between AOND and severe early-onset neurodevelopmental disorders—which have been shown to be largely caused by DNMs—is that AOND causing mutations do not affect the ability of the carriers to have children. Hence, pathogenic DNMs can be transmitted to the offspring. As with all genetic variants, mutations segregating in families arose de novo at a given date in a given individual. Hence, founder effects can be identified, and, eventually, it may be possible to date the original (de novo) mutation. A few of the recurrent mutations causing autosomal-dominant Alzheimer's disease (AD) have been subjected to the study of a putative founder effect. The most famous one is certainly the Colombian PSEN1 p.E280A mutation. Identity-by-descent analysis of the genomic sequence of 102 individuals originating from Antioquia provided the estimation of the DNM occurrence to 15 generations ago, back in the early 16th century [87]. Another well-known example is the Parkinson's disease-associated p.G2019S LRRK2 mutation, which is known to be present on different haplotypes suggesting different founders. One of them was estimated to have occurred 159 generations ago in a Berber founder [20]. The identification of recurrent mutations in autosomal-dominant genes in the absence of a founder effect or evidence for multiple founders points to the regular occurrence of DNMs in these genes. For example, the PRNP p.P102L and the p.D178N mutations have been reported in multiple pedigrees on different haplotypes and indeed recently DNMs have been identified at these positions [81, 182] [8, 41]. Likewise, the recurrent SNCA p.A53T mutation has been shown to have occurred on different haplotypes as well as genuine de novo events [77, 134, 136]. In addition to point mutations, other genetic variations such as copy number variations (CNVs, genomic deletions or duplications) may also occur de novo. The existence of shared breakpoints mapping to short tandem repeats on chromosome 21 among different families carrying diverse sizes of APP duplications indicates that multiple recurrent de novo duplications can cause monogenic forms of AD [149]. We can find similar evidence in synucleinopathies with SNCA copy gains (duplications and triplications) [147, 186].
Methods and strategies for the detection of de novo mutations in AOND
De novo mutations may occur in any cell. When a DNM occurs in a parent's germ cell, it is present in the fertilized oocyte and hence in every cell of the individual born from the development of this oocyte (Fig. 
1
b). Detecting a germline DNM is therefore relatively easy, requiring just a little bit of DNA from any tissue of the patient and his or her parents. Traditional and next-generation sequencing technologies allow the detection and validation of such mutation with a mutant: wild type allelic ratio of 1:1 (Table 
1
) in the patient, whereas the mutation should be absent in the DNA of both parents. In addition, it is important to check concordance of the patient–parent trios through segregation analysis to preclude false discovery of a DNM (e.g., false paternity). In AOND, the access to the parental samples remains an issue, limiting the detection of genuine DNMs. For these reasons, in a high proportion of the sporadic cases with a likely penetrant variation in a Mendelian gene, the evidence of the de novo occurrence could not be provided (e.g., [
16
,
85
]).
Table 1
Main techniques for the detection of de novo mutations: pros and cons
 

Germline DNM

Post-zygotic DNM

Sanger sequencing

Restricted to a few genes

Lack of sensitivity for mutations present in < 20% of cells

Targeted NGS (~ 100×)

Restricted to selected genes

Can be analyzed affordably and at high throughput

Restricted to selected genes, but able to sequence many samples affordably

Detection of mutations possible if present in > 10% cells

Standard WES (50–100×)

All coding regions, hypothesis free

Detection of mutations possible if present in > 10% cells

Standard WGS (15–30×)

All coding and non-coding regions, hypothesis free

Better sensitivity for structural variations

Relatively expensive

Detection of mutations possible if present in > 20% cells

Relatively expensive

Deep NGSa

Not much added value compared to standard depth NGS

Increased sensitivity

Cost increasing with the number of genomic regions sequenced

Not affordable for WGS
The use of WGS or WES with a trio study design allows the detection of DNMs in a hypothesis-free way. DNMs can be detected in any gene, opening the way to the discovery of novel causal genes. Every individual genome contains around 4.1–5.0 million SNVs or indels as compared to the reference genome, of them, 20,000 on average map to the exons and can hence be detected by WES [3]. Of these 20,000 exonic or splice site variants, around 1000 are considered rare variants as they occur in less than 1% of the normal population. Sequencing a single exome or genome then faces the need to filter and prioritize these rare variants with the hypothesis that one of them could be causative. In sporadic diseases where the hypothesis that the cause could be a DNM, the bioinformatics subtraction of all variants identified in a proband that are also present in the parents (inherited variants) unveils the proband-specific variants, i.e., the DNMs [179]. On average, 40–80 DNMs can be identified per genome, of them 1–2 map to the exons ([3], Fig. 1a). This reduced number of candidate variants allows for a very effective follow-up in both research and diagnostics. For these reasons, trio-based patient–parent studies are now routinely carried out in medical genetics. Sequencing dozens of patient–parent trios may often turn out to be more powerful than sequencing hundreds of simplex cases of sporadic disease.
In clinical practice, the inclusion of a trio for a WES in the context of an AOND requires that (1) the parents are unaffected (2) there is no further family history in other generations, to reduce the risk of alternative mechanisms such as variants with reduced penetrance, (3) the parents are clinically accessible. This latter point is mandatory, both for checking the absence of disease and for DNA sampling after informed consent. In diseases with an onset after 50 years, it can be basically challenging to recruit unaffected parents with reduced mobility. Hence, only a small subset of patients and unaffected parents can be sampled, with a significant effort and organization being required to recruit each trio. However, one can hypothesize that the development of genomic medicine will be associated with a dramatic increase in the number of individuals undergoing WES or WGS during their lifetime, contributing to the success of future trio studies. Similarly, the development of large nationwide biobanks such as the UK biobank may in the near future also be very helpful for retrieving the genomic data of parents from tomorrow's patients.
When a DNM occurs after the fertilization of the oocyte, this mutation is considered a post-zygotic DNM. When these post-zygotic DNMs occur early in the embryonic development, they may be present in majority of the individual's cells, in tissues resulting from all three embryonic layers. Although post-zygotic and somatic mutations both refer to mutations being acquired during the lifespan of an individual [23], we will here use the term post-zygotic for mutations which have occurred during the early development, leading to their presence in most tissues from two or all three layers, and late-somatic mutations for those having been and being restricted to a single tissue, such as the brain. In addition, post-zygotic mutations may be transmitted to the offspring when present in the germline (germline or gonadal mosaicism) and explain how a germline heterozygous dominant de novo mutation may be present in affected sib pairs and appear to be absent in the parents. A combination of germline and somatic mosaicism (gonosomal mosaicism) can have clinical consequences or not in the carrier [23, 32].
WES and WGS technologies are based on the multiple sequencing of every base by multiple short reads in a paired-end sequencing manner, i.e., the sequencing of both extremities of a DNA fragment. The number of reads per position defines the depth of coverage. Most WES and WGS studies are performed with a depth of coverage allowing a high confidence in the detection of germline homozygous (~ 100% of alternate reads) and heterozygous (~ 50%) variants. When the alternate: reference allelic balance is different from these expected ratios, the existence of a post-zygotic DNM can be suspected [1]. However, technical artifacts are the main source of such altered allelic balances, reducing the accuracy in the detection of post-zygotic variants. For these reasons, specific bioinformatics tools and independent molecular confirmations are required to confirm the presence of a post-zygotic variant instead of a sequencing artifact or a germline DNM. It has been shown that 6.5–7.5% of the DNMs detected in blood by WES actually occurred post-zygotically [1, 96]. The lower the true allelic ratio is, the more difficult it is to identify it reliably. Increasing the sequencing depth and the use of unique molecule identifiers (UMI, allowing the trimming of PCR errors) help to increase the confidence in low fraction post-zygotic or late-somatic mutations (Table 1) [3]. The technical aspects and implications of neuronal post-zygotic mutations on aging have been recently reviewed [151, 177] as well as their putative role in neurodegenerative diseases [94]. The sequencing of DNA isolated from the diseased tissue may help to identify late-somatic DNMs. In AOND, the access to CNS tissue is highly limited in vivo. Studies focusing on late-somatic DNMs must therefore rely on autopsies of patients, including the input of brain banks. For multiple reasons, despite the development of such brain banks in many Western countries, the proportion of patients undergoing full autopsy remains very low, limiting the use of such facilities. In addition, it becomes clear that brain banks should store not only brain tissue but also other tissues, to allow a better characterization of post-zygotic events.
In addition to the detection of putatively causal post-zygotic mutations, the same technologies can also be used to search for (1) "back mutations" that reverse or partially correct a phenotype or (2) second-hit mutations that trigger the disease in the presence of an additional inherited germline mutation. Although examples of both mechanisms have been described in other diseases such as skin diseases [124, 125], cortical dysplasia [140] or the neurocutaneous disorder neurofibromatosis type 1 [157], we could not find any example in AOND. It could be that these mechanisms play a more prominent role in rapidly dividing cells. Of note, the existence of an inherited genetic variant protecting against Prion infection seems to be in line with this theoretical hypothesis [12]. In addition, we cannot exclude a two-hit mechanism in certain diseases. Of note, in the FTLD–ALS spectrum, several genes share common mechanisms of RNA metabolism perturbation [133]. One could expect that second-hit post-zygotic mutations in the same pathways may increase such pathogenic processes. This would even be consistent with the hypothesis of a multistep process for the development of ALS [5]. Likewise, in AD, any post-zygotic second mutation that would modify the production, aggregation, toxicity or clearance of the Aβ peptide could in theory influence the disease progression [33].
De novo mutations in known autosomal-dominant genes
Looking for novel genes hit by de novo mutations: whole exome sequencing of trios
The evidence that highly penetrant mutations can arise de novo in known Mendelian genes was a proof of concept allowing the assessment of the de novo paradigm at the scale of the entire exome, looking for novel genes. As for the known autosomal-dominant genes, applying the trio study design requires the access to parental biological samples. To date, six trio studies have been published: one in AD, three in ALS, and two in PD, with a total of 247 trios included (Table 3).
Somatic mutations in adult-onset neurodegenerative disorders
The hypothesis that a genetic mutation present in only a proportion of the neuronal cells can cause a neurological disease has been formulated quite early in the history of AOND genetics [139, 180]. To date, most studies still focus on the analysis of germline mutations present in all cells by studying DNA isolated from a large proportion of blood cells. However, recent improvements in sequencing technologies have enabled the accurate identification of post-zygotic including late-somatic mutations present in subsets of cells or even in single cells [3]. In different neurodevelopmental disorders, evidence has been provided that post-zygotic or late-somatic mutations can cause disease using a combination of technologies on different tissues [70, 141]. Some of these mutations were detected in blood samples, indicating that they occurred early during development. One can assume that post-zygotic mutations, if detected in multiple tissues or with high allelic ratios in blood, might be present in a significant proportion of brain cells. Hence, the level of causality between germline and post-zygotic functional variants should be comparable. It is much more complex to detect brain-specific somatic mutations. Autopsy of certain AOND cases sometimes reveal widespread neuropathological lesions, which would be more in line with germline causes of disease. A focal onset of disease, as seen in some types of primary progressive aphasia in the FTLD spectrum, on the other hand, suggests a role for late-somatic mutations. Overall, in neurodegenerative disorders eventually affecting a large part of the brain, one could assume that the causative mutations must be present in a high proportion of brain cells (neurons and/or glial cells). However, most of the AOND share mechanisms called seeding and spreading. These features, also referred to as Prion-like properties, are conferred by proteins that can transfer their pathogenic state into wild type, normally folded proteins (seeding) and then spread into the whole brain following neuronal connections (for review, see [126]. This phenomenon has been studied first for the Prion protein itself. However, such properties are now being characterized for Tau, Aβ, TDP-43, α-synuclein, or even the Huntingtin protein even if they are not associated with a spontaneous infectious propensity. Similar to an external focal injection of pathologic proteins in animal models, one can hypothesize that a small proportion of cells carrying a somatic variant resulting in the production of a pathogenic misfolded protein could be the source of a cerebral neurodegenerative disorder. Low-level mosaics should therefore also be considered.
Lessons from control brains and clues for the interpretation of somatic mutations in AOND
Recently, novel sequencing approaches provided critical knowledge on post-zygotic variation in healthy control tissues. The human genome is clearly not stable throughout life and post-zygotic variants may occur in any cell at any time (Fig. 
1
b). Replicating cells are particularly prone to somatic mutations, with highly replicating tissues such as the skin or hematopoietic tissue showing the highest somatic mutation burdens. External factors may favor the occurrence of mutations during the replication phase of the DNA, including mutagenic agents such as radiation or toxic agents. Aging seems to be the strongest risk factor influencing the accumulation of somatic mutations during clonal hematopoiesis [
2
]. We summarize hereafter the main points that we consider of high importance for the analysis and interpretation of somatic variants, following the study of normal and diseased brains.
Taken together, somatic mutations in the brain may result from (1) early embryonic events, (2) mutations occurring in neuronal progenitors during neurodevelopment as a result of replication errors, (3) mutations in replicating cells in the brain at any stage of life as a result of replication errors, (4) mutations in post-mitotic neurons as a result of transcriptional activity and (5) as a result of DNA damage in the context of cellular stress. Although advances in genomic and single cell technologies have provided novel information and promising hypotheses, the interpretation of sequencing data obtained from brains with AOND will be an even bigger challenge than the technology itself in the near future.
Somatic mutations in patients with AOND
Given the role of germline duplications of APP and SNCA, respectively, in autosomal-dominant EOAD and Parkinson's disease, CNV studies have focused on these loci as well as chromosomal abnormalities. There is still debate on whether AD brains are enriched in neurons carrying extra copies of chromosome 21 containing the APP gene. Interestingly, Bushman et al. [29] recently reported increased copy numbers of the APP locus itself in AD brains. So far, however, this exciting result has not been replicated. Even more recently, the study of nigral dopaminergic neurons—the neurodegeneration of which causes Parkinson's disease—revealed an average proportion of dopaminergic neurons with gains of SNCA copies in each nigra of 0.78% in Parkinson disease patients versus 0.45% in controls [105]. Such enrichment was not found in non-dopaminergic neurons. Overall, among the 40 patients, 31 (77.5%) had at least one dopaminergic neuron showing a gain of SNCA copies as compared to 10/25 (40%) of the controls. These results suggest that late-somatic copy number gain of SNCA is not a rare event and suggest that a significant enrichment should be required to trigger the disease. The fact that picomolar concentrations of SNCA oligomers can induce disease-related pathways in cells in vitro seems to be in paradox with the latter study [68]. If replicated, these results obtained on nigral neurons would question the hypothesis that low-level mosaics alone would be sufficient to trigger diffuse neurodegenerative disease in vivo. Other brain regions may also be studied as well as other mutations and their putative functional consequences.
In addition to CNVs affecting known disease genes, post-zygotic CNVs may also affect novel Parkinson's disease genes. In phenotypically discordant monozygotic twin pairs with one of the twins exhibiting Parkinson's disease, a few post-zygotic novel CNVs have been identified in the affected twins [27]. Further research is needed to confidently link these genes to Parkinson's disease.
The presence of brain-specific single nucleotide mutations has been assessed in 1988—before the identification of the first causative genes of autosomal-dominant EOAD. In an exploratory study, the sequence encoding the Aβ peptide was analyzed in cDNA isolated from three brains with sporadic AD but no mutation was found [180]. The hypothesis that post-zygotic mutations could explain sporadic AD was reassessed after identification of APP, PSEN1, and PSEN2 germline pathogenic mutations in autosomal-dominant families. The analysis of DNA isolated from bulk brain pieces of 99 patients with sporadic AD revealed a PSEN1 mutation that was eventually confirmed to be present in the germline [139]. This hypothesis was also assessed in Parkinson's disease and ALS before the era of NGS, with negative results [121, 135]. Recently, WES was performed in hundreds of brains from patients with different types of AOND. While pathogenic mutations were detected in autosomal-dominant genes, parental DNA was not available for testing and the average depth of sequence coverage did not allow for the detection of low-level somatic mutations [76].
The use of deep-sequencing or blood–brain duo strategies has been applied only recently in sporadic AD. In a first study, a targeted deep-sequencing approach was used to analyze the genomic loci of APP, PSEN1, PSEN2 and MAPT in DNA isolated from the entorhinal cortex of 72 patients with sporadic AD and 58 controls [152]. Custom capture and deep sequencing of the genomic regions of these four genes revealed 107 candidate post-zygotic mutations but only 3 could be confirmed by amplicon-based deep sequencing: two novel MAPT missense mutations of unknown significance in sporadic AD patients (variant allele frequencies of 1.0% and 1.1%) and one known PSEN2 likely benign missense mutation (variant allele frequency of 1.6–5.7%) in a control. Of note, among the 41 patients with an available age at onset, the median age of onset was 78 years (range: 46–92) and among the other 31 other patients, the median age at death was 79 years (range 57–96, the youngest carried a pathogenic PSEN1 germline variant p.H163R), suggesting that majority had a late disease onset. Another recent study focused on more technical aspects in the context of AD, but did not provide results directly relevant to AD itself [57]. In a study including 17 sporadic AD patients, 2 controls, and 2 patients with vascular dementia, WES (mean depth of coverage: 60.8x) was performed on DNA isolated from blood as well as the hippocampus [122]. This strategy did not allow the identification of low-level mosaics and no putatively pathogenic brain-specific mutation was identified. The average age at death was 86.8 years (range 73–94), suggesting that most of them, if not all, presented a late onset of AD.
With the hypothesis that, similar to germline DNM, post-zygotic, including late-somatic mutations causing sporadic AOND may be associated with early-onset forms, we recently performed a targeted deep-sequencing screen of 11 genes in 445 sporadic AD patients (355 blood samples, 100 brain samples), > 80% of which had an early onset [112]. We used single molecule Molecular Inversion Probes (smMIPs) capture followed by deep sequencing and validation with independent ultra-deep sequencing, allowing for very high sensitivity and specificity. We identified nine post-zygotic mutations with allelic ratios ranging from 0.2% to 10.8%. Two of these mutations were predicted to alter the function of SORL1, which is currently considered as a strong risk factor for EOAD. However, no predicted pathogenic post-zygotic mutations in known autosomal-dominant genes could be identified in this large sample.
Even more recently, 102 genes were screened by targeted capture followed by deep sequencing in 173 samples from 54 human brains [75]. Post-zygotic variants were validated by a technology including the use of UMI. Of them, 20 individuals presented with AD and 20 exhibited Parkinson's disease or dementia with Lewy bodies. Despite the detection of 62 post-zygotic variants, no putatively pathogenic variant was identified.
The preliminary results of the above-mentioned studies do not immediately point to a significant role for post-zygotic mutations in known disease genes sporadic AOND. This may change with improvements in capture as well as sequencing technologies (including the analysis of single cells which is only just starting and is a tremendously promising field) as well as the analysis of many more brain samples, especially from patients with an early onset of disease and the more accurate detection of mosaic structural variations. Taking together all the positive and negative results obtained from control and diseased brains, the assessment of the somatic variant hypothesis in AOND has opened many novel questions. Among them, there is discussion about the minimum amount of pathological seeds, the timing of occurrence, and the regions where these seeds should appear to be sufficient to trigger neurodegenerative diseases. Experiments in animal models may help researchers to answer some of these questions, combined with the application of ultra-sensitive sequencing of multiple brain regions in AOND patients and controls.
Conclusions
Pathogenic DNMs, while not easy to identify in adult-onset diseases, clearly play an important role in sporadic AOND. Trio-based exome sequencing of patient–parent blood samples has pointed to numerous germline DNMs in both known disease genes as well as novel candidate genes. Larger sample sizes and functional follow-up studies are essential to validate the role of these candidate genes in AOND. Access to affected brain tissue and more sensitive and specific sequencing approaches will be crucial to investigate further the role of brain-specific mutations in AOND. Challenges lie ahead not only in the identification of these mutations but equally in the clinical interpretation of mutations that are present in only a proportion of all cells present.
In this review, we focused on the most common AOND, but examples of germline or post-zygotic DNM in known Mendelian genes causing other adult-onset neurological disorders have been reported (e.g., [46, 49, 115, 159]).
The in-depth genomic analysis of sporadic AOND is opening many exciting novel research directions, from the identification and characterization of novel disease genes and non-coding regions to the single cell analysis of somatic mutations as well as the analysis of seeding-spreading mechanisms leading to neurodegenerative disorders.
Notes
Acknowledgements
GN acknowledges Fondation Bettencourt-Schueller, Fondation Philippe Chatrier, Fondation Charles Nicolle, and Association Cerveau Progrès. This work was supported by a VICI grant from The Netherlands Organization for Scientific Research (918-15-667 to JAV).
Compliance with ethical standards
Conflicts of interest
The authors declare that they have no conflict of interest.
Copyright information
© The Author(s) 2018
Open AccessThis article is distributed under the terms of the Creative Commons Attribution 4.0 International License (http://creativecommons.org/licenses/by/4.0/), which permits unrestricted use, distribution, and reproduction in any medium, provided you give appropriate credit to the original author(s) and the source, provide a link to the Creative Commons license, and indicate if changes were made.