Abstract
The etiopathogenesis of neither the sporadic form of Alzheimer disease (AD) nor of amyotrophic lateral sclerosis (ALS) is well understood. The activity of protein phosphatase-2A (PP2A), which regulates the phosphorylation of tau and neurofilaments, is negatively regulated by the myeloid leukemia-associated protein SET, also known as inhibitor-2 of PP2A, I 2 PP2A . In AD brain, PP2A activity is compromised, probably because I 2 PP2A is overexpressed and is selectively cleaved at asparagine 175 into an N-terminal fragment, I2NTF, and a C-terminal fragment, I2CTF, and both fragments inhibit PP2A. Here, we analyzed the spinal cords from ALS and control cases for I 2 PP2A cleavage and PP2A activity. As observed in AD brain, we found a selective increase in the cleavage of I 2 PP2A into I2NTF and I2CTF and inhibition of the activity and not the expression of PP2A in the spinal cords of ALS cases. To test the hypothesis that both AD and ALS could be triggered by I2CTF, a cleavage product of I 2 PP2A , we transduced by intracerebroventricular injections newborn rats with adeno-associated virus serotype 1 (AAV1) containing human I2CTF. AAV1-I2CTF produced reference memory impairment and tau pathology, and intraneuronal accumulation of Aβ by 5–8 months, and motor deficit and hyperphosphorylation and proliferation of neurofilaments, tau and TDP-43 pathologies, degeneration and loss of motor neurons and axons in the spinal cord by 10–14 months in rats. These findings suggest a previously undiscovered etiopathogenic relationship between sporadic forms of AD and ALS that is linked to I 2 PP2A and the potential of I 2 PP2A -based therapeutics for these diseases.
This is a preview of subscription content, log in to check access.
Access options
Buy single article
Instant unlimited access to the full article PDF.
US$ 39.95
Price includes VAT for USA
Subscribe to journal
Immediate online access to all issues from 2019. Subscription will auto renew annually.
US$ 199
This is the net price. Taxes to be calculated in checkout.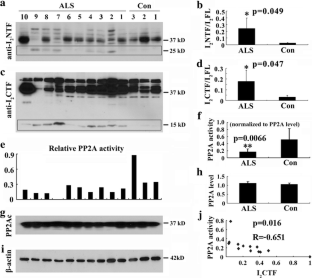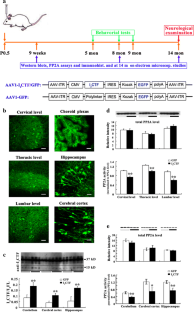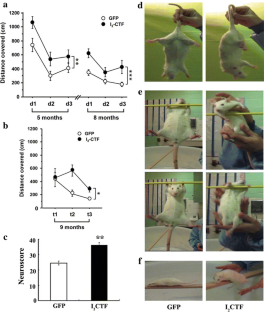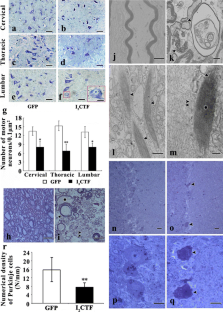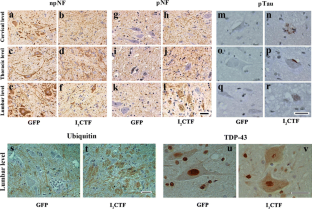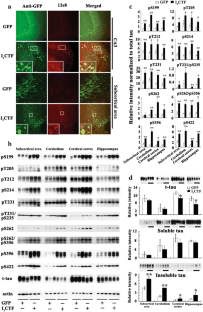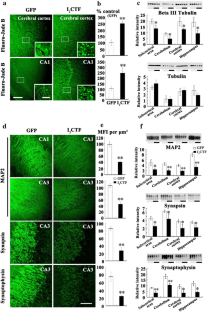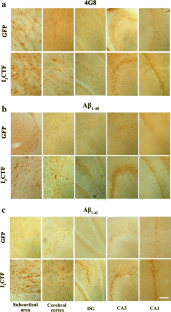 References
1.

Alonso A, Zaidi T, Novak M, Grundke-Iqbal I, Iqbal K (2001) Hyperphosphorylation induces self-assembly of tau into tangles of paired helical filaments/straight filaments. Proc Natl Acad Sci USA 98(12):6923–6928

2.

Arnaud L, Chen S, Liu F, Li B, Khatoon S, Grundke-Iqbal I, Iqbal K (2011) Mechanism of inhibition of PP2A activity and abnormal hyperphosphorylation of tau by I(2)(PP2A)/SET. FEBS Lett 585(17):2653–2659

3.

Basurto-Islas G, Grundke-Iqbal I, Tung YC, Liu F, Iqbal K (2013) Activation of asparaginyl endopeptidase leads to tau hyperphosphorylation in Alzheimer's disease. J Biol Chem 288:17495–17507. doi:10.1074/jbc.M112.446070

4.

DeJesus-Hernandez M, Mackenzie IR, Boeve BF, Boxer AL, Baker M, Rutherford NJ, Nicholson AM, Finch NA, Flynn H, Adamson J, Kouri N, Wojtas A, Sengdy P, Hsiung GY, Karydas A, Seeley WW, Josephs KA, Coppola G, Geschwind DH, Wszolek ZK, Feldman H, Knopman DS, Petersen RC, Miller BL, Dickson DW, Boylan KB, Graff-Radford NR, Rademakers R (2011) Expanded GGGGCC hexanucleotide repeat in noncoding region of C9ORF72 causes chromosome 9p-linked FTD and ALS. Neuron 72(2):245–256. doi:10.1016/j.neuron.2011.09.011

5.

Deng HX, Chen W, Hong ST, Boycott KM, Gorrie GH, Siddique N, Yang Y, Fecto F, Shi Y, Zhai H, Jiang H, Hirano M, Rampersaud E, Jansen GH, Donkervoort S, Bigio EH, Brooks BR, Ajroud K, Sufit RL, Haines JL, Mugnaini E, Pericak-Vance MA, Siddique T (2011) Mutations in UBQLN2 cause dominant X-linked juvenile and adult-onset ALS and ALS/dementia. Nature 477(7363):211–215. doi:10.1038/nature10353

6.

Deng HX, Hentati A, Tainer JA, Iqbal Z, Cayabyab A, Hung WY, Getzoff ED, Hu P, Herzfeldt B, Roos RP et al (1993) Amyotrophic lateral sclerosis and structural defects in Cu. Zn superoxide dismutase. Science 261(5124):1047–1051

7.

Fan Z, Beresford PJ, Oh DY, Zhang D, Lieberman J (2003) Tumor suppressor NM23-H1 is a granzyme A-activated DNase during CTL-mediated apoptosis, and the nucleosome assembly protein SET is its inhibitor. Cell 112(5):659–672

8.

Garruto RM (1991) Pacific paradigms of environmentally-induced neurological disorders: clinical, epidemiological and molecular perspectives. Neurotoxicology 12(3):347–377

9.

Gong CX, Lidsky T, Wegiel J, Zuck L, Grundke-Iqbal I, Iqbal K (2000) Phosphorylation of microtubule-associated protein tau is regulated by protein phosphatase 2A in mammalian brain. Implications for neurofibrillary degeneration in Alzheimer's disease. J Biol Chem 275(8):5535–5544

10.

Gong CX, Shaikh S, Wang JZ, Zaidi T, Grundke-Iqbal I, Iqbal K (1995) Phosphatase activity toward abnormally phosphorylated tau: decrease in Alzheimer disease brain. J Neurochem 65(2):732–738

11.

Gong CX, Singh TJ, Grundke-Iqbal I, Iqbal K (1993) Phosphoprotein phosphatase activities in Alzheimer disease brain. J Neurochem 61(3):921–927

12.

Gong CX, Wang JZ, Iqbal K, Grundke-Iqbal I (2003) Inhibition of protein phosphatase 2A induces phosphorylation and accumulation of neurofilaments in metabolically active rat brain slices. Neurosci Lett 340(2):107–110

13.

Gotz J, Schild A (2003) Transgenic and knockout models of PP2A. Methods Enzymol 366:390–403

14.

Grundke-Iqbal I, Iqbal K, Quinlan M, Tung YC, Zaidi MS, Wisniewski HM (1986) Microtubule-associated protein tau. A component of Alzheimer paired helical filaments. J Biol Chem 261(13):6084–6089

15.

Grundke-Iqbal I, Iqbal K, Tung YC, Quinlan M, Wisniewski HM, Binder LI (1986) Abnormal phosphorylation of the microtubule-associated protein tau (tau) in Alzheimer cytoskeletal pathology. Proc Natl Acad Sci USA 83(13):4913–4917

16.

Hirano A, Kurland LT, Krooth RS, Lessell S (1961) Parkinsonism-dementia complex, an endemic disease on the island of Guam. I. Clinical features. Brain 84:642–661

17.

Hirano A, Malamud N, Kurland LT (1961) Parkinsonism-dementia complex, an endemic disease on the island of Guam. II. Pathological features. Brain 84:662–679

18.

Iqbal K, Alonso A, Chen S, Chohan MO, El-Akkad E, Gong CX, Khatoon S, Li B, Liu F, Rahman A, Tanimukai H, Grundke-Iqbal I (2005) Tau pathology in Alzheimer disease and other tauopathies. Biochim Biophys Acta 1739(2–3):198–210

19.

Kwiatkowski TJ Jr, Bosco DA, Leclerc AL, Tamrazian E, Vanderburg CR, Russ C, Davis A, Gilchrist J, Kasarskis EJ, Munsat T, Valdmanis P, Rouleau GA, Hosler BA, Cortelli P, de Jong PJ, Yoshinaga Y, Haines JL, Pericak-Vance MA, Yan J, Ticozzi N, Siddique T, McKenna-Yasek D, Sapp PC, Horvitz HR, Landers JE, Brown RH Jr (2009) Mutations in the FUS/TLS gene on chromosome 16 cause familial amyotrophic lateral sclerosis. Science 323(5918):1205–1208

20.

Li M, Makkinje A, Damuni Z (1996) The myeloid leukemia-associated protein SET is a potent inhibitor of protein phosphatase 2A. J Biol Chem 271(19):11059–11062

21.

Liu F, Grundke-Iqbal I, Iqbal K, Gong CX (2005) Contributions of protein phosphatases PP1, PP2A, PP2B and PP5 to the regulation of tau phosphorylation. Eur J Neurosci 8:1942–1950

22.

Liu Z, Jang SW, Liu X, Cheng D, Peng J, Yepes M, Li XJ, Matthews S, Watts C, Asano M, Hara-Nishimura I, Luo HR, Ye K (2008) Neuroprotective actions of PIKE-L by inhibition of SET proteolytic degradation by asparagine endopeptidase. Mol Cell 29(6):665–678

23.

Miklossy J, Steele JC, Yu S, McCall S, Sandberg G, McGeer EG, McGeer PL (2008) Enduring involvement of tau, beta-amyloid, alpha-synuclein, ubiquitin and TDP-43 pathology in the amyotrophic lateral sclerosis/parkinsonism-dementia complex of Guam (ALS/PDC). Acta Neuropathol 116(6):625–637

24.

Mimuro M, Kokubo Y, Kuzuhara S (2007) Similar topographical distribution of neurofibrillary tangles in amyotrophic lateral sclerosis and parkinsonism-dementia complex in people living in the Kii peninsula of Japan suggests a single tauopathy. Acta Neuropathol 113(6):653–658

25.

Oyanagi K, Makifuchi T, Ohtoh T, Chen KM, van der Schaaf T, Gajdusek DC, Chase TN, Ikuta F (1994) Amyotrophic lateral sclerosis of Guam: the nature of the neuropathological findings. Acta Neuropathol 88(5):405–412

26.

Renton AE, Majounie E, Waite A, Simon-Sanchez J, Rollinson S, Gibbs JR, Schymick JC, Laaksovirta H, van Swieten JC, Myllykangas L, Kalimo H, Paetau A, Abramzon Y, Remes AM, Kaganovich A, Scholz SW, Duckworth J, Ding J, Harmer DW, Hernandez DG, Johnson JO, Mok K, Ryten M, Trabzuni D, Guerreiro RJ, Orrell RW, Neal J, Murray A, Pearson J, Jansen IE, Sondervan D, Seelaar H, Blake D, Young K, Halliwell N, Callister JB, Toulson G, Richardson A, Gerhard A, Snowden J, Mann D, Neary D, Nalls MA, Peuralinna T, Jansson L, Isoviita VM, Kaivorinne AL, Holtta-Vuori M, Ikonen E, Sulkava R, Benatar M, Wuu J, Chio A, Restagno G, Borghero G, Sabatelli M, Consortium I, Heckerman D, Rogaeva E, Zinman L, Rothstein JD, Sendtner M, Drepper C, Eichler EE, Alkan C, Abdullaev Z, Pack SD, Dutra A, Pak E, Hardy J, Singleton A, Williams NM, Heutink P, Pickering-Brown S, Morris HR, Tienari PJ, Traynor BJ (2011) A hexanucleotide repeat expansion in C9ORF72 is the cause of chromosome 9p21-linked ALS-FTD. Neuron 72(2):257–268. doi:10.1016/j.neuron.2011.09.010

27.

Seo SB, McNamara P, Heo S, Turner A, Lane WS, Chakravarti D (2001) Regulation of histone acetylation and transcription by INHAT, a human cellular complex containing the set oncoprotein. Cell 104(1):119–130

28.

Sreedharan J, Blair IP, Tripathi VB, Hu X, Vance C, Rogelj B, Ackerley S, Durnall JC, Williams KL, Buratti E, Baralle F, de Belleroche J, Mitchell JD, Leigh PN, Al-Chalabi A, Miller CC, Nicholson G, Shaw CE (2008) TDP-43 mutations in familial and sporadic amyotrophic lateral sclerosis. Science 319(5870):1668–1672

29.

Sternberger NH, Sternberger LA, Ulrich J (1985) Aberrant neurofilament phosphorylation in Alzheimer disease. Proc Natl Acad Sci USA 82(12):4274–4276

30.

Tanimukai H, Grundke-Iqbal I, Iqbal K (2004) Inhibitors of protein phosphatase-2A: topography and subcellular localization. Brain Res Mol Brain Res 126(2):146–156

31.

Tanimukai H, Grundke-Iqbal I, Iqbal K (2005) Up-regulation of inhibitors of protein phosphatase-2A in Alzheimer's disease. Am J Pathol 166(6):1761–1771

32.

Vance C, Rogelj B, Hortobagyi T, De Vos KJ, Nishimura AL, Sreedharan J, Hu X, Smith B, Ruddy D, Wright P, Ganesalingam J, Williams KL, Tripathi V, Al-Saraj S, Al-Chalabi A, Leigh PN, Blair IP, Nicholson G, de Belleroche J, Gallo JM, Miller CC, Shaw CE (2009) Mutations in FUS, an RNA processing protein, cause familial amyotrophic lateral sclerosis type 6. Science 323(5918):1208–1211

33.

Veeranna, Yang DS, Lee JH, Vinod KY, Stavrides P, Amin ND, Pant HC, Nixon RA (2009) Declining phosphatases underlie aging-related hyperphosphorylation of neurofilaments. Neurobiol Aging

34.

Wang X, Blanchard J, Kohlbrenner E, Clement N, Linden RM, Radu A, Grundke-Iqbal I, Iqbal K (2010) The carboxy-terminal fragment of inhibitor-2 of protein phosphatase-2A induces Alzheimer disease pathology and cognitive impairment. FASEB J 24(11):4420–4432

35.

Xiao S, McLean J, Robertson J (2006) Neuronal intermediate filaments and ALS: a new look at an old question. Biochim Biophys Acta 1762(11–12):1001–1012. doi:10.1016/j.bbadis.2006.09.003

36.

Yu G, Yan T, Feng Y, Liu X, Xia Y, Luo H, Wang JZ, Wang X (2013) Ser9 phosphorylation causes cytoplasmic detention of I2(PP2A)/SET in Alzheimer disease. Neurobiol Aging 34(7):1748–1758. doi:10.1016/j.neurobiolaging.2012.12.025
Acknowledgments
We thank Erik Kohlbrenner for packaging vector into AAV; Dr. K. C. Wang for assistance in electron microscopy, Dr. George Merz in confocal microscopy, Drs. Honglian Li and Weixi Wang in histology and immunohistochemistry, and Dr. Ezzat El-Akkad in preparation of figures. Janet Murphy provided secretarial assistance. These studies were supported in part by the New York State Office of People with Developmental Disabilities and NIH/NIA grants AG019158 and Fogarty International Center FIRCA TW008744, and the Les Turner ALS Foundation. T.S. is the Les Turner ALS Foundation/Herbert C. Wenske Foundation Professor.
Electronic supplementary material
Below is the link to the electronic supplementary material.
Supplementary material 2 (MPG 5744 kb)
Supplementary material 3 (MPG 3284 kb)
Supplementary material 4 (MPG 1654 kb)
Supplementary material 5 (MPG 2521 kb)
About this article
Cite this article
Wang, X., Blanchard, J., Grundke-Iqbal, I. et al. Alzheimer disease and amyotrophic lateral sclerosis: an etiopathogenic connection. Acta Neuropathol 127, 243–256 (2014) doi:10.1007/s00401-013-1175-9
Received:

Accepted:

Published:

Issue Date:
Keywords
Alzheimer's disease

Amyotrophic lateral sclerosis

Guam Parkinsonism dementia complex

Protein phosphatase-2A

Inhibitor-2 of protein phosphatase-2A, I 2 PP2A /SET

Abnormal hyperphosphorylation of tau