Abstract
The contribution of microRNAs to the initiation, progression, and metastasis of medulloblastoma (MB) remains poorly understood. Metastatic dissemination at diagnosis is present in about 30% of MB patients, and is associated with a dismal prognosis. Using microRNA expression profiling, we demonstrate that the retinal miR-183–96–182 cluster on chromosome 7q32 is highly overexpressed in non-sonic hedgehog MBs (non-SHH-MBs). Expression of miR-182 and miR-183 is associated with cerebellar midline localization, and miR-182 is significantly overexpressed in metastatic MB as compared to non-metastatic tumors. Overexpression of miR-182 in non-SHH-MB increases and knockdown of miR-182 decreases cell migration in vitro. Xenografts overexpressing miR-182 invaded adjacent normal tissue and spread to the leptomeninges, phenotypically reminiscent of clinically highly aggressive large cell anaplastic MB. Hence, our study provides strong in vitro and in vivo evidence that miR-182 contributes to leptomeningeal metastatic dissemination in non-SHH-MB. We therefore reason that targeted inhibition of miR-182 may prevent leptomeningeal spread in patients with non-SHH-MB.
This is a preview of subscription content, log in to check access.
Access options
Buy single article
Instant unlimited access to the full article PDF.
US$ 39.95
Price includes VAT for USA
Subscribe to journal
Immediate online access to all issues from 2019. Subscription will auto renew annually.
US$ 199
This is the net price. Taxes to be calculated in checkout.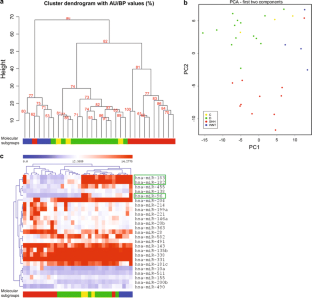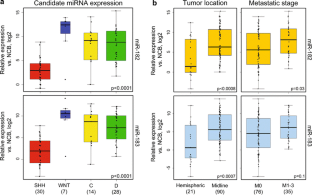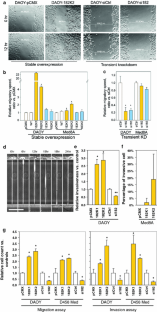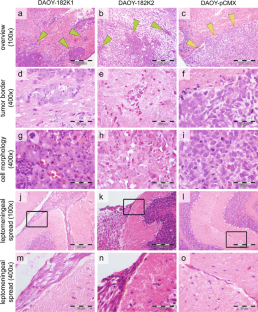 References
1.

Cho Y-J, Tsherniak A, Tamayo P, Santagata S, Ligon A, Greulich H, Berhoukim R, Amani V, Goumnerova L, Eberhart CG, Lau CC, Olson JM, Gilbertson RJ, Gajjar A, Delattre O, Kool M, Ligon K, Meyerson M, Mesirov JP, Pomeroy SL (2011) Integrative genomic analysis of medulloblastoma identifies a molecular subgroup that drives poor clinical outcome. J Clin Oncol 29(11):1424–1430

2.

Ellison DW, Kocak M, Dalton J, Megahed H, Lusher ME, Ryan SL, Zhao W, Nicholson SL, Taylor RE, Bailey S, Clifford SC (2011) Definition of disease-risk stratification groups in childhood medulloblastoma using combined clinical, pathologic, and molecular variables. J Clin Oncol 29(11):1400–1407. doi:10.1200/JCO.2010.30.2810

3.

Fouladi M, Gajjar A, Boyett JM, Walter AW, Thompson SJ, Merchant TE, Jenkins JJ, Langston JW, Liu A, Kun LE, Heideman RL (1999) Comparison of CSF cytology and spinal magnetic resonance imaging in the detection of leptomeningeal disease in pediatric medulloblastoma or primitive neuroectodermal tumor. J Clin Oncol 17(10):3234–3237

4.

Gibson P, Tong Y, Robinson G, Thompson MC, Currle DS, Eden C, Kranenburg TA, Hogg T, Poppleton H, Martin J, Finkelstein D, Pounds S, Weiss A, Patay Z, Scoggins M, Ogg R, Pei Y, Yang ZJ, Brun S, Lee Y, Zindy F, Lindsey JC, Taketo MM, Boop FA, Sanford RA, Gajjar A, Clifford SC, Roussel MF, McKinnon PJ, Gutmann DH, Ellison DW, Wechsler-Reya R, Gilbertson RJ (2010) Subtypes of medulloblastoma have distinct developmental origins. Nature 468(7327):1095–1099. doi:10.1038/nature09587

5.

Gokhale A, Kunder R, Goel A, Sarin R, Moiyadi A, Shenoy A, Mamidipally C, Noronha S, Kannan S, Shirsat NV (2010) Distinctive microRNA signature of medulloblastomas associated with the WNT signaling pathway. J Cancer Res Ther 6(4):521–529. doi:10.4103/0973-1482.77072

6.

Goodrich LV, Milenkovic L, Higgins KM, Scott MP (1997) Altered neural cell fates and medulloblastoma in mouse patched mutants. Science 277(5329):1109–1113

7.

Gronych J, Korshunov A, Bageritz J, Milde T, Jugold M, Hambardzumyan D, Remke M, Hartmann C, Witt H, Jones DT, Witt O, Heiland S, Bendszus M, Holland EC, Pfister S, Lichter P (2011) An activated mutant BRAF kinase domain is sufficient to induce pilocytic astrocytoma in mice. J Clin Invest 121(4):1344–1348. doi:10.1172/JCI44656

8.

He L, Thomson JM, Hemann MT, Hernando-Monge E, Mu D, Goodson S, Powers S, Cordon-Cardo C, Lowe SW, Hannon GJ, Hammond SM (2005) A microRNA polycistron as a potential human oncogene. Nature 435(7043):828–833. doi:10.1038/nature03552

9.

He XM, Wikstrand CJ, Friedman HS, Bigner SH, Pleasure S, Trojanowski JQ, Bigner DD (1991) Differentiation characteristics of newly established medulloblastoma cell lines (D384 Med, D425 Med, and D458 Med) and their transplantable xenografts. Lab Invest 64(6):833–843

10.

Kool M, Koster J, Bunt J, Hasselt NE, Lakeman A, van Sluis P, Troost D, Meeteren NS, Caron HN, Cloos J, Mrsic A, Ylstra B, Grajkowska W, Hartmann W, Pietsch T, Ellison D, Clifford SC, Versteeg R (2008) Integrated genomics identifies five medulloblastoma subtypes with distinct genetic profiles, pathway signatures and clinicopathological features. PLoS One 3(8):e3088. doi:10.1371/journal.pone.0003088

11.

Langdon JA, Lamont JM, Scott DK, Dyer S, Prebble E, Bown N, Grundy RG, Ellison DW, Clifford SC (2006) Combined genome-wide allelotyping and copy number analysis identify frequent genetic losses without copy number reduction in medulloblastoma. Genes Chromosom Cancer 45(1):47–60. doi:10.1002/gcc.20262

12.

Livak KJ, Schmittgen TD (2001) Analysis of relative gene expression data using real-time quantitative PCR and the 2(-Delta Delta C(T)) method. Methods 25(4):402–408. doi:10.1006/meth.2001.1262

13.

Lu J, Getz G, Miska EA, Alvarez-Saavedra E, Lamb J, Peck D, Sweet-Cordero A, Ebert BL, Mak RH, Ferrando AA, Downing JR, Jacks T, Horvitz HR, Golub TR (2005) MicroRNA expression profiles classify human cancers. Nature 435(7043):834–838. doi:10.1038/nature03702

14.

Moskwa P, Buffa FM, Pan Y, Panchakshari R, Gottipati P, Muschel RJ, Beech J, Kulshrestha R, Abdelmohsen K, Weinstock DM, Gorospe M, Harris AL, Helleday T, Chowdhury D (2011) miR-182-mediated downregulation of BRCA1 impacts DNA repair and sensitivity to PARP inhibitors. Mol Cell 41(2):210–220. doi:10.1016/j.molcel.2010.12.005

15.

Northcott PA, Fernandez LA, Hagan JP, Ellison DW, Grajkowska W, Gillespie Y, Grundy R, Van Meter T, Rutka JT, Croce CM, Kenney AM, Taylor MD (2009) The miR-17/92 polycistron is up-regulated in sonic hedgehog-driven medulloblastomas and induced by N-myc in sonic hedgehog-treated cerebellar neural precursors. Cancer Res 69(8):3249–3255. doi:10.1158/0008-5472.CAN-08-4710

16.

Northcott PA, Korshunov A, Witt H, Hielscher T, Eberhart CG, Mack S, Bouffet E, Clifford SC, Hawkins CE, French P, Rutka JT, Pfister S, Taylor MD (2011) Medulloblastoma comprises four distinct molecular variants. J Clin Oncol 29(11):1408–1414. doi:10.1200/jco.2009.27.4324

17.

Polkinghorn WR, Tarbell NJ (2007) Medulloblastoma: tumorigenesis, current clinical paradigm, and efforts to improve risk stratification. Nat Clin Pract Oncol 4(5):295–304. doi:10.1038/ncponc0794

18.

Pscherer A, Schliwka J, Wildenberger K, Mincheva A, Schwaenen C, Dohner H, Stilgenbauer S, Lichter P (2006) Antagonizing inactivated tumor suppressor genes and activated oncogenes by a versatile transgenesis system: application in mantle cell lymphoma. FASEB J 20(8):1188–1190. doi:10.1096/fj.05-4854fje

19.

Remke M, Hielscher T, Korshunov A, Northcott PA, Bender S, Kool M, Westermann F, Benner A, Cin H, Ryzhova M, Sturm D, Witt H, Haag D, Toedt G, Wittmann A, Schöttler A, von Bueren AO, von Deimling A, Rutkowski S, Scheurlen W, Kulozik AE, Taylor MD, Lichter P, Pfister SM (2011) FSTL5 is a marker of poor prognosis in non-WNT/non-SHH medulloblastoma. J Clin Oncol 29(29):3852–3861

20.

Remke M, Hielscher T, Northcott PA, Witt H, Ryzhova M, Wittmann A, Benner A, von Deimling A, Scheurlen W, Perry A, Croul S, Kulozik AE, Lichter P, Taylor MD, Pfister SM, Korshunov A (2011) Adult medulloblastoma comprises three major molecular variants. J Clin Oncol 29(19):2717–2723. doi:10.1200/JCO.2011.34.9373

21.

Rolli CG, Seufferlein T, Kemkemer R, Spatz JP (2010) Impact of tumor cell cytoskeleton organization on invasiveness and migration: a microchannel-based approach. PLoS One 5(1):8726. doi:10.1371/journal.pone.0008726

22.

Segura MF, Hanniford D, Menendez S, Reavie L, Zou X, Alvarez-Diaz S, Zakrzewski J, Blochin E, Rose A, Bogunovic D, Polsky D, Wei J, Lee P, Belitskaya-Levy I, Bhardwaj N, Osman I, Hernando E (2009) Aberrant miR-182 expression promotes melanoma metastasis by repressing FOXO3 and microphthalmia-associated transcription factor. Proc Natl Acad Sci USA 106(6):1814–1819. doi:10.1073/pnas.0808263106

23.

Thompson MC, Fuller C, Hogg TL, Dalton J, Finkelstein D, Lau CC, Chintagumpala M, Adesina A, Ashley DM, Kellie SJ, Taylor MD, Curran T, Gajjar A, Gilbertson RJ (2006) Genomics identifies medulloblastoma subgroups that are enriched for specific genetic alterations. J Clin Oncol 24(12):1924–1931. doi:10.1200/JCO.2005.04.4974

24.

Uziel T, Karginov FV, Xie S, Parker JS, Wang YD, Gajjar A, He L, Ellison D, Gilbertson RJ, Hannon G, Roussel MF (2009) The miR-17 92 cluster collaborates with the Sonic Hedgehog pathway in medulloblastoma. Proc Natl Acad Sci USA 106(8):2812–2817. doi:10.1073/pnas.0809579106

25.

Xu S, Witmer PD, Lumayag S, Kovacs B, Valle D (2007) MicroRNA (miRNA) transcriptome of mouse retina and identification of a sensory organ-specific miRNA cluster. J Biol Chem 282(34):25053–25066. doi:10.1074/jbc.M700501200

26.

Zhang L, Liu T, Huang Y, Liu J (2011) microRNA-182 inhibits the proliferation and invasion of human lung adenocarcinoma cells through its effect on human cortical actin-associated protein. Int J Mol Med 28(3):381–388. doi:10.3892/ijmm.2011.679
Acknowledgments
We gratefully thank the patients and families for participating in this research. Jennifer Diemer and Anna Schöttler are acknowledged for excellent technical assistance. Support by the DKFZ Light Microscopy Facility is gratefully acknowledged. This study was supported by a grant from the Deutsche Kinderkrebsstiftung and from the "Tumorzentrum Heidelberg" to S.M.P.; a "Young Investigator Fellowship" of the Medical Faculty of Heidelberg and financial support by the Eliteprogramme for Postdocs (Baden-Württemberg Stiftung) to M.R.
Conflict of interest
The authors declare no conflicts of interest.
Electronic supplementary material
Below is the link to the electronic supplementary material.
Supplementary Video 1 DAOY cells stably transfected with miR-182 were seeded closely to the channels. The third channel on the right hand side, a representative permeation activity was observed in this channel. Duration 24 h; scale bar, 100μm (MPG 2286 kb)
Supplementary Video 2 DAOY cells stably transfected with empty vector (pCMX). All four channels on the right hand side showed the typical penetrative behavior. These cells continuously tried to enter the channels within the whole experimental period, while nuclei are not able to enter the channels. Duration 24 h; scale bar, 100μm (MPG 2194 kb)
Supplementary Video 3 DAOY cells with miR-182 knockdown after 24h. Less invasive activity was observed and the cells were only trying to enter the channels for short periods of time. Duration 24 h; scale bar, 100μm (MPG 2582 kb)
Supplementary Video 4 DAOY cells with scrambled siRNA treatment. A DAOY cell invaded into the channel and migrated until the middle of the channel. Then the cell returned to the starting point. This special invasion behavior could be found in the second channel on right hand side. Duration 24 h; scale bar, 100μm (MPG 2414 kb)
Supplementary Video 5 Med8A cells stably transfected with miR-182. Most of the cells remained in the same position, and generally did not enter the channel. The fourth channel on the left side showed a rare example for a single invasion. Duration 24 h; scale bar, 100μm (MPG 2128 kb)
Supplementary Video 6 Med8A cells stably transfected with empty vector. All cells included in the field of view remained in a similar position. No invasive behaviors observed at all. Duration 23:20 h; scale bar, 100μm (MPG 2456 kb)
About this article
Cite this article
Bai, A.H.C., Milde, T., Remke, M. et al. MicroRNA-182 promotes leptomeningeal spread of non-sonic hedgehog-medulloblastoma. Acta Neuropathol 123, 529–538 (2012). https://doi.org/10.1007/s00401-011-0924-x
Received:

Accepted:

Published:

Issue Date:
Keywords
hsa-miR-182

Metastatic dissemination

SHH pathway

Medulloblastoma