Abstract
We investigated a family manifesting amyotrophic lateral sclerosis (ALS) with a heterozygous E478G mutation in the optineurin (OPTN) gene. Clinically, slow deterioration of motor function, mood and personality changes, temporal lobe atrophy on neuroimaging, and bizarre finger deformity were noted. Neuropathologically, TAR DNA-binding protein 43 (TDP-43)-positive neuronal intracytoplasmic inclusions were observed in the spinal and medullary motor neurons. In these cells, the immunoreactivity of nuclear TDP-43 was reduced. Consecutive sections revealed that the inclusions were also reactive with anti-ubiquitin and anti-p62 antibodies, but noticeably negative for OPTN. In addition, TDP-43/p62-positive glial cytoplasmic inclusions (GCIs) were scattered throughout the spinal cord and the medullary motor nuclei. Furthermore, Golgi fragmentation was identified in 70% of the anterior horn cells (AHCs). The presence of AHCs with preserved nuclear TDP-43 and a fragmented Golgi apparatus, which are unrecognizable in sporadic ALS, indicates that patients with the E4787G OPTN mutation would manifest Golgi fragmentation before loss of nuclear TDP-43. In the neocortex, GCIs were sparsely scattered among the primary motor and temporal cortices, but no neuronal TDP-43-positive inclusions were detected. In the amygdala and the ambient gyrus, argyrophilic grains and ballooned neurons were seen. The thorough neuropathologic investigations performed in this work demonstrated that OPTN-positive inclusion bodies, if any, were not prominent. We postulate that optineurinopathy is closely linked with TDP-proteinopathy and speculate that this heterozygous E478G mutation would cause ALS by acting through a dominant-negative mechanism.
This is a preview of subscription content, log in to check access.
Access options
Buy single article
Instant unlimited access to the full article PDF.
US$ 39.95
Price includes VAT for USA
Subscribe to journal
Immediate online access to all issues from 2019. Subscription will auto renew annually.
US$ 199
This is the net price. Taxes to be calculated in checkout.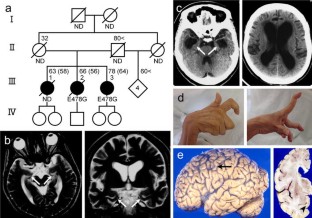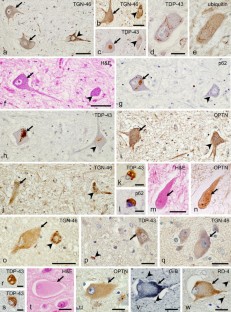 References
1.

Albagha OM, Visconti MR, Alonso N et al (2010) Genome-wide association study identifies variants at CSF1, OPTN and TNFRSF11A as genetic risk factors for Paget's disease of bone. Nat Genet 42:520–524

2.

Baker M, Mackenzie IR, Pickering-Brown SM et al (2006) Mutations in progranulin cause tau-negative frontotemporal dementia linked to chromosome 17. Nature 442:916–919

3.

Braak H, Braak E (1991) Neuropathological stageing of Alzheimer-related changes. Acta Neuropathol 82:239–259

4.

Cruts M, Gijselinck I, van der Zee J et al (2006) Null mutations in progranulin cause ubiquitin-positive frontotemporal dementia linked to chromosome 17q21. Nature 442:920–924

5.

Ferrer I, Santpere G, van Leeuwen FW (2008) Argyrophilic grain disease. Brain 131:1416–1432

6.

Fujishiro H, Uchikado H, Arai T et al (2009) Accumulation of phosphorylated TDP-43 in brains of patients with argyrophilic grain disease. Acta Neuropathol 117:151–158

7.

Fujita Y, Mizuno Y, Takatama M, Okamoto K (2008) Anterior horn cells with abnormal TDP-43 immunoreactivities show fragmentation of the Golgi apparatus in ALS. J Neurol Sci 269:30–34

8.

Gonatas NK, Stieber A, Mourelatos Z et al (1992) Fragmentation of the Golgi apparatus of motor neurons in amyotrophic lateral sclerosis. Am J Pathol 140:731–737

9.

Hortobágyi T, Troakes C, Nishimura AL et al (2011) Optineurin inclusions occur in a minority of TDP-43 positive ALS and FTLD-TDP cases and are rarely observed in other neurodegenerative disorders. Acta Neuropathol 121:519–527

10.

Ito H, Fujita K, Nakamura M et al (2011) Optineurin is co-localized with FUS in basophilic inclusions of ALS with FUS mutation and in basophilic inclusion body disease. Acta Neuropathol 121:555–557

11.

Johnson JO, Mandrioli J, Benatar M et al (2010) Exome sequencing reveals VCP mutations as a cause of familial ALS. Neuron 68:857–864

12.

Josephs KA, Ahmed Z, Katsuse O et al (2007) Neuropathologic features of frontotemporal lobar degeneration with ubiquitin-positive inclusions with progranulin gene (PGRN) mutations. J Neuropathol Exp Neurol 66:142–151

13.

Mackenzie IR, Rademakers R, Neumann M (2010) TDP-43 and FUS in amyotrophic lateral sclerosis and frontotemporal dementia. Lancet Neurol 9:995–1007

14.

Martinez-Lage P, Munoz DG (1997) Prevalence and disease associations of argyrophilic grains of Braak. J Neuropathol Exp Neurol 56:157–164

15.

Maruyama H, Morino H, Ito H et al (2010) Mutations of optineurin in amyotrophic lateral sclerosis. Nature 465:223–226

16.

Neumann M, Mackenzie IR, Cairns NJ et al (2007) TDP-43 in the ubiquitin pathology of frontotemporal dementia with VCP gene mutations. J Neuropathol Exp Neurol 66:152–157

17.

Osawa T, Mizuno Y, Fujita Y, Takatama M, Nakazato Y, Okamoto K (2011) Optineurin in neurodegenerative diseases. Neuropathology. doi:10.1111/j.1440-1789.2011.01199.x

18.

Rezaie T, Child A, Hitchings R et al (2002) Adult-onset primary open-angle glaucoma caused by mutations in optineurin. Science 295:1077–1079

19.

Sahlender DA, Roberts RC, Arden SD et al (2005) Optineurin links myosin VI to the Golgi complex and is involved in Golgi organization and exocytosis. J Cell Biol 169:285–295

20.

Saito Y, Ruberu NN, Sawabe M et al (2004) Staging of argyrophilic grains: an age-associated tauopathy. J Neuropathol Exp Neurol 63:911–918

21.

Seilhean D, Cazeneuve C, Thuriès V et al (2009) Accumulation of TDP-43 and alpha-actin in an amyotrophic lateral sclerosis patient with the K17I ANG mutation. Acta Neuropathol 118:561–573

22.

Van Deerlin VM, Leverenz JB, Bekris LM et al (2008) TARDBP mutations in amyotrophic lateral sclerosis with TDP-43 neuropathology: a genetic and histopathological analysis. Lancet Neurol 7:409–416

23.

Watts GD, Wymer J, Kovach MJ et al (2004) Inclusion body myopathy associated with Paget disease of bone and frontotemporal dementia is caused by mutant valosin-containing protein. Nat Genet 36:377–381

24.

Ying H, Shen X, Park B, Yue BY (2010) Posttranslational modifications, localization, and protein interactions of optineurin, the product of a glaucoma gene. PLoS One 5:e9168
Acknowledgments
This work was supported in part by grants-in-aid for scientific research from the Japan Society for the Promotion of Science (no. 21500336) and from the Japan Science and Technology Agency (AS2211173G). We thank Professor Yoshifumi Yokota (Department of Biochemistry and Bioinformative Sciences, University of Fukui) for his helpful advice, Drs Makio Takahashi, Kengo Uemura, and Hirofumi Yamashita (Department of Neurology, Kyoto University Graduate School of Medicine) for valuable discussions, Dr Masaya Hashimoto (Takao Hospital) for providing clinical information on Patient III-3, and Miss Hitomi Nakabayashi for her excellent technical assistance.
Conflict of interest
The authors declare they have no conflict of interest.
Electronic supplementary material
Below is the link to the electronic supplementary material.
About this article
Cite this article
Ito, H., Nakamura, M., Komure, O. et al. Clinicopathologic study on an ALS family with a heterozygous E478G optineurin mutation. Acta Neuropathol 122, 223–229 (2011). https://doi.org/10.1007/s00401-011-0842-y
Received:

Accepted:

Published:

Issue Date:
Keywords
Amyotrophic lateral sclerosis

Optineurin

TDP-43

Golgi fragmentation