Schrittmacher- und ICD-Elektrokardiogramme
Alternating QRS morphologies: what is the diagnosis?
Enes Elvin Gul, Sohaib Haseeb, Mohammad Melhem, Adrian Baranchuk
Case presentation
A 73-year-old female with a history of complete heart block, coronary artery disease, and preserved left ventricular systolic function (ejection fraction 48 %) had had a dual-chamber permanent pacemaker (Sensia SEDR01, Medtronic, MN, USA) implanted 4 years previously. The patient presented to the cardiac rhythm and device clinic for regular follow-up.
Question.
What is the diagnosis of the electrocardiogram (ECG) (Fig.
1
)?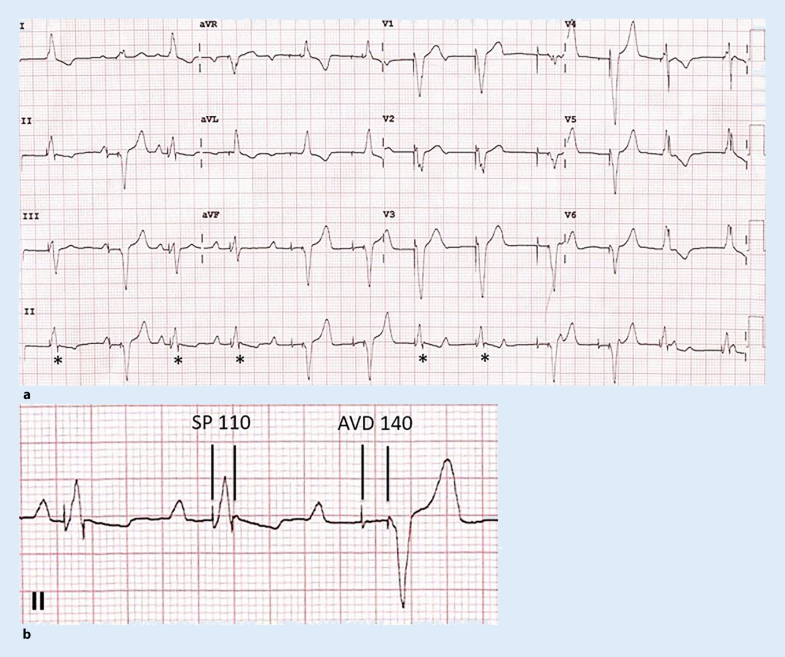 Pacemaker and ICD electrocardiograms
Notes
Einhaltung ethischer Richtlinien
Interessenkonflikt
E.E. Gul, A. Baranchuk, B. Brüggemann, T.S. Faber, N. Gosau, S. Haseeb, C.W. Israel, M. Melhem, D. Mijic, J. Steinfurt, R.R. Tilz, J. Vogler und S. Willems geben an, dass kein Interessenkonflikt besteht.
Dieser Beitrag beinhaltet keine von den Autoren durchgeführten Studien an Menschen oder Tieren.
Literatur
Weiterführende Literatur
8.

Love CJ (2011) Pacemaker troubleshooting and follow-up. In: Ellenbogen KA (Hrsg) Clinical cardiac pacing, Defibrillation, and Resynchronization therapy, 4. Aufl. Elsevier, Philadelphia

Google Scholar

9.

Watanabe H, Miyamura H, Hayashi J et al (1997) DDD pacemaker implantation in the patient underwent Maze procedure. Kyobu Geka 50:235–238

PubMed

Google Scholar
Copyright information
© Springer Medizin Verlag GmbH, ein Teil von Springer Nature 2019