Zusammenfassung
Komplexe Wunden beeinträchtigen den Patienten nicht nur hinsichtlich der Lebensqualität und des Sterblichkeitsrisikos, sondern verursachen auch zusätzliche Kosten für verlängerte, stationäre Krankenhausaufenthalte und für eine möglicherweise prolongierte, poststationäre Behandlung. Ein innovatives Behandlungsverfahren, bestehend aus kaltem atmosphärischem Plasma, der Verwendung einer Kombination aus Kohlefaser als direkte Wundauflage und Unterdrucktherapie sowie Spüllösungen mit Freisetzung von Singulett-Sauerstoff, ermöglicht es, infizierte Implantate zu reinigen. Das zunächst für infizierte Kunstherzsysteme entwickelte Verfahren empfiehlt sich aufgrund seiner nachgewiesenen Wirksamkeit und der außerordentlich guten Verträglichkeit ebenfalls für andere komplexe Wunden in der Herzchirurgie, wie die Sternuminfektion. Mit diesem Verfahren kann das initial erforderliche Débridement begrenzt werden. Es ermöglicht einen gewebeschonenden Therapieansatz. Ferner verkürzt die intensivierte Wundbehandlung die Therapiezeiten und spart somit Kosten ein.
Abstract
Complex wounds not only affect the patient in terms of quality of life and risk of mortality but also cause additional costs for prolonged hospitalization and possibly prolonged posthospital care. An innovative treatment concept, consisting of cold atmospheric plasma, the use of a combination of carbon fiber dressing laid directly on the wound with negative pressure therapy and rinsing solutions releasing singlet oxygen, allows infected implants to be cleansed. The procedure initially developed for infected ventricular assist devices is also recommended for other complex wounds in cardiac surgery, such as sternal wound infections, because of its proven effectiveness and excellent tolerability. With this procedure the initially required débridement can be limited. Thus, it enables a tissue-preserving treatment approach. Furthermore, the intensified wound treatment can help to reduce treatment times and therefore save costs.
This is a preview of subscription content, log in to check access.
Access options
Buy single article
Instant unlimited access to the full article PDF.
US$ 39.95
Price includes VAT for USA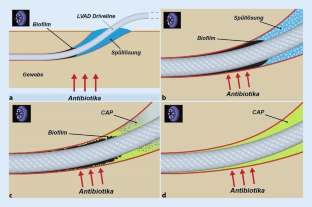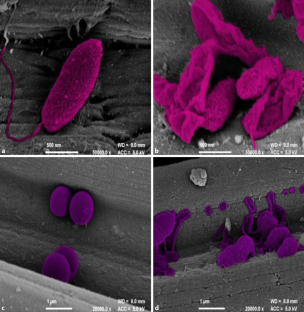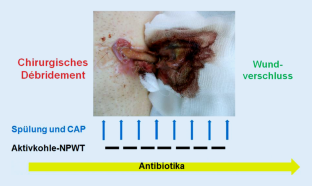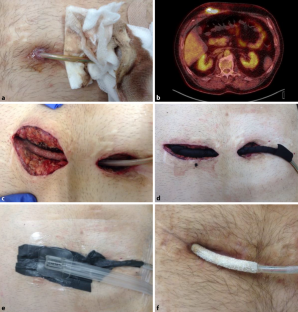 Literatur
1.

Beckmann A et al (2011) Sternal surgical site infection prevention - is there any room for improvement? Eur J Cardiothorac Surg 40:347–351

2.

Schimmer C et al (2019) S3 Leitlinie Management der Mediastinitis nach herzchirurgischen Eingriffen, Version 1 (AWMF Reg.Nr.: 011–022)

3.

Hilker L, von Woedtke T, Weltmann KD, Wollert HG (2017) Cold atmospheric plasma: a new tool for the treatment of superficial driveline infections. Eur J Cardiothorac Surg 51(1):186–187. https://doi.org/10.1093/ejcts/ezw212

4.

Morfill GE et al (2009) Focus on plasma medicine. New J Phys 11:115011. https://doi.org/10.1088/1367-2630/11/11/115011

5.

Kong MG et al (2009) Plasma medicine: an introductory review. New J Phys. https://doi.org/10.1088/1367-2630/11/11/115012

6.

Isbary G, Morfill G, Schmidt HU et al (2010) A first prospective randomized controlled trial to decrease bacterial load using cold atmospheric argon plasma on chronic wounds in patients. Br J Dermatol 163(1):78–82

7.

Arndt S, Landthaler M, Zimmermann JL et al (2015) Effects of Cold Atmosheric Plasma (CAP) on β‑defensins, inflammatory cytokines, and apoptosis-related molecules in keratinocytes in vitro and in vivo. PLoS ONE. https://doi.org/10.1371/journal.pone.0120041

8.

Arndt S, Unger P et al (2018) Cold atmospheric plasma (CAP) activates angiogenesis-related molecules in skin keratinocytes, fibroblasts and endothelial cells and improves wound angiogenesis in an autocrine and paracrine mode. J Dermatol Sci 89:181–190. https://doi.org/10.1016/j.jdermsci.2017.11.008

9.

Von Woedtke T et al (2019) Plasma medicine: a field of applied redox biology. In Vivo 33:1011–1026. https://doi.org/10.21873/invivo.11570

10.

Lietz AM, Kushner MJ (2016) Air plasma treatment of liquid covered tissue: long timescale chemistry. J Phys D Appl Phys 49:425204

11.

Alkawareek MY et al (2012) Eradication of Pseudomonas aeruginosa biofilms by atmospheric pressure non-thermal plasma. PLoS ONE 7(8):e44289. https://doi.org/10.1371/journal.pone.0044289

12.

Nguyen GT, Green ER, Mecsas J (2017) Neutrophils to the ROScue: mechanisms of NADPH oxidase activation and bacterial resistance. Front Cell Infect Microbiol 7:373. https://doi.org/10.3389/fcimb.2017.00373

13.

Dahlgren C, Karlsson A (1999) Respiratory burst in human neutrophils. J Immunol Methods 232(1–2):3–14

14.

Elgharably H, Mann E, Awad H, Ganesh K, Ghatak PD et al (2013) First evidence of sternal wound biofilm following cardiac surgery. PLoS ONE 8(8):e70360. https://doi.org/10.1371/journal.pone.0070360

15.

Schultz G et al (2017) Consensus guidelines for the identification and treatment of biofilms in chronic nonhealing wounds. Wound Repair Regen 25:744–757. https://doi.org/10.1111/wrr.12590

16.

Stewart PS (2012) Mini-review: Convection around biofilms. Biofouling 28(2):187–198. https://doi.org/10.1080/08927014.2012.662641

17.

Flynn PB, Higginbotham S et al (2015) Bactericidal efficacy of atmospheric pressure non-thermal plasma (APNTP) against the ESKAPE pathogens. Int J Antimicrob Agents 46:101–107

18.

Kinandana AW, Sumariyah S, Nur M (2018) Analysis of Plasma-activated Medium (PAM) in aqueous solution by an Atmospheric Pressure Plasma Jet (APPJ). Matec Web Conf 197:2013. https://doi.org/10.1051/matecconf/201819702013

19.

Perfectus Biomed (2015) Modulation of MMP‑2, MMP‑9 and Elastase by Zorflex VB‑K sterile activated carbon dressings

20.

Rotering H (2016) Advanced NPWT for infected wounds in long-term implants. Vivano Spectrum, Bd. 1

21.

Kramer A et al (2018) Consensus on wound antisepsis: update 2018. Skin Pharmacol Physiol 31:28–58. https://doi.org/10.1159/000481545

22.

Severing AL et al (2018) Safety and efficacy profiles of different commercial sodium hypochlorite/hypochlorous acid solutions (NaClO/HClO): antimicrobial efficacy, cytotoxic impact and physicochemical parameters in vitro. J Antimicrob Chemother. https://doi.org/10.1093/jac/dky432

23.

El Oakley RM, Wright JE (1996) Postoperative mediastinitis: classification and management. Ann Thorac Surg 61:1030–1036
Ethics declarations
Interessenkonflikt
H. Rotering ist als Referent/Berater für die Firmen Adtec, Serag Wiessner und Smith@Nephew tätig. U. Hansen, H. Welp und A.M. Dell'Aquila geben an, dass kein Interessenkonflikt besteht.
Die retrospektive Evaluation der eigenen Patientendaten erfolgte gemäß den Empfehlungen der Ethik-Kommission. Die Therapie mithilfe der verwendeten Kaltplasmageräte wurde im Rahmen ihrer Zweckbestimmung gemäß CE-Zertifizierung für Wund- und Infektionsbehandlung durchgeführt. Das schriftliche Einverständnis aller behandelten Patienten wurde vor Therapiebeginn eingeholt.
About this article
Cite this article
Rotering, H., Hansen, U., Welp, H. et al. Kaltes atmosphärisches Plasma und "advanced negative pressure wound therapy". Z Herz- Thorax- Gefäßchir 34, 52–61 (2020). https://doi.org/10.1007/s00398-019-00355-0
Received:

Revised:

Accepted:

Published:

Issue Date:
Schlüsselwörter
Herzunterstützungssysteme

Infektion

Singulett-Sauerstoff

Aktivkohleverband

Hypochloritspüllösung
Keywords
Heart-assist devices

Infection

Singlet oxygen

Carbon cloth dressing

Hypochlorite rinsing solution