Simultaneous slit rheometry and in situ neutron scattering
Abstract
In situ measurement of fluid structure during flow, e.g., by neutron scattering, is key to understanding the relationship between structure and rheology. For some applications, structures at high shear rates previously unreachable are of particular interest. Here, we report development of a flow cell slit rheometer for neutron scattering (μRheoSANS). The devices were used to measure the structure of a semi-dilute surfactant solution of worm-like micelles during flow. Analysis of the rheometry and scattering data allows isolation of the scattering signal from the high-shear, near-wall region of the flow cell. The reported results agree with those from the existing Couette-based RheoSANS instrument. The worm-like micelles exhibit an alignment transition at Weissenberg number (Wi) ≈ 1, coinciding with the onset of shear thinning. This transition is followed by a peak in micelle alignment at a higher shear rate, after which the degree of alignment decreases moderately. This technique can achieve higher shear rates than existing RheoSANS techniques, expanding the ability to study the structure of complex fluids at elevated shear rates.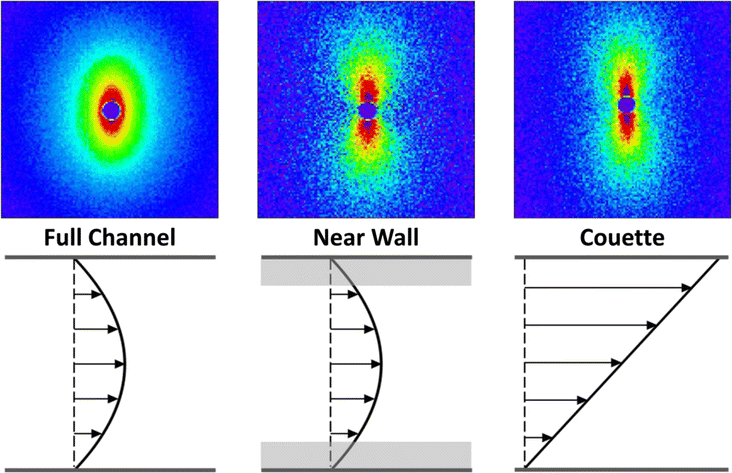 Keywords
Worm-like micelles 
Slit flow 
Scattering 
Notes
Acknowledgments
This work benefited from the use of the SasView application, originally developed under NSF Award DMR-0520547. SasView also contains code developed with funding from the EU Horizon 2020 program under the SINE2020 project grant no. 654000. Commercial products mentioned in this work are listed for the purpose of fully describing the experiment and are not an endorsement by the National Institute of Standards and Technology. Access to NGB30m SANS was provided by the Center for High Resolution Neutron Scattering, a partnership between the National Institute of Standards and Technology and the National Science Foundation under Agreement No. DMR-1508249. JSW and DLB acknowledge support from Cooperative Agreement No. 70NANB15H229 from NIST, US Department of Commerce.
Compliance with ethical standards
Conflict of interest
The authors declare that they have no conflict of interest.
Copyright information
© Springer-Verlag GmbH Germany, part of Springer Nature 2018