Abstract
Synthesis of amphiphilic poly(β-amino esters) (PBAE) was optimized by stepwise feeding of monomers (PBAE-(P-H)) compared with one-pot synthesis (PBAE-(P&H)) based on poly(ethylene glycol) diacrylate (PEGDA) and 1,6-hexanediol diacrylate (HDDA). Interestingly, optimized synthetic PBAE-(P-H) had smaller critical micelle concentration (CMC) of 6.6 μg/mL on average than one-pot synthetic PBAE-(P&H) (10.4 μg/mL). Nanoparticles were prepared based on PBAE-(P-H) and PBAE-(P&H), respectively. PBAE-(P-H) nanoparticles exhibited more narrow size distribution (average size, 105.3 nm; PDI, 0.103) than PBAE-(P&H) nanoparticles (average size, 117.8 nm; PDI, 0.233) demonstrated by dynamic light scattering and transmission electron microscopy. Afterward, PBAE-(P-H) and PBAE-(P&H) nanoparticles were selected to further investigate the properties including charge conversion and pH responsiveness. Doxorubicin (DOX) was encapsulated into nanoparticles. DOX release in vitro was enhanced as the decrease of pH value. Furthermore, DOX-loaded PBAE-(P-H) and PBAE-(P&H) nanoparticles exhibited enhanced cytotoxicity and cellular uptake against HCT116 cells compared with DOX under tumor microenvironment.
This is a preview of subscription content, log in to check access.
Access options
Buy single article
Instant access to the full article PDF.
US$ 39.95
Price includes VAT for USA
Subscribe to journal
Immediate online access to all issues from 2019. Subscription will auto renew annually.
US$ 199
This is the net price. Taxes to be calculated in checkout.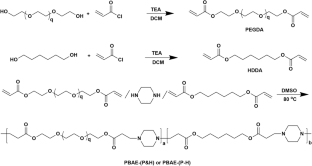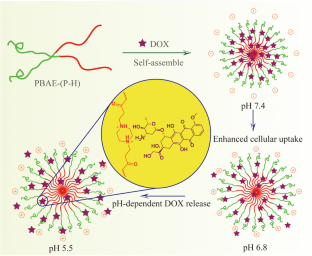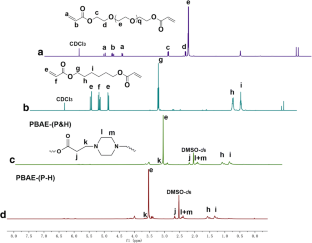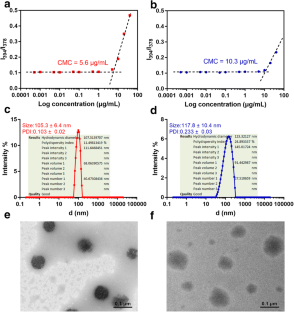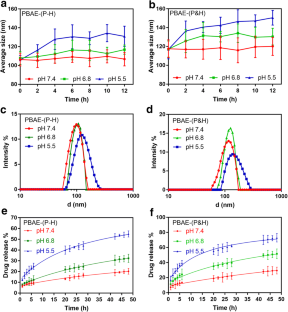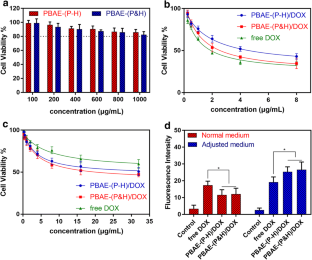 Ethics declarations
Conflict of interest
The authors declare that they have no conflict of interest.
Additional information
Publisher's note
Springer Nature remains neutral with regard to jurisdictional claims in published maps and institutional affiliations.
Electronic supplementary material
About this article
Cite this article
Gao, F., Wang, Q. & Yang, X. pH-responsive nanoparticles based on optimized synthetic amphiphilic poly(β-amino esters) for doxorubicin delivery. Colloid Polym Sci (2020). https://doi.org/10.1007/s00396-020-04606-7
Received:

Revised:

Accepted:

Published:
Keywords
Poly(β-amino esters)

Charge conversion

pH responsiveness

Enhanced cellular uptake