CTAB-assisted fabrication of well-shaped PDA-based colloidosomes
Abstract
Colloidosomes have gained intensive attention in the past years due to their substantial applications in wide scopes involving encapsulation, catalysis, and drug delivery, etc. In this study, we depicted the templated fabrication of well-shaped colloidosomes with tunable shell thickness by Pickering emulsion at a mild condition. To this end, toluene-in-water Pickering emulsion stabilized by cetyltrimethylammonium bromide (CTAB)–modified polydopamine (PDA) nanoparticles (PDA@CTAB) was prepared. After the covalent cross-linking of PDA nanoparticles assembled on the surface of an oil droplet through chemical reactions occurring in toluene phase, exclusive intra-colloidosomes were afforded. The shell thickness of colloidsomes could be roughly tuned by the adjustment of the amount of the reactive monomers in the oil phase. Our investigations revealed that CTAB was critical for the successful fabrication of well-shaped colloidosomes. Otherwise, only irregular structures were obtained if pristine PDA–stabilized Pickering emulsion was applied. The current strategy could enable hydrophobic cargo, such as 10-hydroxycamptothecin to be encapsulated while colloidosomes were created. The release behavior of the encapsulated cargoes was also investigated.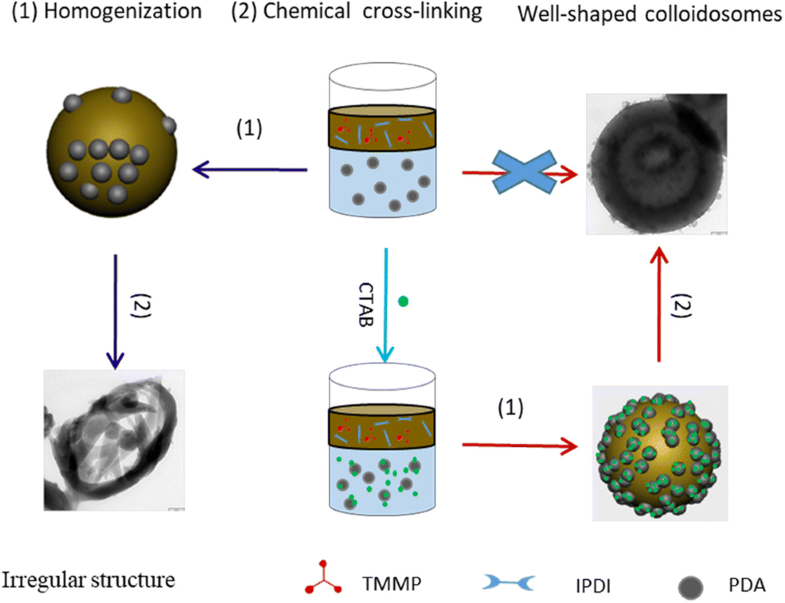 Keywords
Colloidosomes 
Pickering emulsion 
Polydopamine 
Template 
Notes
Funding information
The authors thank the financial supports from the National Natural Science Foundation of China (21574112) and the Project of Xiangtan University (2017XZZ36).
Compliance with ethical standards
Conflict of interest
The authors declare that they have no conflict of interest.
Copyright information
© Springer-Verlag GmbH Germany, part of Springer Nature 2019