The influences of poly (ethylene glycol) chain length on hydrophilicity, oxygen permeability, and mechanical properties of multicomponent silicone hydrogels
Abstract
Two series of multicomponent silicone hydrogels based on poly (ethylene glycol)- polydimethylsiloxane-poly (ethylene glycol) (PEG-PDMS-PEG) triblock oligomers were prepared by copolymerization of silicon-containing monomers methacrylate-terminated PEG-PDMS-PEG (MTSM), tris (trimethylsiloxy)-3-methacryloxpropylsilane (TRIS), and hydrophilic monomers such as N,N-dimethylacrylamide (DMA), N-vinylpyrrolidone (NVP), and hydroxypropyl-methacrylate (HPMA). The influences of PEG chain length on hydrophilicity, oxygen permeability, and mechanical properties of silicone hydrogels were explored. The hydrophilic properties of silicone hydrogels were characterized by water contact angle, equilibrium water content, and swelling-dehydration process. The results showed that the water contact angles of dry samples decreased while the swollen ones increased with the increase of PEG chain length. The equilibrium water content decreased first and then increased as the length of the PEG chain increased. The results of swelling and dehydration process showed that PEG chains improved the water-retaining capacity of silicone hydrogels. Moreover, the protein adsorption of samples with PEG chains decreased. The surface morphologies of silicone hydrogels were characterized by scanning electron microscope (SEM), and a reconstruction model was proposed. In addition, the oxygen permeability and mechanical properties of silicone hydrogels also varied with the length of the PEG chain. These results could provide a theoretical reference for the design and modification of new hydrogels.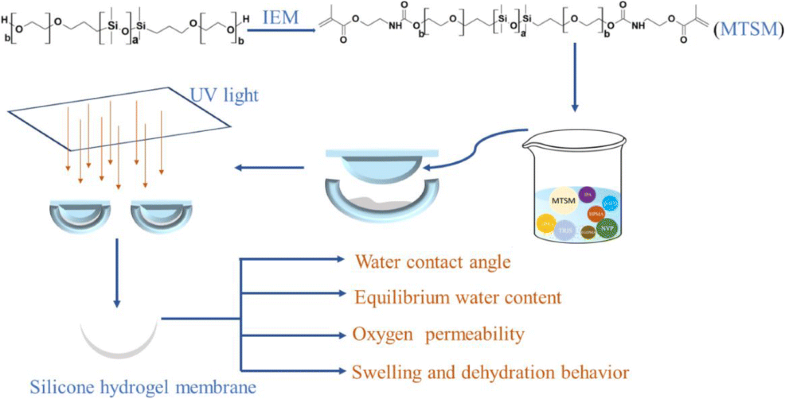 Keywords
Silicone hydrogels 
PEG chains 
Hydrophilicity 
Oxygen permeability 
Mechanical properties 
Notes
Funding information
This work was financially supported by the Natural Science Foundation of Jiangsu Province (BK20130617, BK20130619), the National Natural Science Foundation of China (Grant No. 21374016, 21304018), and the Priority Academic Program Development of Jiangsu Higher Education Institutions.
Compliance with ethical standards
Conflict of interest
The authors declare that they have no conflicts of interest.
Copyright information
© Springer-Verlag GmbH Germany, part of Springer Nature 2019