Langmuir film formation of amphiphilic hybrid block copolymers based on poly(ethylene glycol) and poly(methacrylo polyhedral oligomeric silsesquioxane)
Abstract
The Langmuir film formation of poly(ethylene glycol) (PEG)- and poly(methacrylo polyhedral oligomeric silsesquioxane) P(MA-POSS)-based diblock copolymers (PEG5k-b-P(MA-POSS)x) at the air/water interface is investigated. While the Langmuir film formed by the PEG5k collapses at π ≈ 8 mN m−1, the PEG5k-b-P(MA-POSS)x forms a stable film on the water surface revealing various phase transitions in surface pressure vs mean molecular area (π-mmA) isotherm—manifested by various pseudo-plateaus during compression. At higher surface coverage, the π-mmA isotherm exhibits a phase transition that is attributed to the transformation of the P(MA-POSS) monolayer into a multilayer film that is confirmed by AFM measurements of the Langmuir-Blodgett films fabricated before and after the phase transition and direct infrared reflection absorption spectroscopy of the Langmuir film during compression. At a still higher surface pressure, another pseudo-plateau is observed that is assigned to the ultimate film collapse as verified by the Brewster angle microscopy.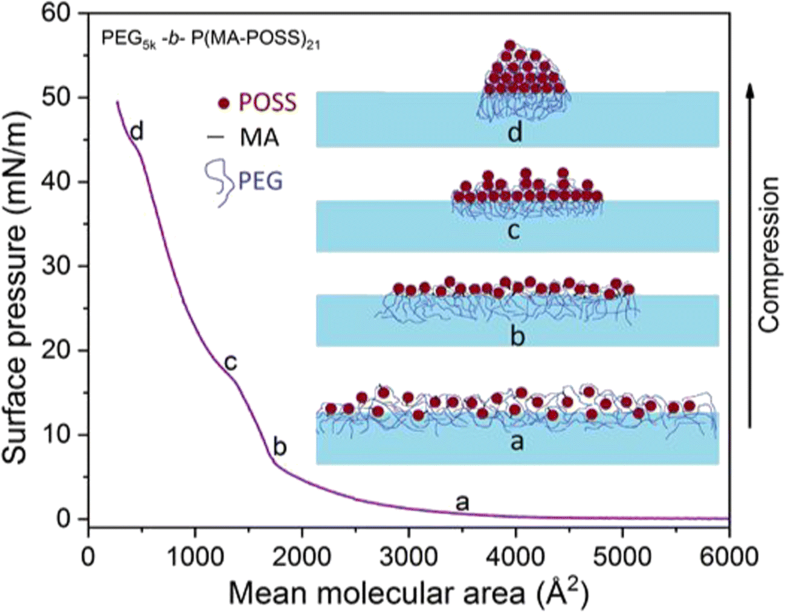 Keywords
Langmuir film 
POSS 
Hybrid 
Block copolymer 
Langmuir-Blodgett 
Amphiphilic 
Notes
Acknowledgments
The AFM measurements were carried out within the cooperation of the SFB TRR 102 (project B03, Thomas Thurn-Albrecht).
Funding information
HH received financial support from the Higher Commission (HEC) of Pakistan under NRPU project no. 20-3074/NRPU/R&D/HEC/13 and QAU URF. JK received financial support from the Deutsche Forschungsgemeinschaft (SFB TRR 102, project B07).
Compliance with ethical standards
Conflict of interest
The authors declare that they have no conflict of interest.
Copyright information
© Springer-Verlag GmbH Germany, part of Springer Nature 2019