The use of glycerol as reactive solvent in the one-pot synthesis of antibacterial hybrid organic–inorganic coatings with photothermal activity
Abstract
Hybrid organic–inorganic coatings showing photothermal activity and anti-bacterial properties were easily obtained by cross-linking of glycerol in presence of silane-coated silver NPs (Ag NPs). Ag NPs functionalized with aminosilane groups were prepared by reduction of AgNO3 with 3-aminopropyl trimethoxysilane (APTMS), by following a previously published procedure (dell'Erba et al., J Mater Sci 51:3817–3823, 2016), using glycerol as both reducing agent and solvent. Thermal treatment of these dispersions induced reaction between hydroxyl from glycerol and methoxysilane groups, producing a chemically resistant, cross-linked nanostructured network with covalently bonded Ag NPs. Control on the degree of glycerol release during synthesis enabled producing, in just one step, a cross-linked material with variable concentrations of Ag NPs. Tuning the annealing temperature and composition of the reactive samples allowed controlling the final concentration of NPs in the solid samples and the physicochemical properties of the coatings. Obtained materials showed an excellent chemical stability, bactericidal effect against Escherichia coli, and a significant photothermal effect. The simplicity of the procedure, the use of glycerol as monomer and solvent, and the high versatility of the strategy that enables the inclusion of different metals in a cross-linked matrix, make the synthetic strategy very promising for the development of materials with technological applications.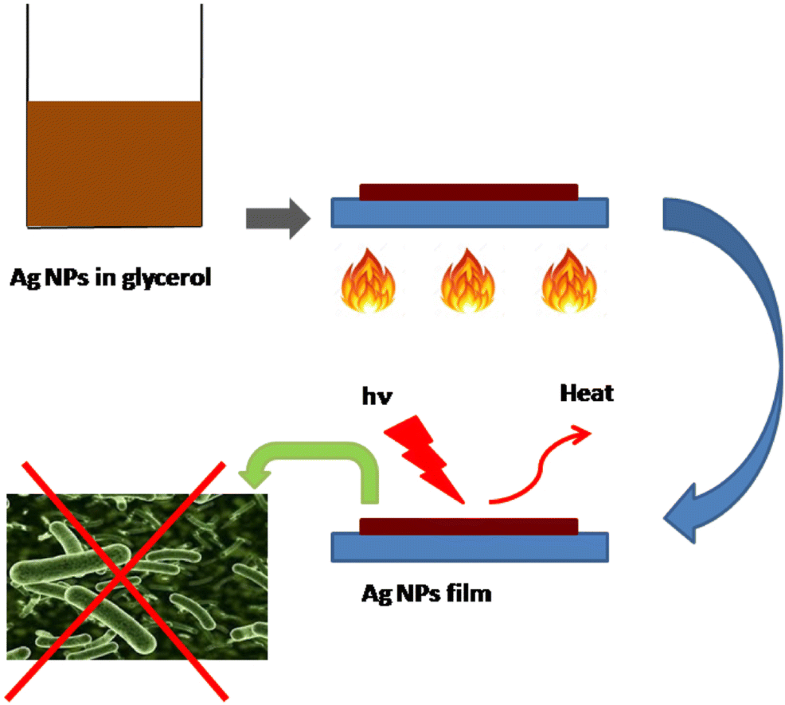 Keywords
Silver nanoparticles 
Photothermal effect 
Glycerol 
Coatings 
Bactericidal nanocomposites 
Notes
Author contributions
The manuscript was written through contributions of all authors. All authors have given approval to the final version of the manuscript.
Funding information
This work was financially supported by the National Research Council (CONICET), the University of Mar del Plata, and the National Agency for the Promotion of Science and Technology (ANPCyT), Argentina (PICT15-1433).
Compliance with ethical standards
Conflict of interest
The authors declare that they have no competing interest.
Copyright information
© Springer-Verlag GmbH Germany, part of Springer Nature 2019