CO2-responsive behavior of polymer giant vesicles supporting hindered amine
Abstract
The CO2-responsive behavior of giant vesicles supporting hindered amines on the shells was investigated with the aim of reversible control of the self-assembly. The investigation was carried out using vesicles consisting of poly(2,2,6,6-tetramethyl-4-piperidyl methacrylate)-block-poly(methyl methacrylate-random-2,2,6,6-tetramethyl-4-piperidyl methacrylate), PTPMA55-b-P(MMA0.977-r-TPMA0.023)321, in an aqueous methanol solution. As CO2 was introduced into the vesicle solution, the electroconductivity and transmittance increased whereas the scattering intensity and hydrodynamic diameter for the light scattering measurements decreased due to the dissociation of the vesicles into micelles based on the protonation of the hindered amines on the shells. The introduction of Ar instead of CO2 produced inverse changes in these factors based on the aggregation of the micelles due to the deprotonation. The vesicles showed a good hysteresis for the cycles of the CO2-Ar introduction. It was found that the dissociation-aggregation of the vesicles was reversibly controlled by the alternate CO2-Ar introduction.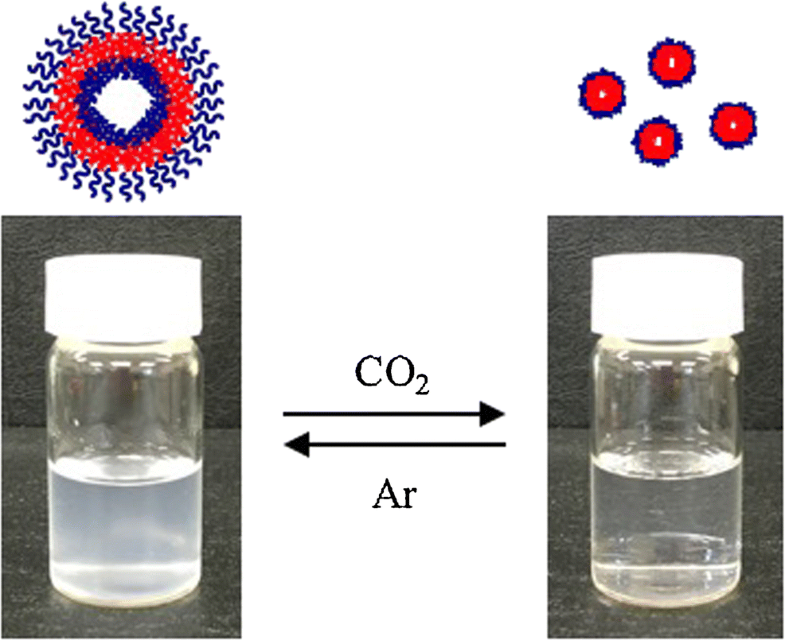 Keywords
Giant vesicles 
Hindered amines 
CO2-responsive behavior 
Amphiphilic block copolymer 
Protonation-deprotonation 
Alternate CO2-Ar introduction 
Reversible control of self-assembly 
Notes
Funding information
This work was supported by the JSPS Grant-in-Aid for Scientific Research (Grant Number 18K04863).
Compliance with ethical standards
Conflict of interest
The author declares that there is no conflict of interest.
Copyright information
© Springer-Verlag GmbH Germany, part of Springer Nature 2019