Enhanced shear thickening of polystyrene-poly(acrylamide) and polystyrene-poly(HEMA) particles
Abstract
Shear thickening (ST) refers to the drastic increment of viscosity that occurs when a high shear force is applied to certain concentrated colloidal suspensions. The hydrocluster mechanism for ST indicates that inter-particle interaction is important for ST behavior. Therefore, we prepared polystyrene particles with polyacrylamide particles (PS-PAAm particles) to control inter-particle interactions. Colloidal suspensions of polystyrene-poly(2-hydroxyethyl methacrylate) (PS-PHEMA) particles in ethylene glycol were prepared and shown to exhibit strong ST behavior. The effect of PS-PAAm particles on the ST behavior of a PS-PHEMA particle colloidal suspension was investigated; ST behavior of shear thickening fluids (STFs) was controlled by doping different amounts of PS-PAAm particles. We suggested inter-particle interaction was enhanced by abundant hydrogen-bonding donor groups in PS-PAAm particles. Based on this study, the applicability of STF can be increased through the STF fabrication exhibiting desired ST behavior. Also, this study will help to understand fundamental ST mechanism.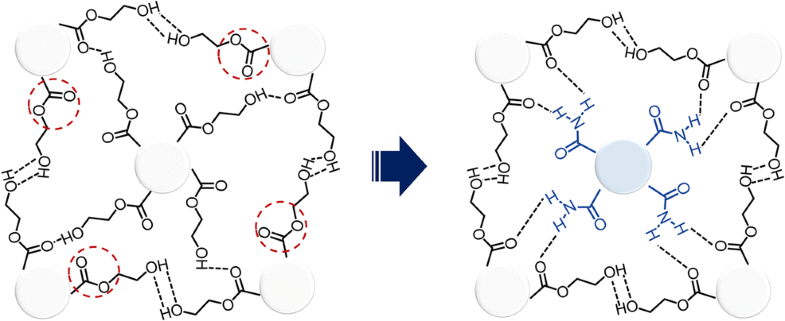 Keywords
Shear thickening 
Colloidal suspension 
Functionalized polymer particle 
Surfactant-free emulsion polymerization 
Notes
Acknowledgements
Assistance in the XPS analysis from the Korea Basic Science Institute (KBSI) Busan Center is acknowledged.
Funding information
This work was supported by the Industrial Strategic Technology Development Program (Grant Nos. 10063082 and 10070127) funded by the Ministry of Trade, Industry and Energy (MOTIE) of Korea. This research has been performed as a cooperation project of "The development of Sustainable materials technology for Eco-Automobile" and supported by the Korea Research Institute of Chemical Technology (KRICT)
Copyright information
© Springer-Verlag GmbH Germany, part of Springer Nature 2018