Polyhedral oligomeric silsesquioxane-capped poly(N-vinyl pyrrolidone) amphiphiles: synthesis, self-assembly, and use as porogen of nanoporous poly(vinylidene fluoride)
Abstract
In this contribution, we reported the synthesis of polyhedral oligomeric silsesquioxane (POSS)-capped poly(N-vinyl pyrrolidone) (PVPy) via reversible addition-fragmentation chain transfer/macromolecular design via interchange of xanthate (RAFT/MADIX) polymerization. First, a POSS macromer bearing xanthate moiety was synthesized and was then used as the chain transfer agent to mediate the radical polymerization of N-vinylpyrrolidone (NVP). By controlling the mass ratios of the POSS-CTA to NVP, a series of the POSS-capped PVPy amphiphiles were successfully synthesized with various molecular weights. It was found that in bulks, the POSS-capped PVPy was microphase-separated and the POSS end groups were self-organized into the spherical microdomains with the size of 10~100 nm in diameter. In the solvent selective for PVPy (e.g., water), the POSS-capped PVPy was capable of self-assembling into the spherical micelles with an average diameter of 20~50 nm as evidenced by dynamic laser scattering (DLS) and transmission electron microscopy (TEM). Owing to the amphiphilicity, POSS-capped PVPy also displayed the self-assembly behavior in poly(vinylidene fluoride) (PVDF), in which the POSS cages were aggregated into 10~30 nm microdomains. In the nanocomposites of PVDF with POSS-capped PVPy, the spherical POSS microdomains were readily etched by using hydrofluoric acid, leaving the nanopores in the materials.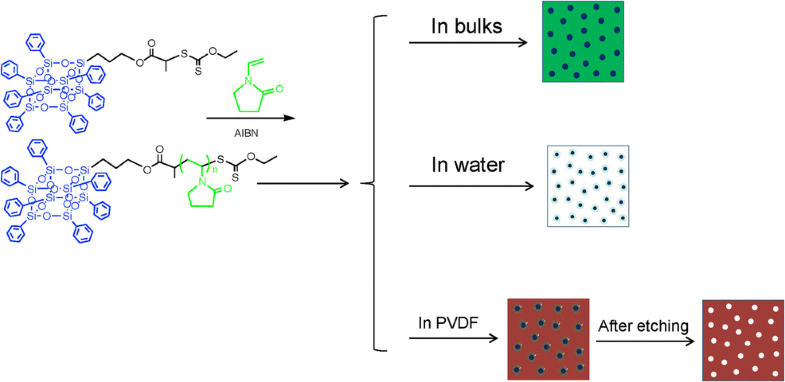 Keywords
POSS 
Poly(N-vinylpyrrolidone) 
RAFT/MADIX polymerization 
Self-assembly behavior 
Notes
Acknowledgments
The financial supports from Natural Science Foundation of China (No. 21774078, 51133003 and 21274091) and Anhui Province Key Laboratory of Environment-friendly Polymer Materials were gratefully acknowledged.
Compliance with ethical standards
Conflict of interest
The authors declare that they have no conflict of interest.
Copyright information
© Springer-Verlag GmbH Germany, part of Springer Nature 2018