Agglomeration controllable reprecipitation method using solvent mixture for synthesizing conductive polymer nanoparticles
Abstract
Conductive polymer nanoparticles (NPs) exhibit a strong tendency to agglomerate because of strong interactions between the π electrons in the polymer. The use of a surfactant to control this agglomeration is problematic because doing so can adversely affect the characteristics of electronic devices to which the NPs are applied. By exploiting the affinity between the polymer and solvent, a modified reprecipitation method for controlling the agglomeration without the use of a surfactant was developed. The affinity between conductive polymer NPs comprising poly(3-hexylthiophene) and various solvent mixtures consisting of chloroform and ethanol was systematically tuned by varying the mixture composition. The increase in the poor solvent ratio led to the substantial increase in the agglomeration tendency. Adjusting the good solvent ratio to be within a narrow region, 70–77%, resulted in the formation of NPs with high stability and a high synthesis yield. This region corresponded to 1.4–1.7 of the relative energy difference between the polymer and solvent mixture as derived from the Hansen solubility parameters.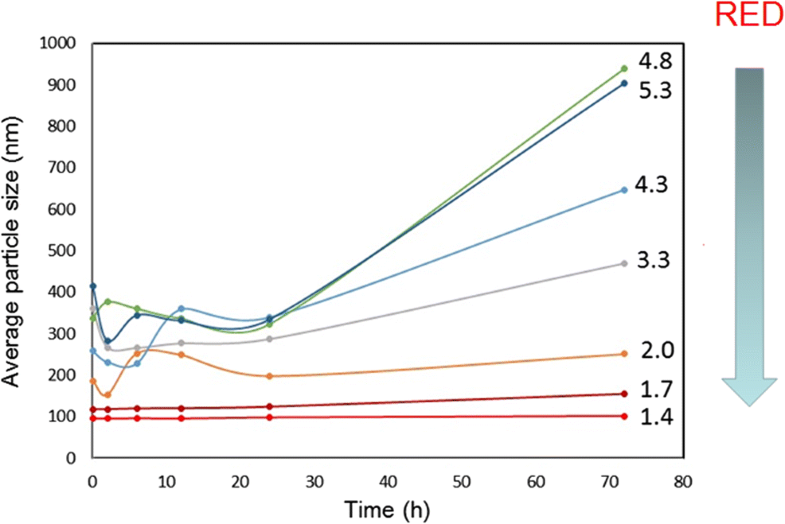 Keywords
Conductive polymers 
Polymer nanoparticles 
Hansen solubility parameters 
Agglomeration 
Mixed solvents 
Abbreviations
NP

Nanoparticle

P3HT

Poly(3-hexylthiophene)

CF

Chloroform

EA

Ethanol

HSP

Hansen solubility parameter

RED

Relative energy difference

DLS

Dynamic light scattering

SEM

Scanning electron microscope
Notes
Funding
This study was supported by the National Natural Science Foundation of China (21304047), the Natural Science Foundation of Jiangsu Province (BK20151533), the Research Fund for the Doctoral Program of Higher Education (20133221120015), the Postgraduate Innovation Foundation of Jiangsu Province (2014, KYZZ_0226) and the Primary Research & Development Plan of Jiangsu Province (BE2016183).
Compliance with ethical standards
Conflict of interest
The authors declare that they have no conflict of interest.
Copyright information
© Springer-Verlag GmbH Germany, part of Springer Nature 2018