Sensitization of narrow band gap Bi2S3 hierarchical nanostructures with polyaniline for its enhanced visible-light photocatalytic performance
Abstract
Hierarchical nanostructures of bismuth sulfide (Bi2S3) have been synthesized in orthorhombic phase by hydrothermal method. Conducting polymer polyaniline (PANI) has been synthesized by the chemical oxidative polymerization method and further coupled with Bi2S3 in various weight percentages (1, 2, 5, and 10 wt%) of PANI/Bi2S3 nanocomposite by chemisorption method. The potentiality of these prepared nanostructures has been investigated for the photodegradation of methylene blue (MB) aqueous solutions. Among all, PANI/Bi2S3 (5 wt%) nanocomposite displayed the highest photodegradation efficiency. An ~ 9-fold augment in the photocatalytic activity of bismuth sulfide has been found after its incorporation in PANI matrix. This enhancement is ascribed to the formation of staggered heterojunction and interfacial sites between PANI and Bi2S3 that suppressed recombination of photogenerated charge carriers leading to quicker deterioration of MB. The mechanism for the photocatalytic degradation of methylene blue has been proposed. Based on our results, it is suggested that the coupling of conducting polymer with metal chalcogenides is an important approach for solving the environmental remediation challenge.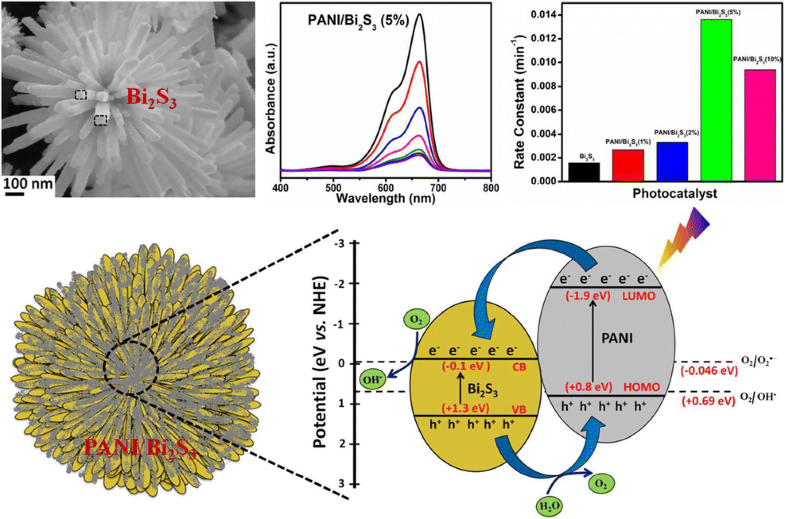 Keywords
Bismuth sulfide 
Nanoflowers 
Polyaniline 
Heterojunction 
Photodegradation 
Notes
Acknowledgements
We are thankful to the Nanoscale Research Facility (NRF), IIT Delhi, for providing the technical support for XRD, PL, and SEM characterizations.
Funding information
This study received financial support from the Council of Scientific and Industrial Research (CSIR) with project no. RP03117 and MeitY.
Compliance with ethical standards
Conflict of interest
The authors declare that they have no conflict of interest.
Copyright information
© Springer-Verlag GmbH Germany, part of Springer Nature 2018