Controlled synthesis of modified polyacrylamide grafted nano-sized silica supported Pd nanoparticles via RAFT polymerization through "grafting to" approach: application to the Heck reaction
Abstract
Polyacrylamide grafted onto silica nanoparticles (nano-SiO2-g-PAAm) was prepared through "grafting to" approach via controlled reversible addition-fragmentation chain transfer (RAFT) polymerization system with defined molecular weight and graft density. Modification of the nano-SiO2-g-PAAm with ethanolamine and subsequent reaction with chlorodiphenylphosphine (ClPPh2) was produced polymer-grafted silica with phosphinite functionality which was converted to Pd catalyst through the reaction with Pd(OAc)2. The catalyst was characterized using ICP, FT-IR, TGA, SEM, and DLS methods properly. Dispersion of palladium nanoparticles (PdNPs) in the polymer matrix (10–15-nm range) and existence of Pd in zero oxidation state was verified by TEM and XRD techniques. The catalyst demonstrated activity in the Mizoroki-Heck cross-coupling reaction of varied iodoarenes including electron poor, electron rich, and ortho substituted and heterocycles with olefins efficiently. Reusing of the Pd catalyst was performed at least five times in repeating runs without considerable palladium leaching and change of the catalyst function and structure.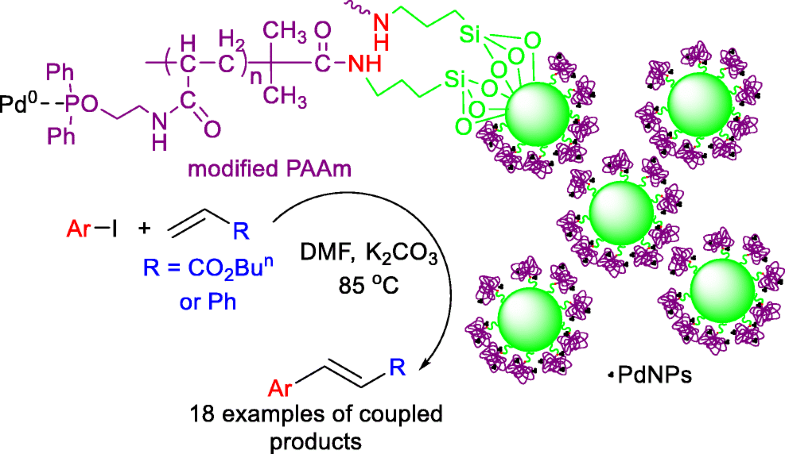 Keywords
Polymer-grafted silica 
RAFT polymerization 
Palladium catalyst 
The Heck coupling 
Notes
Acknowledgements
Valuable comments and cooperation of Prof. B. Tamami from Shiraz University is greatly appreciated by the authors.
Funding information
Research Council of Shiraz University is acknowledged for partial supporting of the present work.
Compliance with ethical standards
Conflict of interest
The authors declare that they have no conflict of interest.
Copyright information
© Springer-Verlag GmbH Germany, part of Springer Nature 2018