Efficient removal of Co(II), Ni(II), and Zn(II) metal ions from binary and ternary solutions using a pH responsive bifunctional graft copolymer
Abstract
A novel, pH responsive graft copolymer hydroxyethyl cellulose-graft-poly(N-vinyl imidazole-co-acrylic acid) containing both acidic and basic functionalities was prepared in water medium by using potassium peroxydisulfate as an initiator. Several techniques like FTIR, XRD, NMR, SEM and TGA/DTGA studies were used to characterize the synthesized copolymer. The polymer was used for the adsorption of toxic heavy metal ions namely Co(II), Ni(II) and Zn(II) from the ternary mixture of three metal ion's solution in aqueous medium. The graft copolymer showed an excellent pH dependence for the adsorption of aforementioned three metal ions. Ni(II) and Co(II) showed maximum adsorption efficiency at pH 5.5, whereas for Zn(II), it was at 6.5. Metal complexation studies by the synthesized graft copolymer were carried out experimentally by using conductometric titration and theoretically by Density Functional Theory (DFT) using Gaussian 09 software. Metal complexation studies showed that at low pH (≤ 5.5), it is the carboxylic acid group, and at pH > 5.5, it is only the carboxylic acid and imidazole functionalities that both are responsible for the adsorption. Adsorption dynamics, isotherms, kinetics and thermodynamics were studied for all the three metal ions' adsorption onto the polymer surface. The adsorption follows Langmuir isotherm model and pseudo-second-order kinetics for all the metal ions. Maximum adsorption capacity was found to be 165, 122 and 68 mg/g for Ni(II), Co(II) and Zn(II) metal ion, respectively. Thermodynamic study showed that the adsorption process was endothermic and spontaneous in nature. The preferential metal adsorption by the graft copolymer was followed in the order Ni(II) > Co(II) > Zn(II).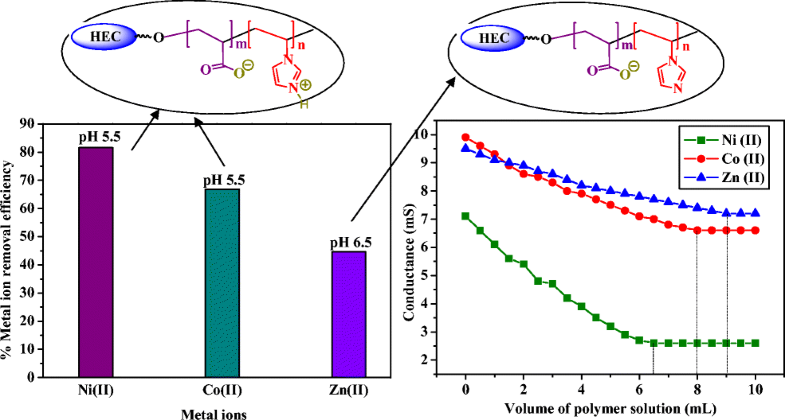 Keywords
pH-responsive graft copolymer 
Hydroxyethyl cellulose 
N-Vinyl imidazole 
Acrylic acid 
Metal ion removal 
Notes
Acknowledgements
We gratefully acknowledge West Bengal Department of Science and Technology [Contract Grant Number 868 (Sanc.)/ST/P/S & T/15G-9/2015]. J.R. acknowledges UGC, New Delhi, India, for JRF [Ref. No. 19/06/2016(i)EU-V]. We also thank the Department of Chemistry, PG Division, Midnapore College (Autonomous), for instrumental facilities.
Compliance with ethical standards
Conflict of interest
The authors declare that they have no conflict of interest.
Copyright information
© Springer-Verlag GmbH Germany, part of Springer Nature 2018