Synthesis of amphiphilic block copolymers containing ferrocene–boronic acid and their micellization, redox-responsive properties and glucose sensing
Abstract
Amphiphilic block copolymer PMAEFc-b-PMVAPBA was synthesized by reversible addition–fragmentation chain transfer (RAFT) polymerization. The hydrophobic and hydrophilic blocks of copolymers self-assembled into spherical micelles in aqueous solution. The redox behaviour of ferrocene was studied by using water-soluble (NH4)2Ce(NO3)6 and NaHSO3 as the oxidizing agent and reducing agent, respectively. The change in polarity and swelling of micelles increased the hydrodynamic diameter due to the oxidation of ferrocene, while glucose binding with boronic acid hydroxyls leads to unimers or smaller aggregates. TEM and DLS were used to investigate the redox-controlled behaviour of micelles. This redox-responsive behaviour would provide a prerequisite for detection/binding of biological analytes study and redox-controlled release of drug.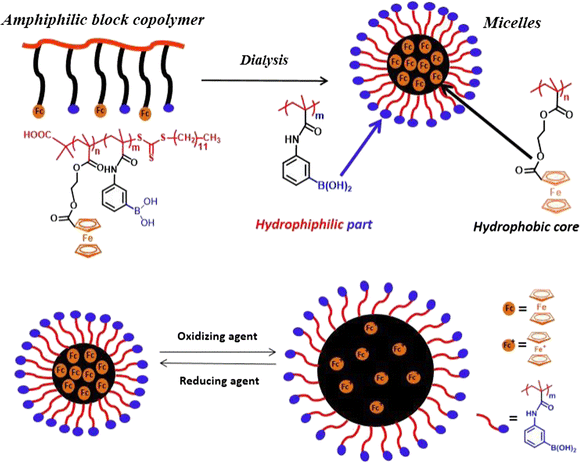 Keywords
Ferrocene 
Boronic acid 
Redox responsive 
Micelles 
Amphiphilic 
Notes
Acknowledgements
Financial supports from the National Natural Science Foundation of China (51673170, 21472168, 21372200 and 21272210), the Science and Technology Innovation Team of Ningbo (2011B82002) and the Fundamental Research Funds for the Central Universities (2016FZA4018) are gratefully acknowledged.
Compliance with ethical standards
Conflict of interest
The authors declare that they have no conflict of interest.
Copyright information
© Springer-Verlag Berlin Heidelberg 2017