Influence of polymer coating on release of
l

-dopa from core-shell Fe@Au nanoparticle systems
Abstract
We report on the effect of different stimuli-responsive polymer shells on Fe@Au core-shell nanoparticles (NPs) with respect to thermoresponse as well as loading and release characteristics. The hybrid NP systems were investigated using a wide array of characterization techniques including dynamic light scattering, electrophoretic mobility, UV-visible spectroscopy, and scanning transmission electron microscopy. Three different polymeric shells were selected for loading and release of l-dopa: thiolated polyethylene glycol (PEG), poly(N-isopropylacrylamide-co-acrylic acid) (PNIPAAM_AAc) microgel crosslinked with N,N′-methylenebis(acrylamide) (BIS), and finally concomitant PEG and PNIPAAM_AAc microgel (Fe@Au_PEG_Microgel). All three shells were found to exhibit high loading (∼10%) and encapsulation efficiencies up to 100 μg l-dopa/mg. Although the loading efficiencies are comparable for the three systems, Fe@Au_PEG_Microgel has the highest release (87%) at elevated temperature and acidic conditions. The attenuated release from the PEG-based systems can be attributed to stronger dipole-dipole interactions between the carboxyl group of PEG and the amino group of l-dopa.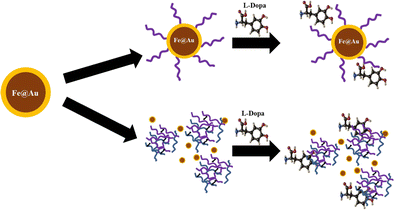 Keywords
Core-shell nanoparticles 
l

-dopa 
Thermoresponse 
Microgels 
Fe@Au 
PNIPAAM 
Notes
Acknowledgements
The authors would like to thank NorFab for the financial support in connection to the use of NTNU Nanolab and the Faculty of Natural Sciences and Technology, NTNU, for the financial support.
Compliance with ethical standards
Conflict of interest
The authors declare that they have no conflict of interest.
Copyright information
© Springer-Verlag Berlin Heidelberg 2017