Abstract
The actual protective mechanisms underlying cardioprotection with remote ischemic conditioning (RIC) remain unclear. Recent data suggest that RIC induces kynurenine (KYN) and kynurenic acid synthesis, two metabolites derived from tryptophan (TRP), yet a causal relation between TRP pathway and RIC remains to be established. We sought to study the impact of RIC on the levels of TRP and its main metabolites within tissues, and to assess whether blocking kynurenine (KYN) synthesis from TRP would inhibit RIC-induced cardioprotection. In rats exposed to 40-min coronary occlusion and 2-h reperfusion, infarct size was significantly smaller in RIC-treated animals (35.7 ± 3.0% vs. 46.5 ± 2.2%, p = 0.01). This protection was lost in rats that received 1-methyl-tryptophan (1-MT) pretreatment, an inhibitor of KYN synthesis from TRP (infarct size = 46.2 ± 5.0%). Levels of TRP and nine compounds spanning its metabolism through the serotonin and KYN pathways were measured by reversed-phase liquid chromatography–tandem mass spectrometry in the liver, heart, and limb skeletal muscle, either exposed or not to RIC. In the liver, RIC induced a significant increase in xanthurenic acid, nicotinic acid, and TRP. Likewise, RIC increased NAD-dependent deacetylase sirtuin activity in the liver. Pretreatment with 1-MT suppressed the RIC-induced increases in NAD-dependent deacetylase sirtuin activity. Altogether, these findings indicate that RIC mechanism is dependent on TRP–KYN pathway activation.
This is a preview of subscription content, log in to check access.
Access options
Buy single article
Instant unlimited access to the full article PDF.
US$ 39.95
Price includes VAT for USA
Subscribe to journal
Immediate online access to all issues from 2019. Subscription will auto renew annually.
US$ 199
This is the net price. Taxes to be calculated in checkout.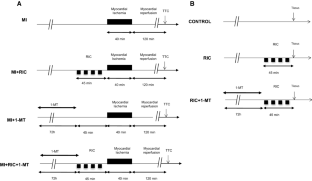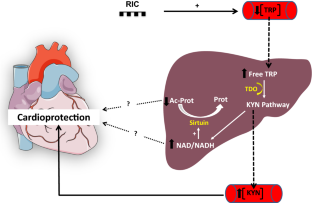 References
1.

Alburquerque-Béjar J, Barba I, Valls-Lacalle L, Ruiz-Meana M, Pecoraro M, Rodríguez-Sinovas A, García-Dorado D (2017) Remote ischemic conditioning provides humoural cross-species cardioprotection through glycine receptor activation. Cardiovasc Res 113:52–60. https://doi.org/10.1093/cvr/cvw242

2.

Badawy AA (2010) Plasma free tryptophan revisited: what you need to know and do before measuring it. J Psychopharmacol 24:809–815. https://doi.org/10.1177/0269881108098965

3.

Badawy AA (2017) Tryptophan availability for kynurenine pathway metabolism across the life span: control mechanisms and focus on aging, exercise, diet and nutritional supplements. Neuropharmacology 112:248–263. https://doi.org/10.1016/j.neuropharm.2015.11.015

4.

Badawy AA, Evans M (1975) Regulation of rat liver tryptophan pyrrolase by its cofactor haem: experiments with haematin and 5-aminolaevulinate and comparison with the substrate and hormonal mechanisms. Biochem J 150:511–520

5.

Bochaton T, Crola-Da-Silva C, Pillot B, Villedieu C, Ferreras L, Alam MR, Thibault H, Strina M, Gharib A, Ovize M, Baetz D (2015) Inhibition of myocardial reperfusion injury by ischemic postconditioning requires sirtuin 3-mediated deacetylation of cyclophilin D. J Mol Cell Cardiol 84:61–69. https://doi.org/10.1016/j.yjmcc.2015.03.017

6.

Botker HE, Kharbanda R, Schmidt MR, Bottcher M, Kaltoft AK, Terkelsen CJ, Munk K, Andersen NH, Hansen TM, Trautner S, Lassen JF, Christiansen EH, Krusell LR, Kristensen SD, Thuesen L, Nielsen SS, Rehling M, Sorensen HT, Redington AN, Nielsen TT (2010) Remote ischaemic conditioning before hospital admission, as a complement to angioplasty, and effect on myocardial salvage in patients with acute myocardial infarction: a randomised trial. Lancet 375:727–734. https://doi.org/10.1016/S0140-6736(09)62001-8

7.

Bøtker HE, Hausenloy D, Andreadou I, Antonucci S, Boengler K, Davidson SM, Deshwal S, Devaux Y, Di Lisa F, Di Sante M, Efentakis P, Femminò S, García-DoradoD GZ, Ibanez B, Iliodromitis E, Kaludercic N, Kleinbongard P, Neuhäuser M, Ovize M, Pagliaro P, Rahbek-Schmidt M, Ruiz-Meana M, Schlüter KD, Schulz R, Skyschally A, Wilder C, Yellon DM, Ferdinandy P, Heusch G (2018) Practical guidelines for rigor and reproducibility in preclinical and clinical studies on cardioprotection. Basic Res Cardiol 113(5):39. https://doi.org/10.1007/s00395-018-0696-8

8.

Cady SG, Sono M (1991) 1-Methyl-DL-tryptophan, beta-(3-benzofuranyl)-DL-alanine (the oxygen analog of tryptophan), and beta-[3-benzo(b)thienyl]-DL-alanine (the sulfur analog of tryptophan) are competitive inhibitors for indoleamine 2,3-dioxygenase. Arch Biochem Biophys 291:326–333

9.

Chao de la Barca JM, Bakhta O, Kalakech H, Simard G, Tamareille S, Catros V, Callebert J, Gadras C, Tessier L, Reynier P, Prunier F, Mirebeau-Prunier D (2016) Metabolic signature of remote ischemic preconditioning involving a cocktail of amino acids and biogenic amines. J Am Heart Assoc 5:e003891. https://doi.org/10.1161/JAHA.116.003891

10.

Curzon G, Friedel J, Knott PJ (1973) The effect of fatty acids on the binding of tryptophan to plasma protein. Nature 242:198–200

11.

Gaspar A, Lourenco AP, Pereira MA, Azevedo P, Roncon-Albuquerque R Jr, Marques J, Leite-Moreira AF (2018) Randomized controlled trial of remote ischaemic conditioning in ST-elevation myocardial infarction as adjuvant to primary angioplasty (RIC-STEMI). Basic Res Cardiol 113:14. https://doi.org/10.1007/s00395-018-0672-3

12.

Hausenloy DJ, Kharbanda RK, Møller UK, Ramlall M, Aarøe J, Butler R, Bulluck H, Clayton T, Dana A, Dodd M, Engstrom T, Evans R, Lassen JF, Christensen EF, Garcia-Ruiz JM, Gorog DA, Hjort J, Houghton RF, Ibanez B, Knight R, Lippert FK, Lønborg JT, Maeng M, Milasinovic D, More R, Nicholas JM, Jensen LO, Perkins A, Radovanovic N, Rakhit RD, Ravkilde J, Ryding AD, Schmidt MR, Riddervold IS, Sørensen HT, Stankovic G, Varma M, Webb I, Terkelsen CJ, Greenwood JP, Yellon DM, Bøtker HE (2019) CONDI-2/ERIC-PPCI Investigators. Effect of remote ischaemic conditioning on clinical outcomes in patients with acute myocardial infarction (CONDI-2/ERIC-PPCI): a single-blind randomised controlled trial. Lancet 394:1415–1424. https://doi.org/10.1016/S0140-6736(19)32039-2

13.

Heusch G (2018) 25 years of remote ischemic conditioning: from laboratory curiosity to clinical outcome. Basic Res Cardiol 113:15. https://doi.org/10.1007/s00395-018-0673-2

14.

Heusch G (2017) Critical issues for the translation of cardioprotection. Circ Res 120:1477–1486. https://doi.org/10.1161/CIRCRESAHA.117.310820

15.

Heusch G (2015) Molecular basis of cardioprotection: signal transduction in ischemic pre-, post-, and remote conditioning. Circ Res 116:674–699. https://doi.org/10.1161/CIRCRESAHA.116.305348

16.

Heusch G, Gersh BJ (2017) The pathophysiology of acute myocardial infarction and strategies of protection beyond reperfusion: a continual challenge. Eur Heart J 38:774–784. https://doi.org/10.1093/eurheartj/ehw224

17.

Hibert P, Prunier-Mirebeau D, Beseme O, Chwastyniak M, Tamareille S, Lamon D, Furber A, Pinet F, Prunier F (2013) Apolipoprotein a-I is a potential mediator of remote ischemic preconditioning. PLoS ONE 8:e77211. https://doi.org/10.1371/journal.pone.0077211

18.

Honorio de Melo Martimiano P, de Sa Braga Oliveira A, Ferchaud-Roucher V, Croyal M, Aguesse A, Grit I, Ouguerram K, Lopes de Souza S, Kaeffer B, Bolanos-Jimenez F (2017) Maternal protein restriction during gestation and lactation in the rat results in increased brain levels of kynurenine and kynurenic acid in their adult offspring. J Neurochem 140:68–81. https://doi.org/10.1111/jnc.13874

19.

Hosp F, Lassowskat I, Santoro V, De Vleesschauwer D, Fliegner D, Redestig H, Mann M, Christian S, Hannah MA, Finkemeier I (2017) Lysine acetylation in mitochondria: From inventory to function. Mitochondrion 33:58–71. https://doi.org/10.1016/j.mito.2016.07.012

20.

Jaworek J, Leja-Szpak A, Bonior J, Nawrot K, Tomaszewska R, Stachura J, Sendur R, Pawlik W, Brzozowski T, Konturek SJ (2003) Protective effect of melatonin and its precursor L-tryptophan on acute pancreatitis induced by caerulein overstimulation or ischemia/reperfusion. J Pineal Res 34(1):40–52. https://doi.org/10.1034/j.1600-079x.2003.02937.x

21.

Katsyuba E, Auwerx J (2017) Modulating NAD(+) metabolism, from bench to bedside. EMBO J 36:2670–2683. https://doi.org/10.15252/embj.201797135

22.

Kleinbongard P, Skyschally A, Heusch G (2017) Cardioprotection by remote ischemic conditioning and its signal transduction. Pflugers Arch 469:159–181. https://doi.org/10.1007/s00424-016-1922-6

23.

Kouassi Nzoughet J, Bocca C, Simard G, Prunier-Mirebeau D, Chao de la Barca JM, Bonneau D, Procaccio V, Prunier F, Lenaers G, Reynier P (2017) A nontargeted UHPLC-HRMS metabolomics pipeline for metabolite identification: application to cardiac remote ischemic preconditioning. Anal Chem 89:2138–2146. https://doi.org/10.1021/acs.analchem.6b04912

24.

Lieder HR, Kleinbongard P, Skyschally A, Hagelschuer H, Chilian WM, Heusch G (2018) Vago-splenic axis in signal transduction of remote ischemic preconditioning in pigs and rats. Circ Res 123:1152–1163. https://doi.org/10.1161/CIRCRESAHA.118.313859

25.

Nadtochiy SM, Redman E, Rahman I, Brookes PS (2011) Lysine deacetylation in ischaemic preconditioning: the role of SIRT1. Cardiovasc Res 89(3):643–649. https://doi.org/10.1093/cvr/cvq287

26.

Nawrot-Porabka K, Jaworek J, Leja-Szpak A, Szklarczyk J, Kot M, Mitis-Musioł M, Konturek SJ, Pawlik WW (2007) Involvement of vagal nerves in the pancreatostimulatory effects of luminal melatonin, or its precursor L-tryptophan. Study in the rats. J Physiol Pharmacol 58(S6):81–95

27.

Olenchock BA, Moslehi J, Baik AH, Davidson SM, Williams J, Gibson WJ, Chakraborty AA, Pierce KA, Miller CM, Hanse EA, Kelekar A, Sullivan LB, Wagers AJ, Clish CB, Vander Heiden MG, Kaelin WG Jr (2016) EGLN1 inhibition and rerouting of alpha-Ketoglutarate suffice for remote ischemic protection. Cell 164:884–895. https://doi.org/10.1016/j.cell.2016.02.006

28.

Oliver MF (2015) Fatty acids and the risk of death during acute myocardial ischaemia. Clin Sci (Lond) 128:349–355. https://doi.org/10.1042/CS20140404

29.

Pickard JM, Botker HE, Crimi G, Davidson B, Davidson SM, Dutka D, Ferdinandy P, Ganske R, Garcia-Dorado D, Giricz Z, Gourine AV, Heusch G, Kharbanda R, Kleinbongard P, MacAllister R, McIntyre C, Meybohm P, Prunier F, Redington A, Robertson NJ, Suleiman MS, Vanezis A, Walsh S, Yellon DM, Hausenloy DJ (2015) Remote ischemic conditioning: from experimental observation to clinical application: report from the 8th Biennial Hatter Cardiovascular Institute Workshop. Basic Res Cardiol 110:453. https://doi.org/10.1007/s00395-014-0453-6

30.

Przyklenk K, Bauer B, Ovize M, Kloner RA, Whittaker P (1993) Regional ischemic 'preconditioning' protects remote virgin myocardium from subsequent sustained coronary occlusion. Circulation 87:893–899

31.

Yellon DM, Hausenloy DJ (2007) Myocardial reperfusion injury. N Engl J Med 357:1121–1135. https://doi.org/10.1056/NEJMra071667

32.

Zhang Y, Wang B, Fu X, Guan S, Han W, Zhang J, Gan Q, Fang W, Ying W, Qu X (2016) Exogenous NAD(+) administration significantly protects against myocardial ischemia/reperfusion injury in rat model. Am J Transl Res 8:3342–3350
Acknowledgements
The authors would like to thank the "Service commun d'animalerie hospitalo-universitaire", the university hospital's Joint Animal Care Department, for taking care of the animals.
Funding
Grant from Angers University Hospital (Grant no. AOI2017).
Ethics declarations
Conflict of interest
The authors declare that they have no conflict of interest.
Electronic supplementary material
Below is the link to the electronic supplementary material.
About this article
Cite this article
Bakhta, O., Pascaud, A., Dieu, X. et al. Tryptophane–kynurenine pathway in the remote ischemic conditioning mechanism. Basic Res Cardiol 115, 13 (2020). https://doi.org/10.1007/s00395-019-0770-x
Received:

Accepted:

Published:
Keywords
Remote ischemia reperfusion

Myocardial infarction

Kynurenine

Tryptophan

NAD +