Abstract
CaM kinase II (CaMKII) has been suggested to drive pathological cardiac remodeling and heart failure. However, the evidence provided so far is based on inhibitory strategies using chemical compounds and peptides that also exert off-target effects and followed exclusively preventive strategies. Therefore, the aim of this study was to investigate whether specific CaMKII inhibition after the onset of cardiac stress delays or reverses maladaptive cardiac remodeling and dysfunction. Combined genetic deletion of the two redundant CaMKII genes δ and γ was induced after the onset of overt heart failure as the result of pathological pressure overload induced by transverse aortic constriction (TAC). We used two different strategies to engineer an inducible cardiomyocyte-specific CaMKIIδ/CaMKIIγ double knockout mouse model (DKO): one model bases on tamoxifen-inducible mER/Cre/mER expression under control of the cardiac-specific αMHC promoter; the other strategy bases on overexpression of Cre recombinase via cardiac-specific gene transfer through adeno-associated virus (AAV9) under control of the cardiac-specific myosin light chain promoter. Both models led to a substantial deletion of CaMKII in failing hearts. To approximate the clinical situation, CaMKII deletion was induced 3 weeks after TAC surgery. In both models of DKO, the progression of cardiac dysfunction and interstitial fibrosis could be slowed down as compared to control animals. Taken together, we show for the first time that "therapeutic" CaMKII deletion after cardiac damage is sufficient to attenuate maladaptive cardiac remodeling and to reverse signs of heart failure. These data suggest that CaMKII inhibition is a promising therapeutic approach to combat heart failure.
This is a preview of subscription content, log in to check access.
Access options
Buy single article
Instant unlimited access to the full article PDF.
US$ 39.95
Price includes VAT for USA
Subscribe to journal
Immediate online access to all issues from 2019. Subscription will auto renew annually.
US$ 199
This is the net price. Taxes to be calculated in checkout.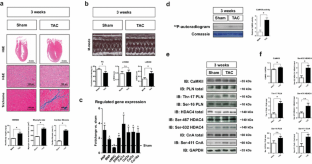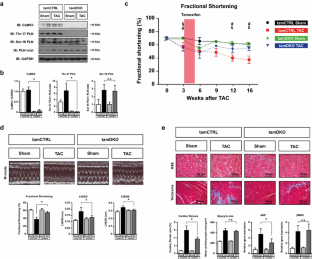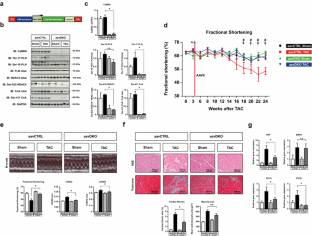 References
1.

Anderson ME (2009) CaMKII and a failing strategy for growth in heart. J Clin Invest 119:1082–1085. doi:10.1172/JCI39262

2.

Anderson ME, Brown JH, Bers DM (2011) CaMKII in myocardial hypertrophy and heart failure. J Mol Cell Cardiol 51:468–473. doi:10.1016/j.yjmcc.2011.01.012

3.

Awad S, Kunhi M, Little GH, Bai Y, An W, Bers D, Kedes L, Poizat C (2013) Nuclear CaMKII enhances histone H3 phosphorylation and remodels chromatin during cardiac hypertrophy. Nucleic Acids Res 41:7656–7672. doi:10.1093/nar/gkt500

4.

Backs J, Backs T, Bezprozvannaya S, McKinsey TA, Olson EN (2008) Histone deacetylase 5 acquires calcium/calmodulin-dependent kinase II responsiveness by oligomerization with histone deacetylase 4. Mol Cell Biol 28:3437–3445. doi:10.1128/MCB.01611-07

5.

Backs J, Backs T, Neef S, Kreusser MM, Lehmann LH, Patrick DM, Grueter CE, Qi X, Richardson JA, Hill JA, Katus HA, Bassel-Duby R, Maier LS, Olson EN (2009) The delta isoform of CaM kinase II is required for pathological cardiac hypertrophy and remodeling after pressure overload. Proc Natl Acad of Sci USA 106:2342–2347. doi:10.1073/pnas.0813013106

6.

Backs J, Song K, Bezprozvannaya S, Chang S, Olson EN (2006) CaM kinase II selectively signals to histone deacetylase 4 during cardiomyocyte hypertrophy. J Clin Invest 116:1853–1864. doi:10.1172/JCI27438

7.

Backs J, Stein P, Backs T, Duncan FE, Grueter CE, McAnally J, Qi X, Schultz RM, Olson EN (2010) The gamma isoform of CaM kinase II controls mouse egg activation by regulating cell cycle resumption. Proc Natl Acad of Sci USA 107:81–86. doi:10.1073/pnas.0912658106

8.

Bers DM (2008) Calcium cycling and signaling in cardiac myocytes. Annu Rev Physiol 70:23–49. doi:10.1146/annurev.physiol.70.113006.100455

9.

Braun AP, Schulman H (1995) The multifunctional calcium/calmodulin-dependent protein kinase: from form to function. Annu Rev Physiol 57:417–445. doi:10.1146/annurev.ph.57.030195.002221

10.

Colomer JM, Mao L, Rockman HA, Means AR (2003) Pressure overload selectively up-regulates Ca2+/calmodulin-dependent protein kinase II in vivo. Mol Endocrinol 17:183–192. doi:10.1210/me.2002-0350

11.

Erickson JR, Joiner ML, Guan X, Kutschke W, Yang J, Oddis CV, Bartlett RK, Lowe JS, O'Donnell SE, Aykin-Burns N, Zimmerman MC, Zimmerman K, Ham AJ, Weiss RM, Spitz DR, Shea MA, Colbran RJ, Mohler PJ, Anderson ME (2008) A dynamic pathway for calcium-independent activation of CaMKII by methionine oxidation. Cell 133:462–474. doi:10.1016/j.cell.2008.02.048

12.

Erickson JR, Nichols CB, Uchinoumi H, Stein ML, Bossuyt J, Bers DM (2015) S-Nitrosylation induces both autonomous activation and inhibition of calcium/calmodulin-dependent protein kinase II delta. J Biol Chem 290:25646–25656. doi:10.1074/jbc.M115.650234

13.

Erickson JR, Pereira L, Wang L, Han G, Ferguson A, Dao K, Copeland RJ, Despa F, Hart GW, Ripplinger CM, Bers DM (2013) Diabetic hyperglycaemia activates CaMKII and arrhythmias by O-linked glycosylation. Nature 502:372–376. doi:10.1038/nature12537

14.

Ferrero P, Said M, Sanchez G, Vittone L, Valverde C, Donoso P, Mattiazzi A, Mundina-Weilenmann C (2007) Ca2+/calmodulin kinase II increases ryanodine binding and Ca2+-induced sarcoplasmic reticulum Ca2+ release kinetics during beta-adrenergic stimulation. J Mol Cell Cardiol 43:281–291. doi:10.1016/j.yjmcc.2007.05.022

15.

Fischer TH, Eiringhaus J, Dybkova N, Forster A, Herting J, Kleinwachter A, Ljubojevic S, Schmitto JD, Streckfuss-Bomeke K, Renner A, Gummert J, Hasenfuss G, Maier LS, Sossalla S (2014) Ca(2+)/calmodulin-dependent protein kinase II equally induces sarcoplasmic reticulum Ca(2+) leak in human ischaemic and dilated cardiomyopathy. Eur J Heart Fail 16:1292–1300. doi:10.1002/ejhf.163

16.

Gao L, Blair LA, Marshall J (2006) CaMKII-independent effects of KN93 and its inactive analog KN92: reversible inhibition of L-type calcium channels. Biochem Biophys Res Commun 345:1606–1610. doi:10.1016/j.bbrc.2006.05.066

17.

Gutierrez DA, Fernandez-Tenorio M, Ogrodnik J, Niggli E (2013) NO-dependent CaMKII activation during beta-adrenergic stimulation of cardiac muscle. Cardiovasc Res 100:392–401. doi:10.1093/cvr/cvt201

18.

Hoch B, Meyer R, Hetzer R, Krause EG, Karczewski P (1999) Identification and expression of delta-isoforms of the multifunctional Ca2+/calmodulin-dependent protein kinase in failing and nonfailing human myocardium. Circ Res 84:713–721. doi:10.1161/01.RES.84.6.713

19.

Kirchhefer U, Schmitz W, Scholz H, Neumann J (1999) Activity of cAMP-dependent protein kinase and Ca2+/calmodulin-dependent protein kinase in failing and nonfailing human hearts. Cardiovasc Res 42:254–261. doi:10.1016/S0008-6363(98)00296-X

20.

Koitabashi N, Bedja D, Zaiman AL, Pinto YM, Zhang M, Gabrielson KL, Takimoto E, Kass DA (2009) Avoidance of transient cardiomyopathy in cardiomyocyte-targeted tamoxifen-induced MerCreMer gene deletion models. Circ Res 105:12–15. doi:10.1161/CIRCRESAHA.109.198416

21.

Kreusser MM, Backs J (2014) Integrated mechanisms of CaMKII-dependent ventricular remodeling. Front Pharmacol 5:36. doi:10.3389/fphar.2014.00036

22.

Kreusser MM, Lehmann LH, Keranov S, Hoting MO, Oehl U, Kohlhaas M, Reil JC, Neumann K, Schneider MD, Hill JA, Dobrev D, Maack C, Maier LS, Grone HJ, Katus HA, Olson EN, Backs J (2014) Cardiac CaM kinase II genes delta and gamma contribute to adverse remodeling but redundantly inhibit calcineurin-induced myocardial hypertrophy. Circulation 130:1262–1273. doi:10.1161/CIRCULATIONAHA.114.006185

23.

Ling H, Gray CB, Zambon AC, Grimm M, Gu Y, Dalton N, Purcell NH, Peterson K, Brown JH (2013) Ca2+/calmodulin-dependent protein kinase II delta mediates myocardial ischemia/reperfusion injury through nuclear factor-kappaB. Circ Res 112:935–944. doi:10.1161/CIRCRESAHA.112.276915

24.

Ling H, Zhang T, Pereira L, Means CK, Cheng H, Gu Y, Dalton ND, Peterson KL, Chen J, Bers D, Brown JH (2009) Requirement for Ca2+/calmodulin-dependent kinase II in the transition from pressure overload-induced cardiac hypertrophy to heart failure in mice. J Clin Invest 119:1230–1240. doi:10.1172/JCI38022

25.

MacDonnell SM, Weisser-Thomas J, Kubo H, Hanscome M, Liu Q, Jaleel N, Berretta R, Chen X, Brown JH, Sabri AK, Molkentin JD, Houser SR (2009) CaMKII negatively regulates calcineurin-NFAT signaling in cardiac myocytes. Circ Res 105:316–325. doi:10.1161/CIRCRESAHA.109.194035

26.

Maier LS, Bers DM, Brown JH (2007) Calmodulin and Ca2+/calmodulin kinases in the heart—physiology and pathophysiology. Cardiovasc Res 73:629–630. doi:10.1016/j.cardiores.2007.01.005

27.

McKinsey TA (2007) Derepression of pathological cardiac genes by members of the CaM kinase superfamily. Cardiovasc Res 73:667–677. doi:10.1016/j.cardiores.2006.11.036

28.

Means AR (2000) Regulatory cascades involving calmodulin-dependent protein kinases. Mol Endocrinol 14:4–13. doi:10.1210/me.14.1.4

29.

Molkentin JD, Lu JR, Antos CL, Markham B, Richardson J, Robbins J, Grant SR, Olson EN (1998) A calcineurin-dependent transcriptional pathway for cardiac hypertrophy. Cell 93:215–228. doi:10.1016/S0092-8674(00)81573-1

30.

Pellicena P, Schulman H (2014) CaMKII inhibitors: from research tools to therapeutic agents. Front Pharmacol 5:21. doi:10.3389/fphar.2014.00021

31.

Saddouk FZ, Sun LY, Liu YF, Jiang M, Singer DV, Backs J, Van Riper D, Ginnan R, Schwarz JJ, Singer HA (2016) Ca2+/calmodulin-dependent protein kinase II-gamma (CaMKIIgamma) negatively regulates vascular smooth muscle cell proliferation and vascular remodeling. FASEB J. 30:1051–1064. doi:10.1096/fj.15-279158

32.

Sohal DS, Nghiem M, Crackower MA, Witt SA, Kimball TR, Tymitz KM, Penninger JM, Molkentin JD (2001) Temporally regulated and tissue-specific gene manipulations in the adult and embryonic heart using a tamoxifen-inducible Cre protein. Circ Res 89:20–25

33.

Timmins JM, Ozcan L, Seimon TA, Li G, Malagelada C, Backs J, Backs T, Bassel-Duby R, Olson EN, Anderson ME, Tabas I (2009) Calcium/calmodulin-dependent protein kinase II links ER stress with Fas and mitochondrial apoptosis pathways. J Clin Invest 119:2925–2941. doi:10.1172/JCI38857

34.

Toischer K, Rokita AG, Unsold B, Zhu W, Kararigas G, Sossalla S, Reuter SP, Becker A, Teucher N, Seidler T, Grebe C, Preuss L, Gupta SN, Schmidt K, Lehnart SE, Kruger M, Linke WA, Backs J, Regitz-Zagrosek V, Schafer K, Field LJ, Maier LS, Hasenfuss G (2010) Differential cardiac remodeling in preload versus afterload. Circulation 122:993–1003. doi:10.1161/CIRCULATIONAHA.110.943431

35.

Tombes RM, Faison MO, Turbeville JM (2003) Organization and evolution of multifunctional Ca(2+)/CaM-dependent protein kinase genes. Gene 322:17–31. doi:10.1016/j.gene.2003.08.023

36.

Vila-Petroff M, Salas MA, Said M, Valverde CA, Sapia L, Portiansky E, Hajjar RJ, Kranias EG, Mundina-Weilenmann C, Mattiazzi A (2007) CaMKII inhibition protects against necrosis and apoptosis in irreversible ischemia-reperfusion injury. Cardiovasc Res 73:689–698. doi:10.1016/j.cardiores.2006.12.003

37.

Wagner S, Dybkova N, Rasenack EC, Jacobshagen C, Fabritz L, Kirchhof P, Maier SK, Zhang T, Hasenfuss G, Brown JH, Bers DM, Maier LS (2006) Ca2+/calmodulin-dependent protein kinase II regulates cardiac Na+ channels. J Clin Invest 116:3127–3138. doi:10.1172/JCI26620

38.

Weinreuter M, Kreusser MM, Beckendorf J, Schreiter FC, Leuschner F, Lehmann LH, Hofmann KP, Rostosky JS, Diemert N, Xu C, Volz HC, Jungmann A, Nickel A, Sticht C, Gretz N, Maack C, Schneider MD, Grone HJ, Muller OJ, Katus HA, Backs J (2014) CaM kinase II mediates maladaptive post-infarct remodeling and pro-inflammatory chemoattractant signaling but not acute myocardial ischemia/reperfusion injury. EMBO Mol Med 6:1231–1245. doi:10.15252/emmm.201403848

39.

Werfel S, Jungmann A, Lehmann L, Ksienzyk J, Bekeredjian R, Kaya Z, Leuchs B, Nordheim A, Backs J, Engelhardt S, Katus HA, Muller OJ (2014) Rapid and highly efficient inducible cardiac gene knockout in adult mice using AAV-mediated expression of Cre recombinase. Cardiovasc Res. doi:10.1093/cvr/cvu174

40.

Yang Y, Zhu WZ, Joiner ML, Zhang R, Oddis CV, Hou Y, Yang J, Price EE, Gleaves L, Eren M, Ni G, Vaughan DE, Xiao RP, Anderson ME (2006) Calmodulin kinase II inhibition protects against myocardial cell apoptosis in vivo. Am J Physiol Heart Circ Physiol 291:H3065–3075. doi:10.1152/ajpheart.00353.2006

41.

Zhang R, Khoo MS, Wu Y, Yang Y, Grueter CE, Ni G, Price EE Jr, Thiel W, Guatimosim S, Song LS, Madu EC, Shah AN, Vishnivetskaya TA, Atkinson JB, Gurevich VV, Salama G, Lederer WJ, Colbran RJ, Anderson ME (2005) Calmodulin kinase II inhibition protects against structural heart disease. Nat Med 11:409–417. doi:10.1038/nm1215

42.

Zhang T, Johnson EN, Gu Y, Morissette MR, Sah VP, Gigena MS, Belke DD, Dillmann WH, Rogers TB, Schulman H, Ross J Jr, Brown JH (2002) The cardiac-specific nuclear delta(B) isoform of Ca2+/calmodulin-dependent protein kinase II induces hypertrophy and dilated cardiomyopathy associated with increased protein phosphatase 2A activity. J Biol Chem 277:1261–1267. doi:10.1074/jbc.M108525200

43.

Zhang T, Maier LS, Dalton ND, Miyamoto S, Ross J Jr, Bers DM, Brown JH (2003) The deltaC isoform of CaMKII is activated in cardiac hypertrophy and induces dilated cardiomyopathy and heart failure. Circ Res 92:912–919. doi:10.1161/01.RES.0000069686.31472.C5

44.

Zhu WZ, Wang SQ, Chakir K, Yang D, Zhang T, Brown JH, Devic E, Kobilka BK, Cheng H, Xiao RP (2003) Linkage of beta1-adrenergic stimulation to apoptotic heart cell death through protein kinase A-independent activation of Ca2+/calmodulin kinase II. J Clin Invest 111:617–625. doi:10.1172/JCI16326
Acknowledgments
The expert technical assistance of Silvia Harrack, Jutta Krebs, Ulrike Oehl, and Michaela Oestringer is gratefully acknowledged.
Ethics declarations
Funding
This work was supported by the Deutsche Forschungsgemeinschaft (BA 2258/2-1, SFB 1118) and by the European Commission (FP7-Health-2010; MEDIA-261409). M.M.K. was supported by the Young Investigator Program of the University of Heidelberg and by a scholarship from the German Cardiac Society (DGK). N.W. was supported by a Cardiology Career Program fellowship of the Department of Cardiology, University of Heidelberg. J.B. and H.A.K. were supported by the DZHK (German Centre for Cardiovascular Research) and by the BMBF (German Ministry of Education and Research).
Conflict of interest
None declared.
Electronic supplementary material
Below is the link to the electronic supplementary material.
About this article
Cite this article
Kreusser, M.M., Lehmann, L.H., Wolf, N. et al. Inducible cardiomyocyte-specific deletion of CaM kinase II protects from pressure overload-induced heart failure. Basic Res Cardiol 111, 65 (2016). https://doi.org/10.1007/s00395-016-0581-2
Received:

Accepted:

Published:
Keywords
CaM kinase II

Heart failure therapy

Inducible knockout

Cardiac remodeling